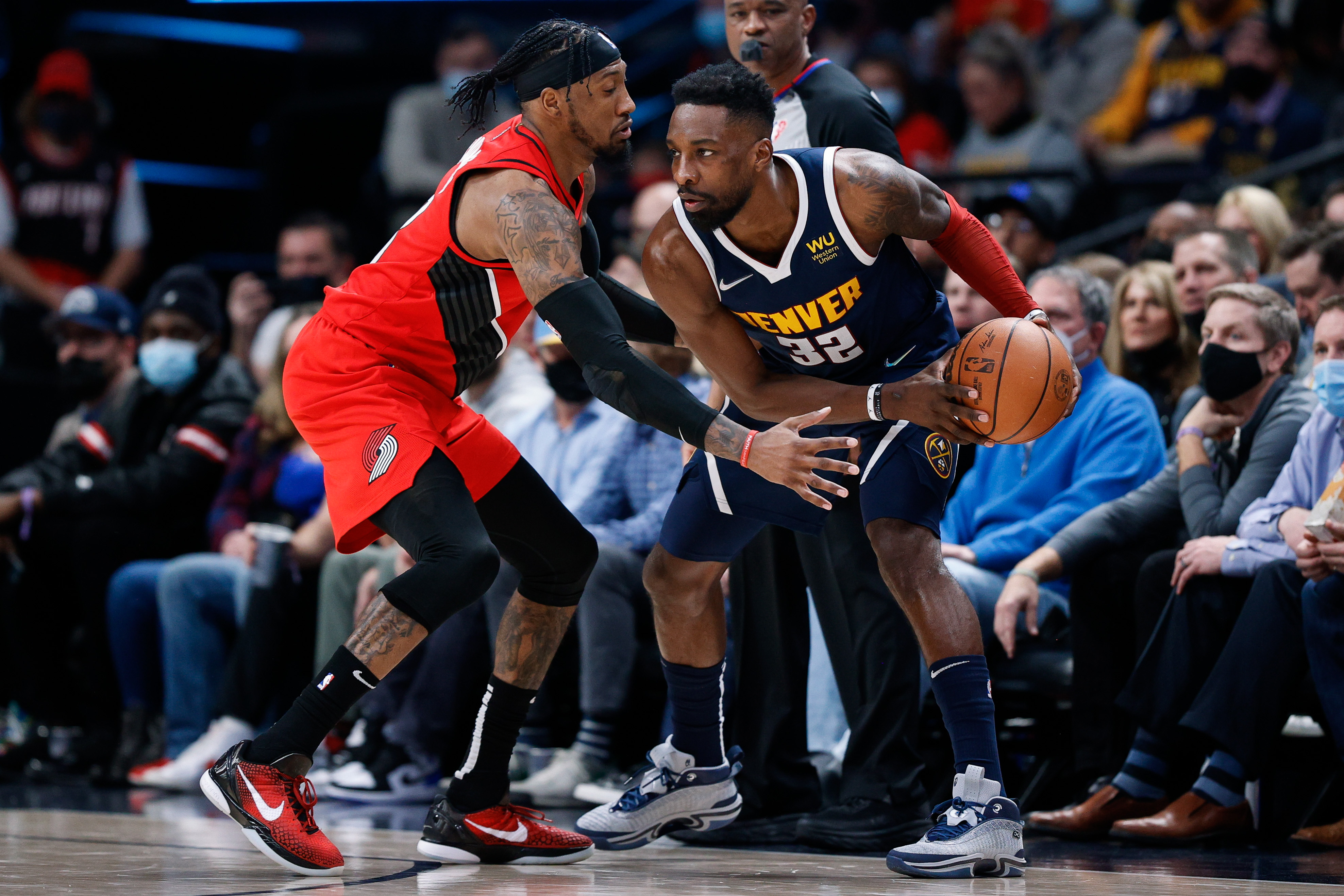 The Denver Nuggets went on a 15-3 run in the first quarter and never looked back. They finished the game shooting 63 percent from the field and made a season-high 21 3-pointers in a 140-108 blowout win over the Portland Trail Blazers.
"I think everybody who is a Nuggets fan was probably wondering when we got up big when the collapse was going to happen," Michael Malone said. "And give our guys credit. We won every quarter and we won the second half."
After blowing a 25-point lead on Tuesday night, this was a crucial win especially since Portland was without its two stars, Damian Lillard and CJ McCollum. The Nuggets have really struggled maintaining large leads and before Thursday night, they hadn't won a second half since their game against the Knicks on Dec. 4.
"It's definitely a feel good win," Malone said. "I go back to that game right before Christmas we lost that lead to Charlotte and what I loved about our group is that we answered and won three in a row at LA, at Golden State and at Houston. Our guys aren't trying to blow leads, we aren't trying to lose games. Did we play our best in the second half? Of course not but tonight regardless of who we were playing or who was out, I just thought we played the right way the whole night."
It was an all around perfect game from Denver's starters all the way to their bench players. Everyone scored at least one basket. Will Barton led all scorers with 21 points. Nikola Jokic had 20 points, eight rebounds and seven assists. Jeff Green put up 19 and was 9 of 11 from the floor. Facu Campazzo scored 18 points and had 18 assists off the bench while Bones Hyland added 17. Zeke Nnaji was a force on both ends of the ball and finished with 16 points and nine rebounds.
"I thought Zeke Nnaji was great," Malone said. "He got defensive player of the game. Being really disciplined, playing with great confidence. We scored 56 points off the bench and it was fun to watch those guys play extended minutes in the second half."
Late in the third quarter Will Barton fell to the ground with a scary injury. His head collided with Jusuf Nurkic's knee causing whiplash. After a couple minutes on the floor, he was finally able to walk off the court on his own and he went back to the locker room. He was diagnosed with a neck strain and later seen back on the bench. He was listed as questionable to return but never came back in the game.
The Nuggets opened the first quarter shooting 71 percent from the field and 50 percent from long range. They started to get the momentum midway through after Jokic led a fast break and went up for a one handed dunk. He hit a couple more shots scoring nine points in 10 minutes. Denver closed out the quarter on a 15-3 run to take a 41-28 lead.
Jeff Green took over in the second quarter going 4-4 from the field to score eight of his 15 points. The 35-year-old was out there looking like he was in his 20's throwing down dunk after dunk. Denver struggled from beyond the arc but it didn't matter. It dominated the paint with a 20-12 advantage. With six minutes left in the quarter, the Nuggets went on a 10-4 run to take a 63-47 lead. Jeff Green then closed it out throwing down consecutive dunks to take a 72-55 lead.
Jokic played a huge role in getting Jeff Green open looks and passing to the right spots.
"He's a smart guy," Jeff Green said. "I'm a smart guy and we just play basketball, play simple basketball. Try to make the right reads, try to find open spots and with his ability to pass he's putting it on the money. I just try to make it easier for him and he's making it easier for me giving me open looks so we just play well off one another."
Portland couldn't buy a bucket to open the third quarter. It missed five straight and allowed Denver to go on a 5-0 run to take a 78-58 lead. Blazers took a timeout to talk things over but continued struggling and missed another three straight as the Nuggets went on another 5-0 run to go up 83-58. Ben McLemore stopped the bleeding with a 3-pointer with 5:39 left and then Portland got some shots to fall. Denver kept attacking though and went up 90-68. With 2:56 left, Will Barton's head collided with Just Nurkic's knee and he fell to the ground and didn't move for a couple of minutes. He was eventually able to get up and walk off the court and he headed straight to the locker room with the medical staff. He had a solid third quarter leading all scorers with nine points. Denver took a 101-80 lead.
Denver's second unit came out firing on all cylinders in the fourth quarter while Jokic got to enjoy the show from the bench. The Nuggets' second unit went on an 8-0 run after knocking down back-to-back 3-pointers to take a 109-80 lead. Portland missed three straight but then went on a 9-3 run forcing a Nuggets timeout with 8:15 left to play. Denver responded with a 5-0 run to go up 117-89. Bones Hyland went crazy in the quarter scoring 14 points. Campazzo added 11 points and eight assists in the quarter to help the Nuggets win it 140-108.
It was one of the best all around games for the Nuggets this season and they hope to continue that level of play for the next five games at home. They host the Lakers on Saturday night.