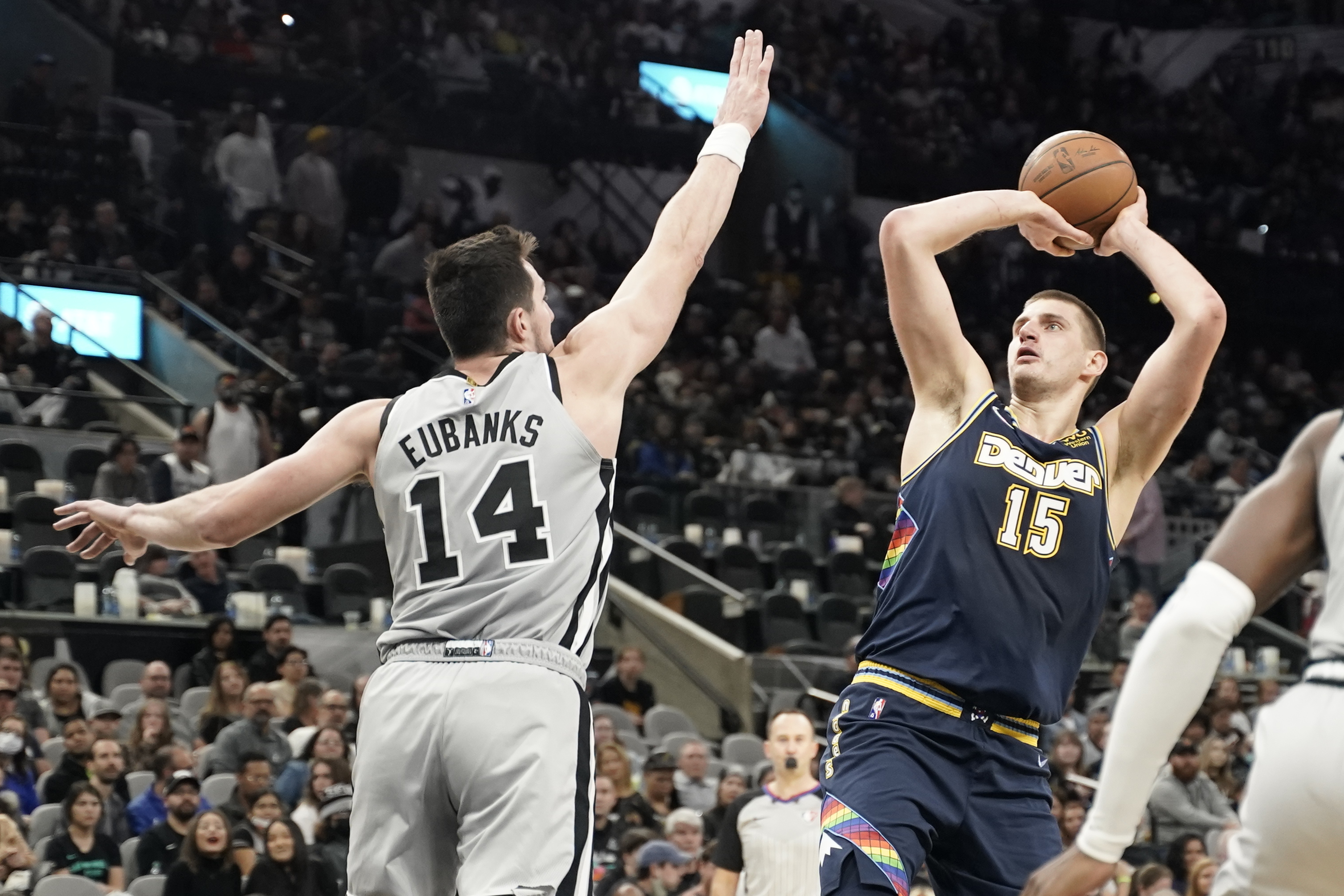 Denver closed its seven-game road trip on a high note with Nikola Jokic putting up a stellar stat line of 35 points, 17 rebounds and eight assists in a 127-112 win over San Antonio.
"It feels great," Malone said. "I know it might sound crazy for most people but there's a huge difference going home 4-3 on our road trip as opposed to 3-4."
This road trip was an interesting one. Denver would win one game and then lose one and then win one and lose one again. Malone was satisfied to at least be above .500 and happy with his team both opening and closing the road trip with a win.
In their game against the Spurs on Saturday night, the Nuggets made 20 3-pointers in the game and put up 75 points in the second and third quarters combined to take as much as a 32-point lead. Will Barton was out with an illness which meant more minutes for Markus Howard. He took full advantage of his playing time and went 6 of 12 from 3-point range for 21 points in 21 minutes off the bench. Monte Morris added 19 points on 7 of 12 shooting.
"I just know anytime I'm put in a position to be in the game I know my skillset and I know what I'm capable of doing and so do my teammates," Howard said. "They have trust in me to be able to make plays and I think I was able to show a little bit of that last year and they see how I approach it each and everyday."
Howard averaged six minutes per game last season and only five minutes per game so far this season but due to several of his teammates out with injuries he has had more opportunities to play. Whenever his number is called he shows up ready and said his faith plays a big role in his ability to rise up to the challenge.
"I always say prayer is powerful," Howard said. "When things aren't going my way or things are out of my control I just have to rely on the things that got me to this point."
The Nuggets needed all the help they could get after suffering a tough 123-111 loss to the Spurs on Thursday night and came out with a sense of urgency in their rematch. They took a 14-6 lead midway through the first quarter and then went on a 7-0 run to go up 20-14. San Antonio responded with an 8-0 run of their own to take a 29-28 lead to close the quarter.
The Nuggets started creating separation by heating up beyond the arc and went on a 9-0 run and took a 56-43 lead in the second. Bones Hyland hit back to back triples and Howard followed it up with two 3-pointers in a row. They both combined for 27 of the Nuggets 44 points. Morris closed the quarter with five points to give the Nuggets a 72-56 halftime lead.
Denver locked it down on the defensive end, which has been an area of struggle so far this season. It held San Antonio to just 27 points in the second quarter and 20 percent shooting from long range. It also forced six San Antonio turnovers.
Coming out of the half, the Nuggets had two options: One, was falling back in their old habits and getting comfortable with a 16-point lead or two, to come out as the aggressors and extend that lead. Jokic and the Nuggets' starters had something to prove and came out with a vengeance going on a 15-1 run to open the third. The reigning MVP scored nine quick points within the first five minutes to extend the Nuggets' lead 87-57. He continued attacking the paint scoring another nine to take a 32-point lead. He went 8 of 13 from the field for 18 points and gave Denver a 103-74 lead.
"That third quarter was one of our best quarters all season," Malone said. "Our defense in that quarter was tremendous. We started off 15-1 and obviously it's a shame that we had to put our starters back in the fourth quarter."
It looked like the game was over so Malone sat his starters and put in his second unit in the fourth quarter. The Spurs capitalized with Jokic and company on the bench and scored 13 straight points with 6:27 left in regulation. The Nuggets still had a 110-93 lead but it was still too close for comfort. Malone put the starters back in to stop the bleeding. They immediately got things going again. Morris scored another six points and Jokic dished out three more assists to solidify the win.
The Spurs two leading scorers, Lonnie Walker IV and Devin Vassell, came off the bench. Walker finished the night with 16 points on 5-9 shooting and Vassell went 5 of 10 from the field for 15 points. They outscored Denver's bench 76-47.
After 14 days on the road, the Nuggets will finally be making their way back home to Denver. They will have a rest day on Sunday before hosting the Wizards on Monday and Timberwolves on Wednesday.