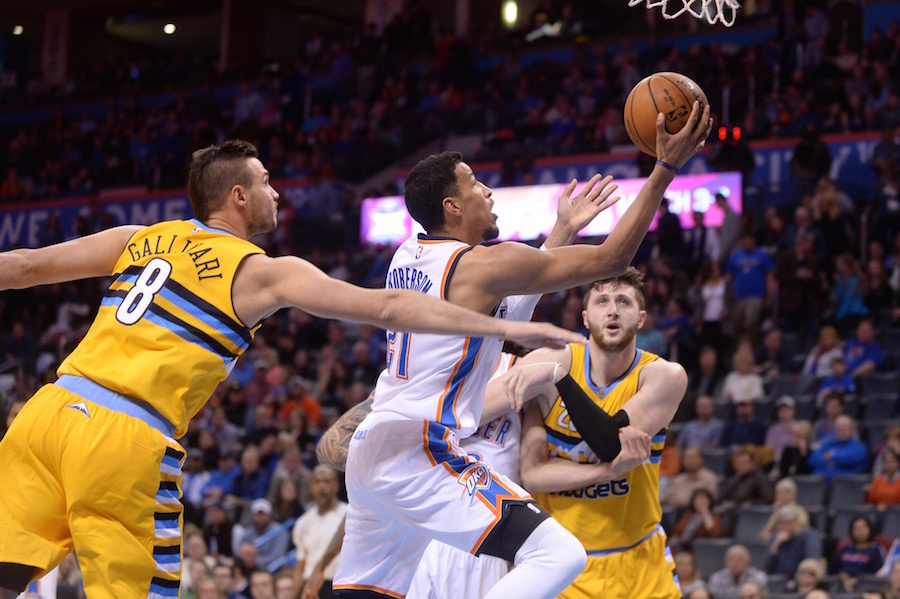 Last week was a telling one for the Denver Nuggets – a week in which they faced the Golden State Warriors in Oakland, hosted the Kings and Spurs and then faced the Thunder in Oklahoma City.
It was a week that could have shown us a lot about this Denver team. If we are being honest, it still did show us a lot – just not exactly what we were hoping to see.
The Nuggets lost all of the above-mentioned games and did so by playing absolutely no defense. In Denver's last five games they have given up at least 120 points in each game. Each game has resulted in a loss. They did have the offense in the Warriors game, but as it is in most cases involving the Warriors, the Nuggets could not keep it up for 48 minutes.
Now, here we are with the Nuggets sitting at 14-23 and somehow just one game out of the eight seed in the Western Conference. But how, you ask? Well, the Western Conference is very strong when it comes to seeds one through seven but eight through fifteen is certainly a group that has some work to do.
Would the eight seed even matter in this year's NBA playoffs? For those that only look at the small picture it may not feel like a win to get the Golden State Warriors in the first round, but looking at the big picture it would be a huge victory for the Nuggets.
Sure, the powerhouse Warriors might sweep Denver, but that would give this young team a taste of the NBA playoffs. It would also give this town a taste of success when it comes to the basketball team because a lot of you need a reminder that they are playing down at Chopper Circle.
Going 27-18 in the final 45 games would have the Nuggets finishing the season at 41-41 a .500 season. At this point of the season, and with this young core's age, that would be a successful season in my book and would be good enough to keep them in contention for the eighth and final playoff spot in the West.
After five straight losses and giving up 120 plus points in each of those outings it does seem to be a bit of a wishful thinking on my part, but hear me out. The team just became fully healthy, Michael Malone has realized that this team goes as Nikola Jokic goes and will hopefully increase his role and minutes as the season goes on.
If or when they start to put an emphasis on the defensive side of the floor this team will string some wins together; the problem is effort. A coach can teach and scream until he is blue in the face, but if his players do not put forth the effort on that side of the floor it will not improve. Gary Harris does it and it makes him stand out. The next time a player not wearing number 14 makes defense a priority it will be the first time I have seen it this season.
A coach cannot nor should not have to teach effort; these are professional athletes and need to be held accountable. If they cannot handle that responsibility than they should be moved.
There's no reason to over-complicate things. If Nuggets players can show their coach, the city and most importantly themselves that you can play on both sides of the floor, this team will turn things around sooner rather than later.