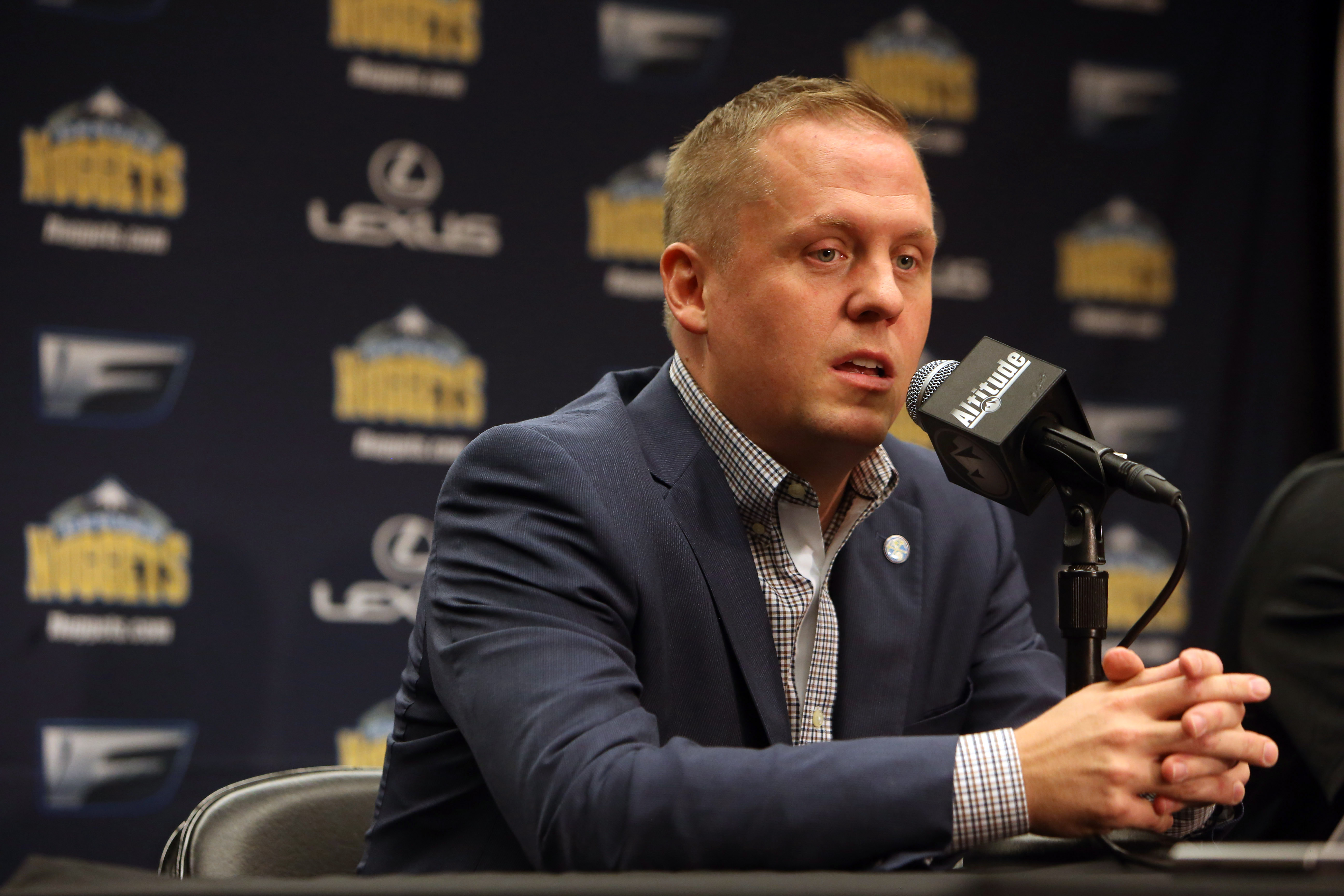 Denver Nuggets President and Governor Josh Kroenke announced that the Nuggets have extended the contracts of president of basketball operations Tim Connelly, general manager Arturas Karnisovas and the rest of their basketball operations staff on Friday afternoon.
Connelly's contract was set to expire at the end of the 2018-19 season, but according to Adrian Wojnarowski of ESPN, Kroenke and Connelly have been discussing a new deal for the past few weeks and came to terms just recently on an extension that will keep Connelly and his staff in Denver on multi-year deals.
Here is Josh Kroenke's statement on the extension of the entire front office.
"It gives me immense pride to announce contract extensions for our entire front office, as our journey to this point has been one of hard work, patience and trust in one another," stated Kroenke. "When Tim joined us in 2013, he understood the vision that we had for the future of the Nuggets, and through his dedication our program is incredibly well positioned to compete at the highest level for years to come.  Building a true championship contender in the NBA is a unique process for each franchise, and our path in Denver hasn't always been clear. But Tim, Arturas and the rest of our staff continued to work through every challenge we faced along the way, and I hope Nuggets fans are as excited as we are about our future. We firmly believe we can bring an NBA championship to Denver, and are thrilled to continue our pursuit together."
Connelly is regarded as the orchestrator behind creating one of the best young cores in the entirety of the NBA. He drafted Nikola Jokic 41st in the 2014 NBA Draft and completely altered the trajectory of the Nuggets rebuild. In addition to finding Jokic in the second round, Connelly has drafted Gary Harris, Jamal Murray, Malik Beasley, Juancho Hernangomez, Michael Porter Jr., Monte Morris and Jarred Vanderbilt in addition to trading for Will Barton and Mason Plumlee while also finding Torrey Craig in Australia before eventually signing him to a full NBA contract. Connelly and his staff have entirely built and developed their roster in-house.
The Nuggets currently sport a 39-18 record — their best winning percentage in franchise history prior to the All-Star break — which slots them in as the second seed in the brutal Western Conference. The Nuggets are simultaneously the most-injured team in the league and also one of the youngest rosters, but they still have managed to take the league by storm.
In addition to Connelly's draft acumen, it was also his decision to bring in head coach Michael Malone, who has set a strong culture in Denver. Even despite some fans calling for a change at head coach at different points throughout the rebuild, Connelly stuck by Malone, who is now an All-Star himself. Malone will be coaching team LeBron in Charlotte for the 2019 NBA All-Star game.
Connelly has his fingerprints everywhere on this Nuggets franchise. He has been involved in every decision and he is the architect of this Denver Nuggets team that has ascended to the status of an elite team.
Simply stated, Connelly and his staff have earned their multi-year extensions.