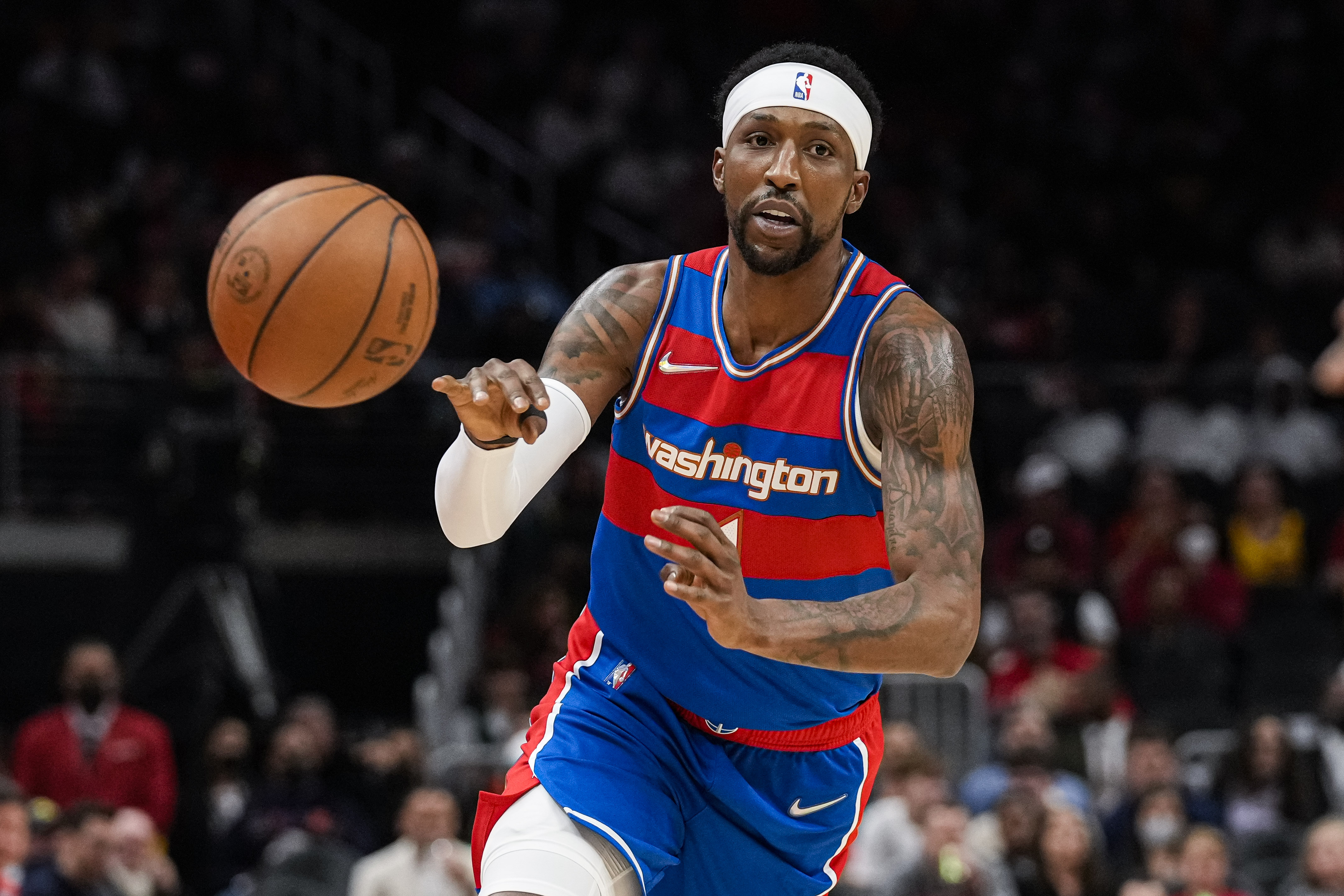 After the Denver Nuggets completed the 2022 NBA Draft last week, their free agency plans have slowly come into focus. The Nuggets selected three players: Kansas wing Christian Braun, UCLA forward Peyton Watson, and French big man Ismael Kamagate. Braun is expected to be a contributor next season, while Watson will spend time developing and Kamagate will be stashed overseas. Denver also added Villanova guard Collin Gillespie on a two-way contract.
After it all, the Nuggets currently have 11 full-time contracts on their roster and one two-way contract for the 2022-23 season. That leaves five open roster spots and some additional questions left to answer. While both Monte Morris and Will Barton were involved in trade rumors before the draft, they remain with the Nuggets heading into free agency. Will that remain the case when it's all said and done? Perhaps, or perhaps not.
Because the Nuggets added a project player in Watson, they will have to use the remainder of their roster spots effectively if they want to build the best team they can prior to the 2022-23 season. Though Braun was added in the draft, the wing position remains a question mark. Guard defense remains a questions mark. The only big man the Nuggets currently employ is two-time MVP Nikola Jokić, and that will most likely be rectified at some point.
But who will the Nuggets prioritize in free agency? What position groups? What types or players?
Here's who I think is on Denver's priority call list heading into July. 25 players that the Nuggets can acquire, both free agency and trade targets, are listed. Let's discuss each of them:
---
1. Kevin Durant | Forward | Brooklyn Nets
Contract Status: Four years, $194.2 million
Why: Other than it being Kevin freaking Durant?
This situation between the Nets, Durant, and Kyrie Irving is going to hold up the bulk of free agency. Irving is seriously considering departing, and it appears the Durant's status in Brooklyn is somewhat dependent on that.
Now, it's unlikely Denver can get involved, but if there's a player to sell the farm for, it's probably Durant. His fit between Nikola Jokić and Jamal Murray is like a supersized version of what Michael Porter Jr. is supposed to be. Denver would probably have to offer some combination of Porter, Aaron Gordon, Bones Hyland, Zeke Nnaji, and Monte Morris to entice the Nets, and that probably wouldn't be enough anyway.
Still, you have to ask the question.
2. Gary Payton II | Guard | Golden State Warriors
Contract Status: Unrestricted Free Agent
Why: Another unlikely addition but a perfect fit nonetheless, Gary Payton II had a fantastic playoff run even while sustaining a serious shoulder injury. Payton's defense is incredible, and he's a strong enough offensive player finishing around the rim that he wouldn't disrupt Denver's offense. The Warriors can pay Payton as much as the non-taxpayer midlevel exception (four-year, $44.5 million contract).
The Nuggets can only offer three-year, $20.1 million contract, but they could also offer Payton a starting role. The financial difference is probably too much to overcome though, as are Payton's ties to the Bay area after a title run.
3. Bruce Brown | Wing | Brooklyn Nets
Contract Status: Unrestricted Free Agent
Why: Another starting shooting guard candidate that plays a similar style to Payton, Bruce Brown will reach unrestricted free agency and likely have a bevy of suitors as well. Versatile wing players that are strong defenders and don't need the ball to be impactful are definitely en vogue right now, and as a result, Brown is likely set to earn a similar contract to Payton. Brown isn't quite the same level of defender, but he's a slightly better outside shooter and playmaker for others. He'd be a great addition to Denver's wing rotation, though he's likely outside of the price range anyway.
4. Kentavious Caldwell-Pope | Wing | Washington Wizards
Contract Status: One year, $14.0 million
Why: Kentavious Caldwell-Pope is the easiest fit in Denver this free agency period as a short term starter at shooting guard. He's a better defender than Will Barton and a slightly better outside shooter. Operating on a one-year expiring contract, a KCP for Barton swap has long made sense for the Nuggets.
Whether it makes sense for the Wizards or not remains to be seen. The potential free agency of Bradley Beal looms over all Wizards decisions. They also drafted Johnny Davis 10th overall, a 6'5″ shooting guard ready to contribute sooner rather than later. Barton may not be the right fit in Washington, and the Nuggets will have to decide if moving Monte Morris is the right course of action instead.
5. Josh Hart | Wing | Portland Trail Blazers
Contract Status: Two years, $25.9 million (second year player option)
Why: Among the remaining starting shooting guard candidates, Josh Hart might be the least gettable. The Blazers are looking to win, and after trading for Jerami Grant, it appears their plan at the moment is to surround Damian Lillard with Anfernee Simons and Hart in the backcourt along with Grant and Jusuf Nurkic in the frontcourt. Swapping Hart for Barton doesn't really make sense for the Blazers, and they would likely demand some draft compensation is simply say no.
But you have to make the call. Hart would be a great fit in Denver as a jack-of-all-trades type in between Murray and Porter. Barton also has a prior relationship with Lillard having been drafted by the Blazers in 2012, the same draft class as Lillard. Perhaps that has some pull.
6. Terance Mann | Guard | Los Angeles Clippers
Contract Status: Three years, $23.9 million
Why: Terance Mann is a bit of an under-the-radar target that probably isn't available anyway, but hey, due diligence right? Mann averaged 28.6 minutes per game for the Clippers last year and did a little bit of everything filling in for Kawhi Leonard and Paul George at times. He's 6'5″ and pretty strong, and he would be an excellent complementary option for Murray in the starting backcourt.
Would the Clippers be interested in Monte Morris? They seem to be linked to several point guards, and Morris meets the criteria of steady facilitator.
7. Cody Martin | Wing | Charlotte Hornets
Contract Status: Restricted Free Agent
Why: Getting back to free agents, the next two players are pretty similar options. Cody Martin was the only wing on the Hornets that was a clear plus defender last season, and he's a smart offensive player that can operate with an offensive flow. He may not be quite starter caliber, but he's a great player for the Nuggets to add to their rotation if he's willing to accept the three-year, $20.1 million taxpayer mid-level. Being restricted, the Hornets would also get match rights.
8. Caleb Martin | Wing | Miami Heat
Contract Status: Restricted Free Agent
Why: Caleb Martin, twin brother of Cody, had success with the Miami Heat this year as a defensive-minded wing, and he also shot 41.3% from three-point range this year. Martin was part of a Heat team that went to the Eastern Conference Finals, and though he didn't shoot it well, he defended well. If the Nuggets are going to choose offense or defense from Caleb, it would be the latter.
9. Gary Harris | Guard | Orlando Magic
Contract Status: Unrestricted Free Agent
Why: An old friend familiar with the Denver Nuggets system, Gary Harris was traded to acquire Aaron Gordon but could still fill a massive need in the Nuggets rotation. Harris had struggled for a while with his three-point shot for the Nuggets, but as a member of the Magic, Harris shot 38% from behind the arc. That's perfectly good, and if Harris was willing to accept the taxpayer mid-level, the Nuggets would become a better team for it.
10. Nicolas Batum | Forward | Los Angeles Clippers
Contract Status: Unrestricted Free Agent
Why: The Clippers don't appear to be a team that will cut costs anytime soon, but if they somehow lost Nicolas Batum he would be a fantastic addition to the Nuggets. While there's no perfect spot in the Nuggets rotation outlined for him, he'd likely come in and immediately be the sixth man with his versatility, defense, and basketball IQ. His price tag is likely higher than what the Nuggets can offer, and he's likely going back to the Clippers anyway.
11. Otto Porter Jr. | Forward | Golden State Warriors
Contract Status: Unrestricted Free Agent
Why: Otto Porter Jr. may become a roster casualty for the Warriors as their roster bill may approach upward of $400 million next season between the salary cap and luxury tax. Like Batum, Porter isn't the greatest individual fit but is a smart, talented player at the forward spot. He would give Denver some rotation flexibility as well as some MPJ insurance throughout the year.
12. Austin Rivers | Wing | Denver Nuggets
Contract Status: Unrestricted Free Agent
Why: The first Nuggets free agent to show up on the list is Austin Rivers, who had a solid run as Denver's primary defensive guard/wing throughout the season. He's not elite on that end by any means, but he's intelligent and played exceptionally hard all season. The Nuggets can offer him up to the non-taxpayer mid-level in terms of salary for the coming season, and they should be very interested in retaining Rivers' services if the goal is to improve defensively.
13. Davon Reed | Wing | Denver Nuggets
Contract Status: Restricted Free Agent
Why: Another Nugget, Davon Reed began the season on an exhibit 10 contract with the Nuggets in Summer League, then he went to the G League, then he signed multiple 10-day deals before signing a two-way contract for the remainder of the season. Reed is a restricted free agent, and the Nuggets can and probably will retain his services heading into next year. He's an above average defender and a career 39% three-point shooter at the NBA level. Nuggets fans should hope he sticks around.
14. Victor Oladipo | Guard | Miami Heat
Contract Status: Unrestricted Free Agent
Why: Victor Oladipo is one of many fringe guards and wings on the Heat that should be considered by Denver, including next on the list. He started to look a bit like himself on both ends of the floor in the playoffs, and his ability to create shots off the dribble (though inefficiently) while not being a defensive liability helped Miami greatly. His work against Trae Young in the first round was very impressive.
15. Gabe Vincent | Guard | Miami Heat
Contract Status: $1.8 million team option for 2022-23
Why: Another Heat guard, Gabe Vincent was a strong point-of-attack defender during the regular season and playoffs. He's not a dynamic offensive player, but he certainly wasn't hopeless out there and can create shots for others well enough. If the Nuggets do end up moving Morris, they should monitor Vincent. He's probably not going anywhere, but the Heat are swinging big and need some more offensive punch. He might become available.
16. Matisse Thybulle | Wing | Philadelphia 76ers
Contract Status: One year, $4.4 million
Why: A polarizing player following a disastrous playoff run, Matisse Thybulle remains an elite wing defender in an unconventional way. His instincts picking off passes and blocking shots are nearly unparalleled, and the Nuggets need defensive playmakers in the worst way. If Thybulle becomes available on the trade market, the Nuggets should give the Sixers a call. Thybulle fits into Denver's $8.2 million traded player exception, and the Sixers are hoping to clear cap space to sign PJ Tucker.
17. Tim Hardaway Jr. | Wing | Dallas Mavericks
Contract Status: Three years, $53.7 million
Why: Tim Hardaway Jr. is a name that's been off the radar for awhile. He sustained a foot injury this year and was unavailable for the duration of Dallas' Western Conference Finals run. Hardaway was having a down year before that, but he has still shown defensive capabilities at shooting guard and has been a 37.6% three-point shooter with the Mavericks. The contract isn't the greatest, but it's a descending number. Perhaps the Nuggets see Hardaway as a better fit at starting shooting guard than Barton.
18. Kelly Oubre Jr. | Wing | Charlotte Hornets
Contract Status: One year, $12.6 million
Why: Kelly Oubre has yet to find an NBA home. After spending the first three and a half seasons of his career with the Wizards, he's bounced around to the Suns, Warriors, and Hornets. He has an ideal wing build and is more defensively capable than Barton, but he's not a good playmaker for others and has shown some questionable decision making throughout his career. Would Denver take a chance on him as the starting shooting guard? Is Oubre even available? Both are valid questions.
19. Delon Wright | Guard | Atlanta Hawks
Contract Status: Unrestricted Free Agent
Why: If the Nuggets are hoping to improve their defense, Delon Wright will absolutely help. He has spent parts of six seasons with six different teams, and while he's never been talented enough offensively to be a consistent starter, he's almost always in the rotation because of his defense and versatility. He would help out Denver's backcourt defense greatly, though Nuggets fans would get annoyed when he plays more and closes more games than Bones Hyland.
20. Troy Brown Jr. | Wing | Chicago Bulls
Contract Status: Restricted Free Agent
Why: Troy Brown Jr. has long been a great theoretical player. He entered the league at a young age and showed some defensive and playmaking skills that touted his basketball IQ. His role has never been consistent due to a lacking jump shot, but that would be less prevalent in Denver where the floor spacing (when healthy) if pretty good. Perhaps Brown would blossom into a larger role where he could focus on doing the things that have already made him successful. His restricted free agency is burdensome, but the Bulls may be willing to let him walk after drafting a similar player in Dalen Terry.
21. Amir Coffey | Wing | Los Angeles Clippers
Contract Status: Restricted Free Agent
Why: Another Clipper, which is a running theme here. Coffey showed some versatility and basketball IQ in his moments on the court before getting buried behind a talented Clippers rotation. They may choose to keep him around anyway, but if they let him walk, the Nuggets should strongly consider him. He's a solid jack-of-all-trades type and would be malleable for most any situation, a great trait for a bench rotation wing.
22. DeMarcus Cousins | Big | Denver Nuggets
Contract Status: Unrestricted Free Agent
Why: After focusing on the perimeter positions, it's time to circle back to the bigs. The first call should be to DeMarcus Cousins, Denver's own backup center from this year who blossomed in a consistent role behind Nikola Jokić. The Nuggets can only offer Cousins a maximum of $3.2 million in 2022-23 due to contract rules though, and there's a possibility that Cousins finds another offer that gives him some more stability. If he's willing to accept Denver's limited offer, the Nuggets should be excited. They need a solution behind Jokić during the regular season.
23. Andre Drummond | Big | Brooklyn Nets
Contract Status: Unrestricted Free Agent
Why: If Cousins says no to Denver's offer, the Nuggets should call up Andre Drummond's agent. The big man signed a minimum contract to back up Joel Embiid on the Sixers last year. He was then moved to Brooklyn in the James Harden trade and will be a free agent once again. The Nets appear unlikely to retain him, so the Nuggets should at least call him and see if he'd play for Denver on another minimum contract. The Sixers won games they shouldn't have early in the season because Drummond stepped up in place of Embiid.
24. Tony Bradley | Big | Chicago Bulls
Contract Status: $2.0 million player option for 2022-23
Why: Tony Bradley was relegated to a bit role in Chicago backing up Nikola Vucevic. The Bulls decided that they needed more spacing around DeMar DeRozan and Zach LaVine in bench lineups, so Bradley barely played after the February trade deadline. When he was on the court though, he was good as a backup, and the Nuggets might be able to swing a deal for him with old friend Arturas Karnisovas if they're so inclined.
25. Danuel House | Wing | Utah Jazz
Contract Status: Unrestricted Free Agent
Why: After showing some 3&D talent with the Houston Rockets, House fell off a bit and was out of the league briefly before being picked up by the Utah Jazz. House became a mainstay in their rotation and possibly their best perimeter defender (not a high bar to clear) and is now a free agent once again. The Nuggets could be a good fit for House, and there's potential for him to be had at the minimum.
Honorable mentions:
Jae'Sean Tate | Wing | Houston Rockets | Trade
Hamidou Diallo | Wing | Detroit Pistons | Trade
PJ Dozier | Wing | Orlando Magic | Free Agency
Justin Holiday | Wing | Sacramento Kings | Trade
Naz Reid | Big | Minnesota Timberwolves | Team Option
Talen Horton-Tucker | Wing | Los Angeles Lakers | Trade
Kenrich Williams | Wing | Oklahoma City Thunder | Trade
Cam Reddish | Wing | New York Knicks | Trade
Alec Burks | Wing | New York Knicks | Trade
Juan Toscano-Anderson | Forward | Golden State Warriors | Free Agency