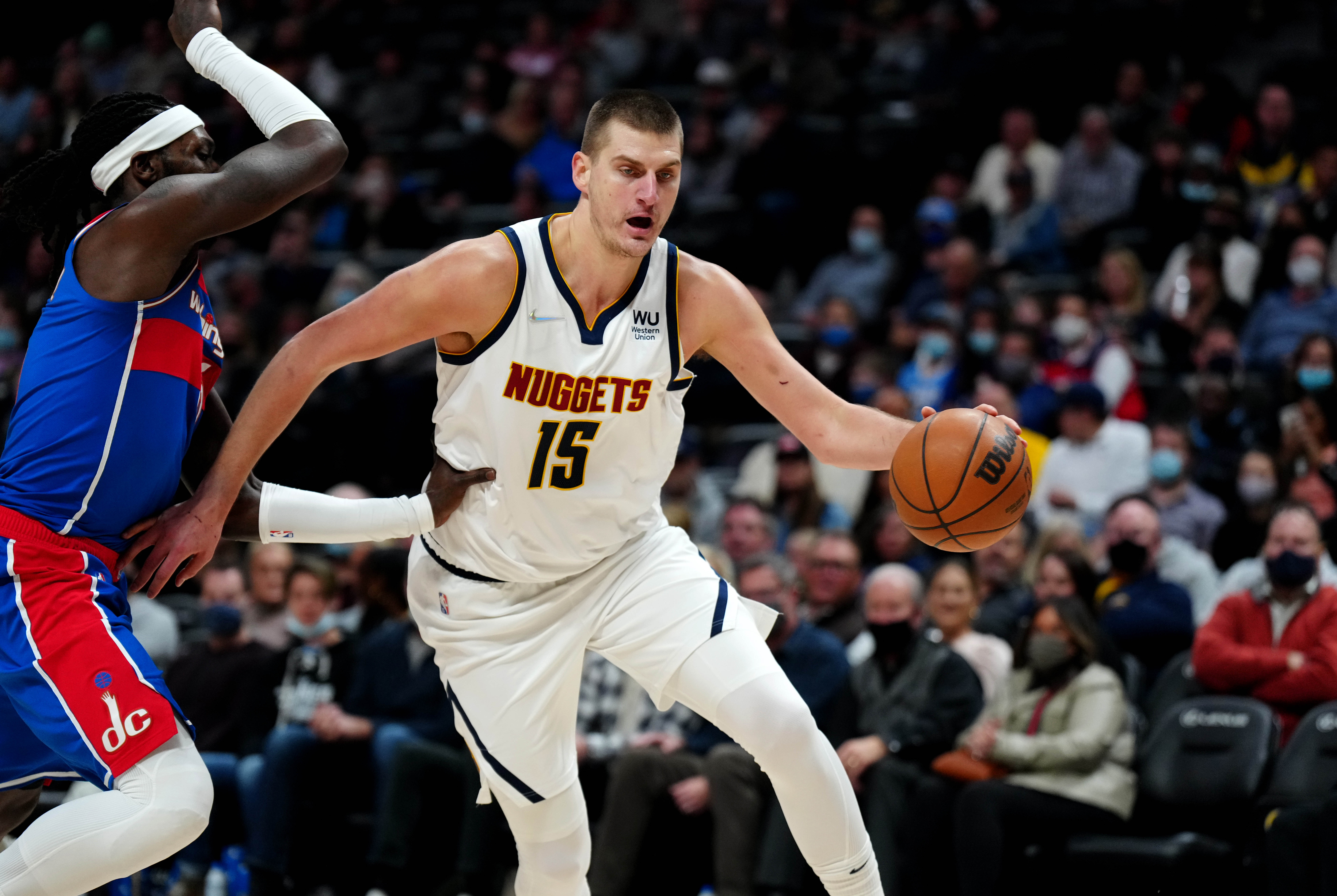 Nikola Jokic sported his battle wounds across his body once again on Monday night.
ith cuts and bruises all over his arms, he took another beating as he does every game and didn't get some of the foul calls he deserved. With just over six minutes left, an irate Jokic went after the officials after they missed two obvious foul calls. He was issued two technicals and ejected from the game.
The Nuggets saw their 33-point lead dwindle away as they let the Wizards get to within seven points with 1:10 left in regulation. Denver managed to hold it together without their MVP after a couple big stops and won it 113-107 to win their second straight game.
"Nikola can't do that," coach Michael Malone said. "He's aware of that. Fourth quarter techs and an ejection, just not a very smart play. You have to control your emotions better than that."
Jokic didn't want to discuss much about the ejection and said the officials were just doing their jobs but he still doesn't think he should've been tossed from the game.
"I think I didn't deserve it, especially the ejection," Jokic said. "I just said call a foul because I thought it was a foul."
The Joker put up another dominant performance with 28 points, 19 rebounds and nine assists. Monte Morris added 22 points, six rebounds and five assists and Aaron Gordon had 16 points and five rebounds.
The Wizards went on a 13-5 run late in the fourth and as soon as Jokic was ejected they went on another run and forced back-to-back turnovers on Denver. Gordon put a stop to their momentum after dropping his defender and going up for a crazy dunk that ultimately ended the game. He was also a force on the defensive end even with a sore back. He held Bradley Beal to just 19 points on 8 of 19 shooting from the field.
"I think a lot of guys in Aaron's situation probably wouldn't have played knowing that you're going to be tasked the responsibility of guarding a guy that has led the league in scoring (Bradley Beal)," Malone said. "He has had a sore back. He didn't really go through shoot around this morning I didn't think he was going to play as the trainers were saying it's that bad but he told me 'let me give it a go and see how I feel,' and for him to go out there and play 39 minutes, 16 points, five boards, three assists and some big big plays on defense it speaks to him as being a warrior."
The Nuggets looked impressive on the defensive end after a 6-0 start. They held Washington to 2 of 8 from the field and then held them scoreless for four straight minutes to take a 13-8 lead. The Nuggets then went on a 14-2 run to take a 22-12 lead and held Washington to 0 of 6 from long range. Denver led 29-22 to close the first quarter.
Denver's ball movement looked great in the second quarter. Facu Campazzo had three assists and the Nuggets shot 46 percent from the field. They took a 42-29 lead midway through the quarter. Jokic scored seven points to close it and helped ignite an 18-11 run to take a 59-41 lead at halftime.
It was raining 3-pointers to open the third quarter as the Nuggets scored three straight. They went on a 16-4 run forcing Washington to take an early timeout. Jokic was still cooking and scored 14 points on 5 of 5 shooting from the field and had seven rebounds and five assists in the third. He couldn't be stopped. The Nuggets took a 33-point lead and went 6 0f 8 in the paint. Washington closed the quarter on a 14-6 run but Denver still led 91-70.
Malone had his bench in to start the fourth quarter but just like the win over San Antonio, he eventually had to put his starting unit back in the game with just over eight minutes left in regulation after the Wizards cut the lead to 19 points and outscored the Nuggets 16-6 in the paint. To make matters worse, Jokic was ejected from the game two minutes later allowing Washington to go on a 13-5 run. With one minute left, Denver only led by seven points but a couple stop and a few trips to free throw line solidified the 113-107 Nuggets win.
Although happy about the win, Malone wasn't too pleased with the way his team closed out the fourth quarter.
"To come home after 14 days on the road, seven games, mentally, physically, so for us to play as well as we did for the majority of that game I was really proud of our guys," Malone said. "It's disappointing the way the game ended. We had that game in hand and I had to put our starters back in once again two games in a row so that leaves a bad taste in your mouth but overall extremely proud of our group."
A shorthanded Denver team beat the odds once again. The Nuggets have been without Jamal Murray since last April after an ACL tear. There is still no timetable on his return. Michael Porter Jr and PJ Dozier are out with season ending injuries. Austin Rivers has been in health and safety protocols for over two weeks after testing positive for COVID. Will Barton has missed his second straight game due to an illness unrelated to COVID and JaMychal Green was out after rolling his ankle in the fourth quarter against the Spurs on Saturday night.
The Nuggets hosts the Minnesota Timberwolves on Wednesday before hitting the road for three straight games. They are currently the No. 8 seed in the West with a 14-13 record.