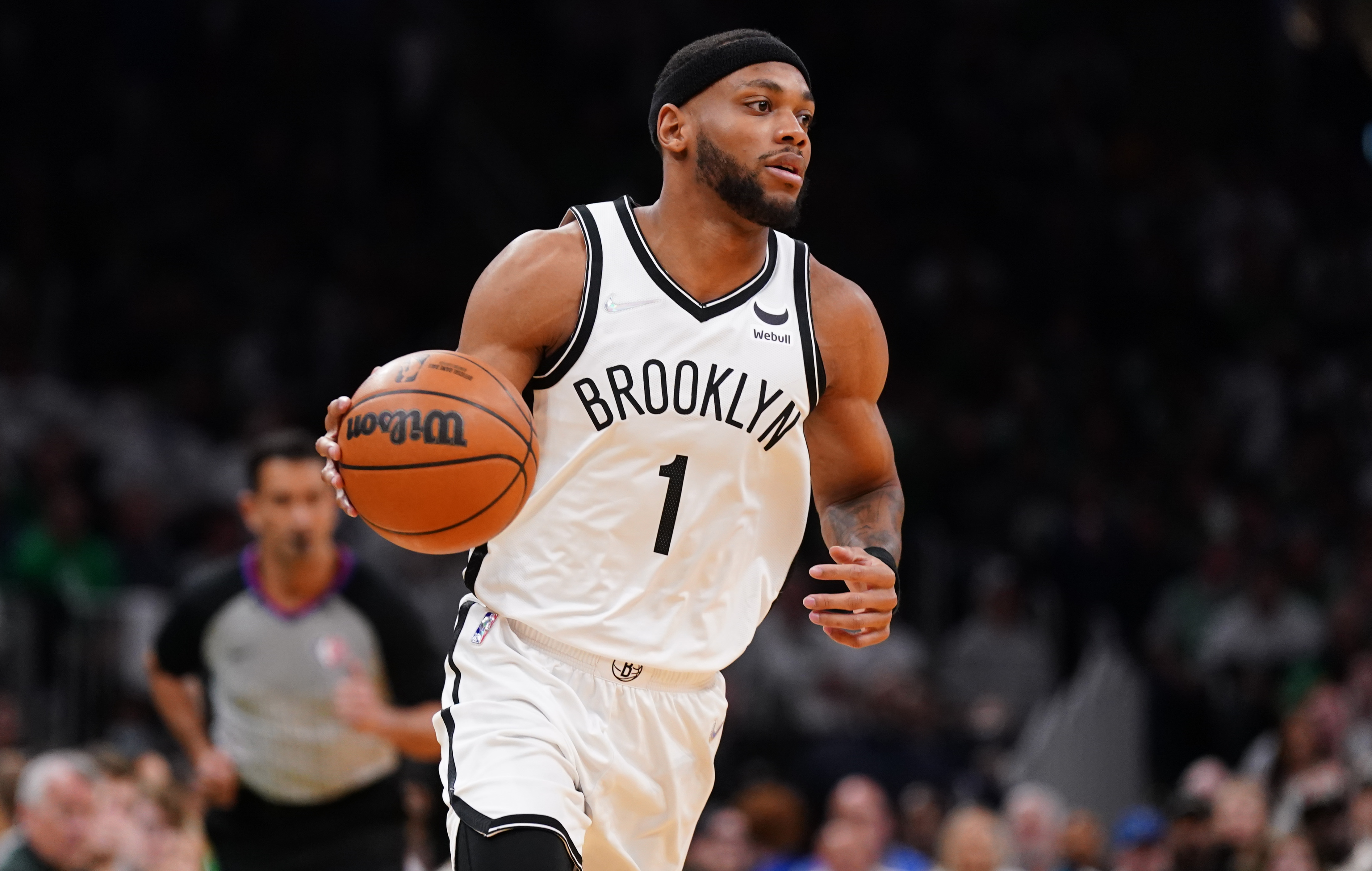 According to Malika Andrews of ESPN (and host of NBA Today), the Denver Nuggets have signed wing Bruce Brown to a two-year contract, effectively saving this season's free agency period.
Bruce Brown has agreed to a 2-year, $13M+ deal with the Denver Nuggets, sources tell ESPN.

— Malika Andrews (@malika_andrews) July 1, 2022
According to Mike Singer of the Denver Post, the second year of the deal is a player option, unsurprising for a player of Brown's caliber.
Brown, 25, has spent the last two seasons with the Brooklyn Nets as a glue guy for their superstars. While Kevin Durant, Kyrie Irving, and James Harden were mostly a failed experiment for a number of reasons, Brown was definitely one of the bright spots, averaging 23.5 minutes, 8.9 points, 5.1 rebounds, 1.8 assists, and 1.0 steals during his Nets tenure. Though he shot just 28.8% from three-point range in 2020-21, he improved to 40.3% in 2021-22, albeit on very low volume.
Brown was used as a bit of a multi-tool within Brooklyn's system. He often shouldered tough defensive assignments up and down the roster, and he played a unique style offensively while Harden was on the team, rolling to the basket as the "center" in some lineups. Finding a niche in an offense that features three ball-dominant superstars can be tough, but Brown was versatile and high IQ enough to make it work.
For the Nuggets, this is an absolute home run. Brown appeared third on my Nuggets free agency and trade target rankings, and Caldwell-Pope ranked fourth. It was assumed that Brown would have offers with a bit more money on the table than what the Nuggets could give, and it seems like that may have actually been the case.
There was a belief – and it's a reasonable one – that Bruce Brown could have made more than $6.5 million next season. So why Denver? "Fit was the priority," source said. @malika_andrews first on the signing.

— Tim Reynolds (@ByTimReynolds) July 1, 2022
That the Nuggets had a free agent "take less money" in order to come play with Nikola Jokić and the rest of the team is a great, great sign. Jokić just won his second MVP award, and he did it without the help of his two biggest stars, making it work with Monte Morris, Will Barton, Jeff Green, and others. It's possible that Brown saw that and envisioned what Jokić could do for him as well, creating open shots at the basket and behind the arc.
Bruce Brown is unlikely to start for Denver, but he will certainly play a lot as their likely sixth man. His utility in lineups next to Bones Hyland will be interesting to watch and will still to be determined. What makes the most sense though is the lineup combinations with Denver's starters. The Nuggets can now deploy the following lineups and feel pretty good about different situations:
Jamal Murray, Kentavious Caldwell-Pope, Michael Porter Jr., Aaron Gordon, Nikola Jokić
Jamal Murray, Bruce Brown, Michael Porter Jr., Aaron Gordon, Nikola Jokić
Jamal Murray, Bruce Brown, Kentavious Caldwell-Pope, Michael Porter Jr., Nikola Jokić
Jamal Murray, Bruce Brown, Kentavious Caldwell-Pope, Aaron Gordon, Nikola Jokić
Jamal Murray, Bruce Brown, Kentavious Caldwell-Pope, Michael Porter Jr., Aaron Gordon
There were very few players the Nuggets could have added this offseason that would have been a better fits than Brown and Caldwell-Pope. In one fell swoop, the Nuggets added two strong perimeter defenders with skill sets that complement what Denver's stars do so well. With strong positional versatility and a willingness top adapt, the Nuggets got a better on Day 2 of Free Agency than they did on Day 1.
Denver's bench lineup still needs work. Bones and Brown are locks to play, while it would appear that DeAndre Jordan is Denver's primary backup center behind Jokić. Pencil in one of Zeke Nnaji or Jeff Green and the Nuggets have a nine man rotation. Davon Reed becomes Denver's 10th man Christian Braun Denver's 11th, a much better setup in all likelihood. The Nuggets could also go with Green as a small ball center over Jordan to highlight Denver's newfound switchability.
Whatever the case, the Nuggets may have saved their offseason with the Brown signing. He's a fantastic fit in the regular season and playoffs, giving the Nuggets a multitool to deploy wherever needed. He will be key to Denver's championship hopes and dreams.