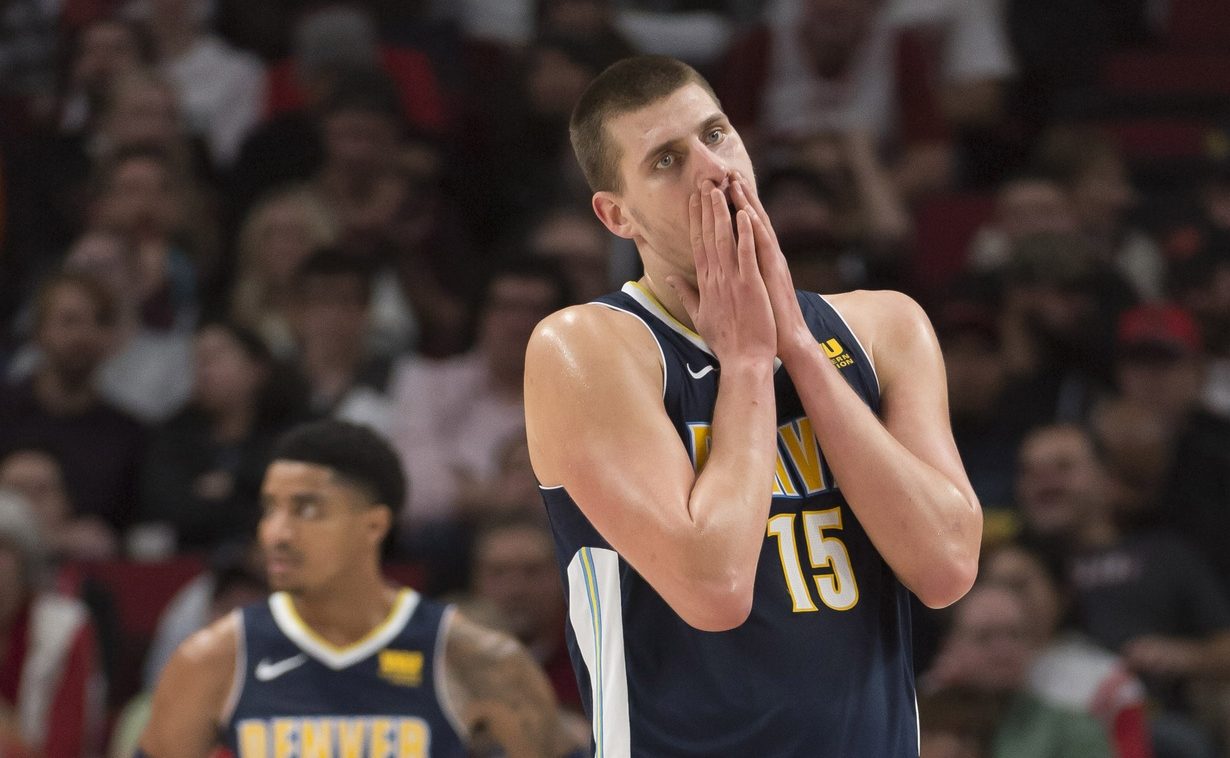 The Denver Nuggets dug deep on Friday night and snapped a nine-game losing streak in Portland at the Moda center with a 102-85 win over the Portland Trail Blazers. Nuggets' star center Nikola Jokic stepped up and led by example as Denver grabbed a crucial road win to avoid their third-straight loss.
The Trail Blazers were without their star point guard Damian Lillard, so they turned to Nurkic early in the game. Nurkic has appeared to take these match ups against his former team personally since being traded and he went to work immediately on his former partner in Denver's old front court. He scored four quick points on Nikola Jokic before Denver buckled down defensively.
The Trail Blazers have boasted one of the league's premier defense throughout this season and the Nuggets did an excellent job in refusing to settle for tough jump shots. Working with a two-center front court of Mason Plumlee and Jokic, Denver fought hard to create easy looks inside the paint. They dominated Portland down low and created an early advantage on the glass to jump out to 28-22 lead after one quarter of play.
Jokic, who has appeared passive at times in these match ups, flashed some of the aggressiveness Denver was hoping to see out of their best player. The big Serbian finished the quarter with eight points seven shots.
Where Portland held their own advantage after the first quarter was their scoring off the bench. The second quarter featured more of that dynamic as Denver's makeshift second unit struggled early. Without back up guard Emmanuel Mudiay — who was unavailable due to a right ankle sprain — Denver's lineup to start the second quarter featured Plumlee, Trey Lyles, Wilson Chandler, Torrey Craig, and Will Barton.
With no true point guard and no Jokic on the floor, the unit struggled to create offense as Portland erased the deficit and grabbed their own lead after just four minutes. Then Jokic checked back in.
Denver's star picked up right where he left off. Jokic scored eight points in less than two minutes to rip the lead back out of Portland's hands. The Nuggets opened up a double digit lead which they carried into halftime. The score read 52-41 after two.
The Nuggets stayed aggressive to start the third, particularly Jokic, who continued to take it right at his budding rival in Nurkic. Nurkic — who had scored just two points since his quick start — drew his fourth foul of the contest with 10:16 remaining in the quarter. Without Lillard and with a largely ineffective Nurkic, Portland struggled to find their offense. Denver showed no mercy as the Nuggets continued their onslaught in the paint and pushed their lead to as high as 19 before Portland's bench made another small push. Denver held defensively though and they carried a 14-point lead into the fourth.
Denver would only score 22 points in the fourth quarter but the Nuggets kept the defensive pressure on to keep this game out of Portland's reach. Jokic answered the call in the biggest of ways in this game with 27 points, eight rebounds, and six assists. Wilson Chandler tacked on 21 points of his own, while Gary Harris added 17 on just 12 shots.
Following the win, the Nuggets improve to 17-15 on the year and 6-12 on the road. They'll have their work cut out for them tomorrow as they travel to Golden State to take on the defending champions in the second night of a back-to-back.