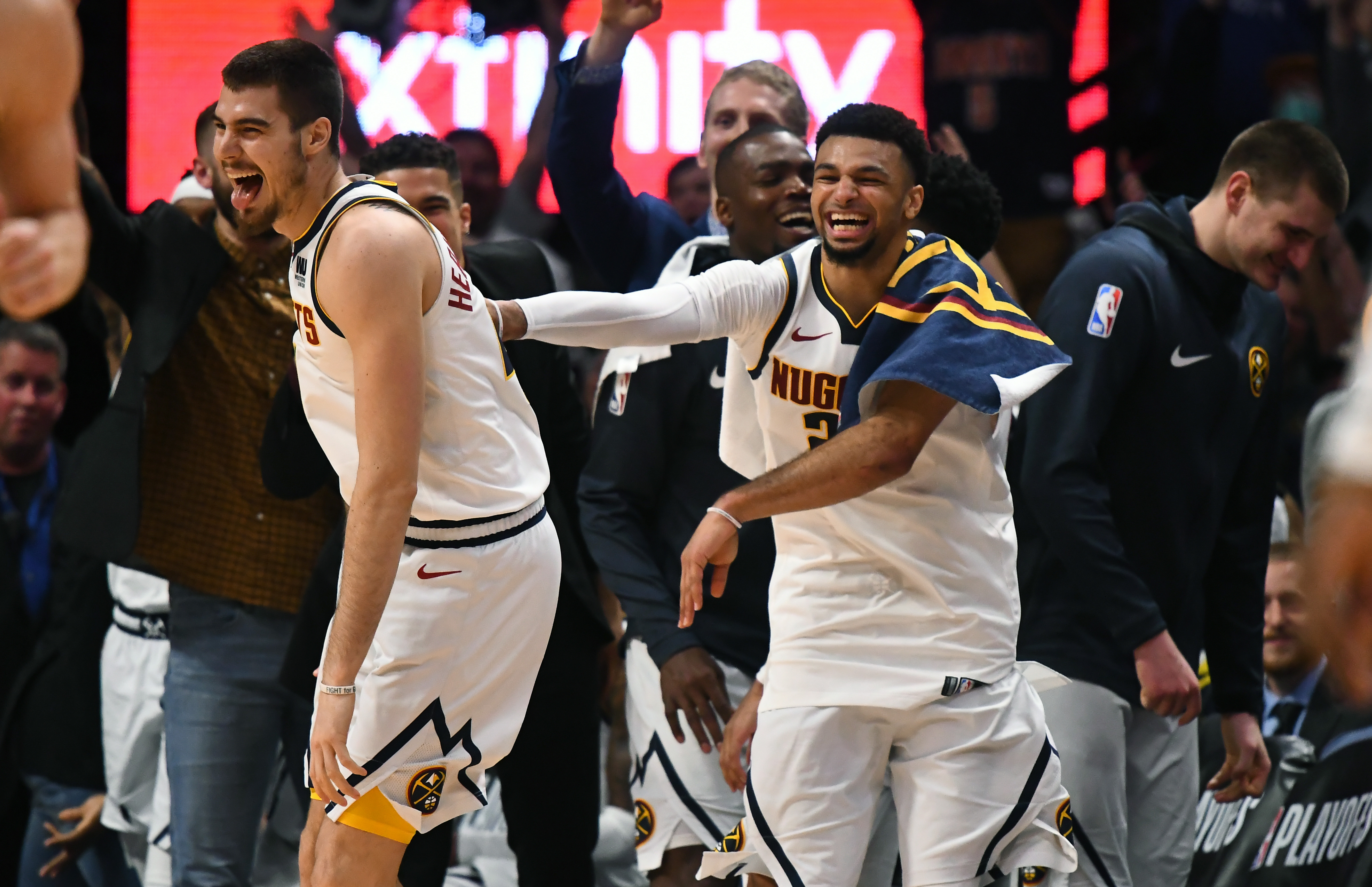 "I think we are going to remember the first years where the history is going to start."
That was Juancho Hernangomez at Denver's exit interviews on Monday where he encapsulated the future of this Nuggets team. Hernangomez's quote speaks volumes of where this franchise is going and what they truly accomplished this season.
After missing out on the postseason for six-straight seasons, the Nuggets came into the 2018-19 season with a lot to prove. Denver put an end to their postseason drought on March 18th with a 114-105 victory over the Boston Celtics before locking in a top-two seed in the Western Conference after finishing the regular season with 54 wins.
but that was just the beginning. The Nuggets followed that up by winning their first playoff series since 2009 on April 27th with a Game 7 victory over the San Antonio Spurs.
That was just an appetizer for what the Nuggets had in store. Once Denver finally got into the postseason, they won their first playoff series since 2009 on April 27th with a Game 7 victory over the San Antonio Spurs which propelled them to the second round of the Western Conference playoffs. Sadly, after another brutal and physical seven-game series, Denver's magical season came to an end on Sunday afternoon in Denver. With Denver's 100-96 loss to Portland in Game 7, the Nuggets fell just one win short of their first Western Conference Finals appearance since 2009.
Even though the Nuggets season came to a bitter end, it should not take away anything that Denver accomplished this season. The Nuggets still had one of the best seasons in the history of the franchise, but it is also just the beginning.
"For us, tonight is the end of the season, but I'm not going to allow this Game 7 loss to take away from a magical year and it doesn't feel that way right now," Michael Malone said after Denver's Game 7 loss. "But, when I reflect and when our players reflect on what we were able to accomplish, hell of a year, couldn't have asked anything more for our guys."
It all began in 2015 when the Nuggets hired Michael Malone as their new head coach. Since then, Malone has improved Denver's record every year with him at the helm. All that hard work and dedication was put to the test this season as a playoff berth was Denver's main goal upon entering the season.
"I thought he grew a lot," Nuggets point guard Jamal Murray said on Malone's growth as a coach. "He demanded more of us. He was just as upset of not making the playoffs as us. He knew how good we could be, he knew how good we are, and even from training camp, he implemented into our minds that if you play defense, you can rely on that to win games and we did that all year."
In each of Malone's first three seasons in Denver, improvement was the biggest goal of the franchise, which led to them missing out on the postseason by one game in back-to-back years. This season is when Malone and the Nuggets really put it all together as they were sitting atop the Western Conference standings for most of the season, before ultimately entering the postseason as the second seed in the brutal Western Conference.
A lot of questions surrounded the Nuggets in how they would perform in the playoffs and how their superstar — Nikola Jokic — would play in his first postseason. The Nuggets and Jokic quickly put all those questions to bed as they knocked off a Gregg Popovich-led Spurs squad in the first round and followed it up by losing to a tough Portland team in seven games.
Jokic silenced his doubters with ease in the postseason and has proven his candidacy as an All-NBA player after averaging a near triple-double in the playoffs. In the postseason, Jokic averaged 25.1 points, 13 rebounds, and 8.4 assists per game while also averaging just over a steal (1.1) per game. Not only did Jokic score and rebound at will, but he did it efficiently by shooting 50 percent from the field and 39 percent from three-point range.
Jokic's efficiency on the offensive end of the floor was key in the Nuggets success, but Denver still needed someone to step up and help him carry Denver to playoff wins. That someone was none other than Jamal Murray.
In playoff games where Murray scored at least 23 points, the Nuggets were 6-2 with their only loss coming in a four-overtime loss to the Trail Blazers in Game 4 and on the road in Portland in Game 6. Murray scored 34 points twice this postseason and even showcased his ability as a playmaker. In Game 5, Murray dished out a playoff career-high of nine assists as he continued to play more consistently night in and night out.
Even though Murray shot just 4-of-18 in Denver's Game 7 loss to Portland, the Nuggets are hoping those games become outliers in what looks to be a very bright future for the franchises young point guard.
"Just being consistent," Murray said on how he could improve this offseason. "Being aggressive. Whether I make or miss shots. Just taking the same shots, going to my moves, stuff like that. Just having the same aggressive mentality every night."
While Malone leads the charge from Denver's bench, Jokic and Murray were the Nuggets leaders on the court throughout the postseason. The same can be said for veterans like Paul Millsap, Gary Harris, and Will Barton in how all three played well in the playoffs. Even guys like Torrey Craig and Malik Beasley had a positive impact on Denver's postseason run, which really points to just how team oriented this Nuggets squad is.
This Nuggets team truly is a squad that loves to play for one another, which is evident in the emotions they show throughout the game. In Game 5, Juancho Hernangomez got his first playing time of the playoffs and knocked down his first playoff shot just moments upon checking in. Luckily for Hernangomez and his teammates, the three-pointer came right in front of the Nuggets bench, in which a dance party ensued on the sidelines.
"I love Juancho. He's probably the funniest teammate right now in the locker room. He's a great guy, he's always positive, you're not going to see one guy say something bad about Juancho," Jokic said on Hernangomez after Game 5. "He has a great personality, a great energy on our bench. He's a really good teammate."
Quotes like that showcase what this Nuggets team is about, which is a team dedicated to one another. That all began when Malone was hired four years ago and it was a staple in the Nuggets longest postseason run in 10 years. A lot of credit should also go to the Nuggets front office in Tim Connelly, Arturas Karnisovas, and Calvin Booth as all three have helped build a team that the city of Denver can be proud of.
The makeup and build of the Nuggets team, coaches, and front office says that things are going to be different than they once were. Gone are the days of Denver being eliminated in the first round and in are the days of a championship push. As long as Malone, Jokic, and Murray are at the helm, this Nuggets team has the makeup to be a contender for a long, long time.
"The future is so bright. You guys heard me say it all postseason," Malone said after Game 7. "I love the moment, I love where we are at, and more importantly, I love where we are going and who we are going there with."