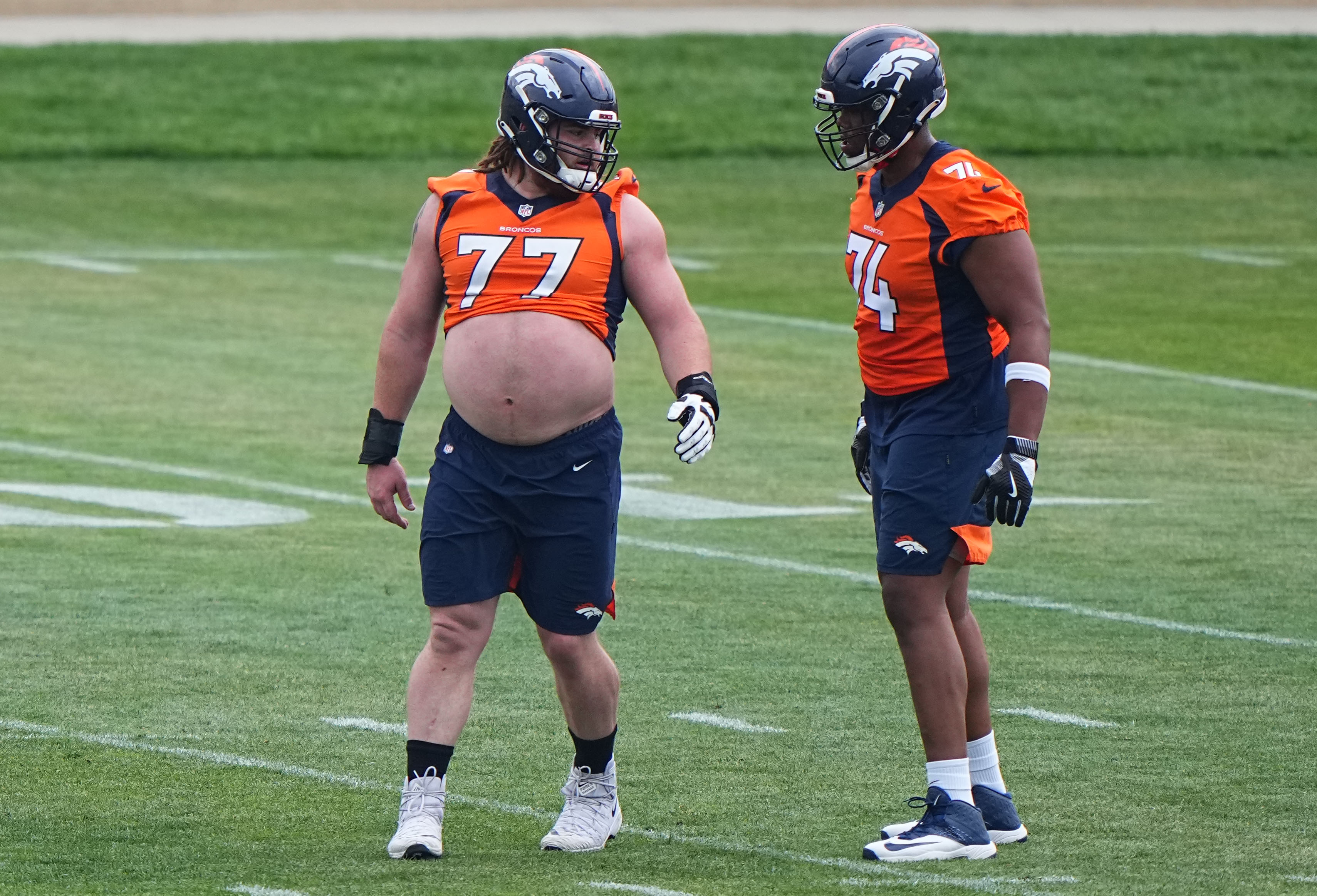 Rookie minicamp is underway, and as a result, we're getting to know all of the Denver Broncos' recent acquisitions a lot better and we get to see how they're acclimating to their new environment.
The altitude is always a challenge for the rookies, but it might be affecting Quinn "The Belly" Meinerz more than most.
"I'll definitely say [it's affecting me] a little bit," Meinerz said. "That's why the belly was breathing a little too much yesterday (laughs). It's something I'll get used to. It comes with time and it comes with training. It'll definitely be an advantage later. Right now, it's something I have to manage."
The belly was definitely breathing on the first day of rookie minicamp.
The belly is breathing. 😅

💪 @QMeinerz 💪 pic.twitter.com/WNLIMGA7Fc

— Denver Broncos (@Broncos) May 14, 2021
The love and adoration which Meinerz's belly brand has brought on is appreciated by the third-round rookie, but he's hoping to avoid becoming any sort of distraction as he focuses on learning the offense.
"Yeah, I've definitely gotten the love from Broncos Country and that's always awesome," Meinerz said. "To have the fans have your back is a cool experience through social media. I'm not a big social media guy, but to have a lot of messages welcoming me to Broncos Country was really pretty cool. I haven't been able to have the time to explore the Denver area. I go to my hotel and study all night. There will be plenty time for that later—to interact and meet some of the people."
Seeing Meinerz that dedicated to his own growth in development because he is a raw prospect, as one would expect with him coming out of Wisconsin-Whitewater. However, his ceiling is sky-high which should excite Mike Munchak who has specialized in developing such prospects throughout his prolific career as an offensive line coach.
So far the relationship between Meinerz and Munchak appears to be a good one.
"[Munchak] is a great coach, and he's been teaching me a lot of great things," Meinerz said. "He's stuck me at center and that's where I'm working right now. He's been really helping me learn this playbook."
Even with that coaching and development from Mike Munchak though, it seems unlikely that Meinerz will be able to steal a starting job by the start of the season, and possibly might not start at all this year.
Fortunately, he has an excellent outlook on what his responsibility to the team is.
"I've got to get myself up to the level where the vets are and to be able to contribute," Meinerz said. "It's not, 'Hey, I want to be a starter.' It's, 'Hey, I really want to help contribute to this team and help them win'. When the veterans get here, I want to be a great practice partner for them to constantly help improve their craft. Something like [starting] isn't really on the radar right now. I'm focused on this rookie mini camp and taking it day-by-day. You can't worry about those kinds of things."