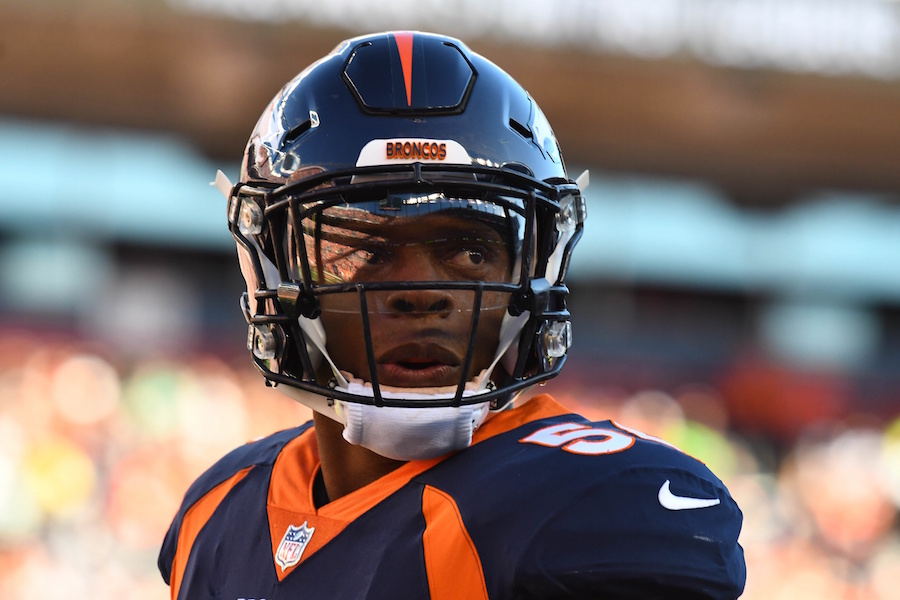 Von Miller is the face. Derek Wolfe is the voice. Aqib Talib and Chris Harris are the legs. And as of this season, Shelby Harris has become the arms and Domata Peko has assumed the role of the big, strapping torso. Yes, a talented crew comprise the body that is the Denver Broncos defense. But one name that doesn't always get the credit it deserves is the brains of the operation, linebacker Brandon Marshall.
Since 2014, Marshall has been Denver's "green dot" on defense. For those unfamiliar with the term, the "green dot" refers to the sticker placed on the back of a helmet denoting that player's use of an in-helmet radio that allows him to receive on-field communications from the coaching staff. On the offensive side of the ball, it's the quarterback. On defense, that usually falls to a linebacker. In the Broncos' case, it's Marshall.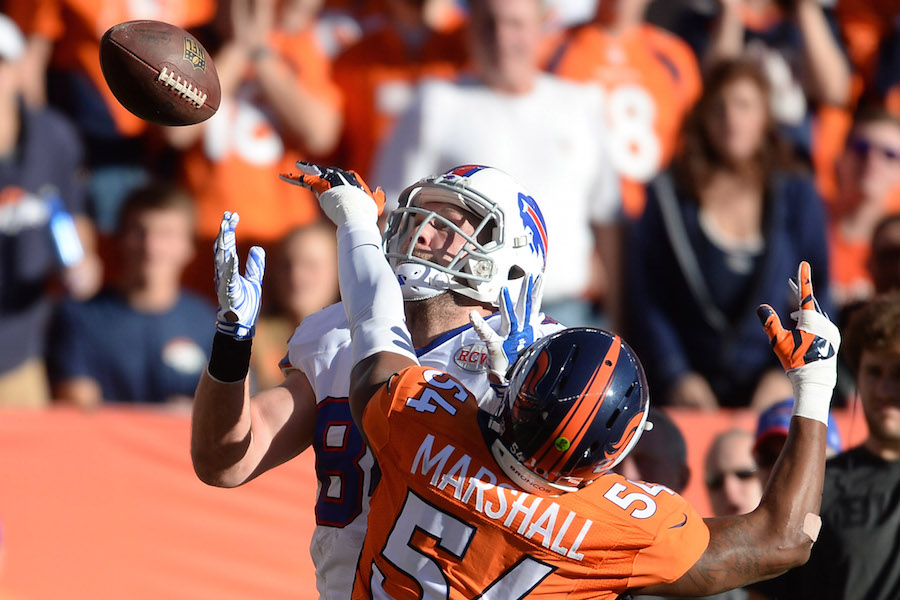 In Marshall's first three seasons as the "defensive QB" the Broncos finished third, first and fourth in total defense (yards allowed) respectively. After strong showings against the Jets and Colts, Denver is back atop that metric heading into Week 16 against Washington.
Marshall's leadership has grown over the years, taking a big leap during the 2015 Super Bowl campaign.
"Brandon has been a leader throughout the course of the season," former head coach Gary Kubiak said ahead of the playoff run that would end in a Super Bowl 50 victory. "He's played extremely well—he and [ILB] Danny [Trevathan] inside. I don't know if Brandon started the season as one of our big leaders on defense, but I can say he's there now. His play and his actions, the way he handles himself, he's come a long way."
That growth was evident early in the season, when Marshall made the following comment about being the on-field play-caller:
"I make the calls. I wish I could call my own number but I can't do that," the linebacker said after a 2015 win over the Vikings, referencing a game-sealing strip sack by now-former Broncos safety T.J. Ward.
Deferring to other playmakers on the defense is part of the job when wearing the green dot, but Marshall has had more than his share of opportunities to make big plays over the years.
He led the team in solo tackles (77) in 2015 and ranked second in combined tackles (102). He was first in both categories (91/113) in 2014. An injury last season limited Marshall's numbers (39/52) in his 11 games (10 starts), but he's rebounded nicely in 2017 and is again on pace to lead the team in both categories.
In fact, Marshall is one of only four NFL players in 2017 with at least 90 combined tackles (he's currently at 92, 65 solo) and three sacks. He's also on pace to play a career-high snap percentage at 93.1 after dropping to 75.3 percent in 2016.
It's no surprise that Denver's defense is back atop the league rankings with Marshall back on the field full-time and fully healthy.
Marshall played a huge role last Sunday in Denver's dominant performance against the New York Jets, recording a team-high seven tackles (six solo), a sack and a forced fumble. It was the first time in more than 12 years a Broncos team had held an opponent scoreless. They became just the fifth team in the last 17 years to pitch a shutout and hold their opponent to less than 100 yards of total offense.
"This is a special day for the whole team, especially for the defense," Marshall said postgame. "They said it had been 12 years or something close to that, that is a long time. For us to come out here and give a boost, it was great. We were hitting on all cylinders from the first play."
While Denver's offense and special teams misfired too often this season during an eight-game losing streak that effectively ended their playoff hopes, Marshall and the defense have been as good as ever. The record might not show a winning season this year, but the body of work on defense is worth paying mind to. Broncos fans can thank Brandon Marshall for much of it.