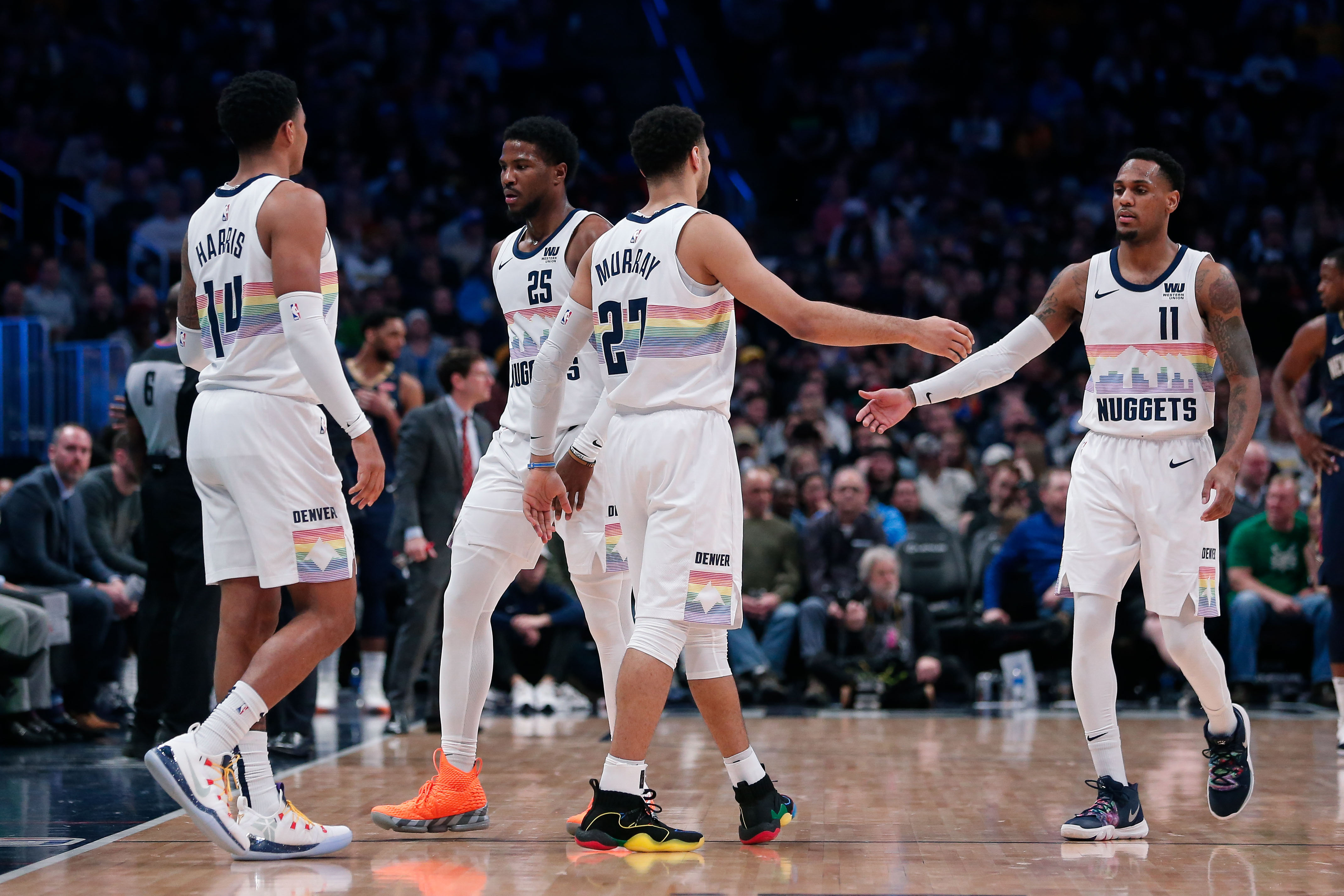 Since the All-Star break has ended, the Denver Nuggets have suddenly looked much more vulnerable than they did in the first 60 games of the season.
After tearing through almost every team that stood in their way, the Nuggets are now just 4-4 in their last eight games after losing three of their last four battles. In those eight games, Denver's offense has fallen from a once elite level to the 19th ranked offense across the league while simultaneously turning the ball over at an alarming rate.
Now, as Denver continues to drop winnable games, the Nuggets grip on the second seed is getting looser and looser by the night. If Denver does not get back on track during this three-game homestand against the Minnesota Timberwolves, Dallas Mavericks, and Indiana Pacers, it is going to be incredibly difficult to not only hold onto a top-two seed in the West, but to carry positive momentum into the playoffs.
Because of the struggles that Denver has been having, Nuggets head coach Michael Malone has a fairly intense film session after practice on Monday morning with his team (read more about that film session right here).
"Some open and honest conversation," Malone said when explaining how Denver can bounce back from their issues. "I showed 13 clips today and I told the guys before we watched them, 'if anybody in here is sensitive, get up and leave now'. It was very open, very honest, and very direct about what a bad shot is, what a bad turnover is, and what selfish basketball looks like.
"Hopefully they hear the message and get back to playing the way we play."
Now, the Nuggets have an opportunity to rediscover themselves in an extremely comfortable environment — the Pepsi Center in downtown Denver. At home, the Nuggets are Western Conference leading 27-6. If there is anywhere for the Nuggets to bounce back, it is on their home floor.
If you ask Malone, he still is not sure which version of his hyper-talented Nuggets will show up. What Malone does know is that the way Denver plays during their upcoming three-game homestand will likely be an indicator for what is to come in the final 17 games of the 2018-19 regular season.
"Now we have a three-game homestand," Malone explained at practice on Monday morning. "Tomorrow night, I am going to be very interested to see what kind of urgency, energy, effort, and focus we have to start that game against Minnesota."
There are a couple things that Malone needs to see from his team over this impending homestand to know that they are back on the right track.
First off, Malone just wants to see his team get back to playing selflessly. There have been multiple occasions in which Malone has called out his team for being selfish. Getting back to their altruistic ways is priority number one for Malone.
"For me, it is about us getting away from who we have been and more importantly understanding why you win and why you lose," Malone explained. "When we win, we play a certain brand of basketball. With 17 games to go — 11 of those 17 against teams that are .500 or better — we cannot afford to deviate from that and try to make it up and change the pattern because it does not work well for us."
Yes, I know that the two things go hand in hand, but the second issue that Malone wants to see remedied is the lack of touches for Nikola Jokic, the engine to their offense and Denver's bonafide top-10 player in the league.
It is seems so simple that playing through a 7-foot passing savant can — and will — help create better shots and help alleviate a lot of the turnover struggles Denver is currently dealing with. Now, they just need to go out on the hardwood and make it happen.
"When Nikola touches it, good things happen because he is going to score, he is going to find the open man, he is going to draw a foul or double team, and good things happen," Malone stated. "I trust him with the ball. So let's get away from those poor dribble down, don't pass the ball, don't move the defense, take a quick shot, now we are exposed in transition, and now we are playing uphill the rest of the way. The greatest thing that I have taken lately is that we need to get Nikola the ball a lot more."
Simply stated, getting the ball into Jokic's hand is effectively killing two birds with one stone. When Denver plays through Jokic, they immediately fall back into their selfless ways and begin playing for each other. Whenever someone else is acting as the catalyst for the offense, the probability of these selfish tendencies increases substantially. Expect a massive push to get the ball into Jokic's hands in the final 17 games of the season.
With the season quickly coming to its conclusion, the Nuggets have the choice of what kind of team they want to be. They have all of the talent in the world to storm the gates and make a run at the first seed in the Western Conference if they want to. Inversely, they could also let off the gas and quickly start getting overtaken by teams below them. The Houston Rockets have won nine-straight games and are only three losses behind Denver with the inside track on securing their tiebreaker over the Nuggets. Additionally, both of the Portland Trail Blazers and Oklahoma City are only four losses behind Denver.
This race for playoff positioning is far from over and the only way that the Nuggets are going to be able to keep pace is to accept the challenge that Malone gave them.
"For us, we just have to keep pounding the stone, keep on working, keep on staying together and understand that there is no need to panic," Malone explained. "With 17 games to go, we have a great opportunity in front of us, but who do we want to be? That was one of my questions to our team today. Do we want to just kind of crawl into the playoffs and be thankful we made it? Do we want to fight for homecourt advantage in the first round? We are a game and a half behind Golden State. Do we want to really commit to trying to get that? I do not know, but I do think that his homestand will really showcase to all of us where we are as a team, what our commitment level is, and what are we willing to fight and sacrifice for. It is going to be a challenge because we have a very difficult schedule thee rest of the way."