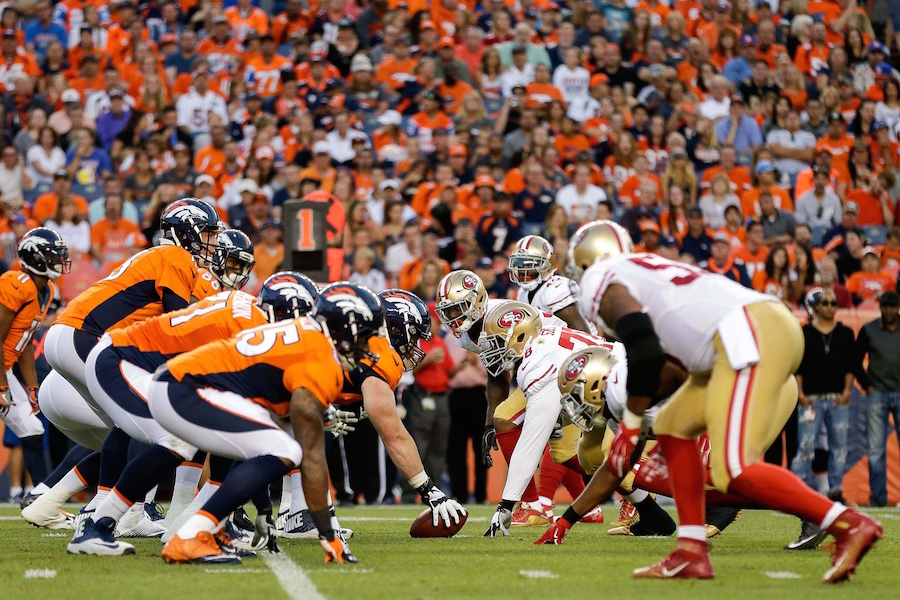 Over the past two seasons, the Denver Broncos' troubles on offense have had a direct correlation to the play of the men in the trenches. For students of Broncos history, the recent performance of the offensive line has been a noticeable step back from the old glory days of Gary Zimmerman, Tom Nalen and Mark Schlereth. With his offseason moves this year, however, John Elway has made significant progress in assembling a unit that has the same gritty mindset that protected him in the final years of his career and propelled Terrell Davis to a Hall of Fame career.
Two seasons ago, the Super-Bowl-winning Broncos featured veteran Ryan Harris, who admirably manned Peyton Manning's blind side after injures took out Ryan Clady and Ty Sambrailo. Having to move players around forced the team to give untested Michael Schofield, a natural guard, plenty of action at right tackle – with limited success. Then-rookie Max Garcia also played major minutes as the duo of Louis Vasquez and Evan Mathis battled nagging aliments for much of the regular season and postseason.
Always looking to improve the club, John Elway went out that offseason to shore up the o-line by giving contracts to tackles Russell Okung and Donald Stephenson, in addition to drafting guard Connor McGovern out of Missouri. In theory, the moves were aimed at kicking Schofield inside to guard and allowing Sambrailo to compete for the starter's job at either right guard or tackle, while having the option of being the top backup on the line should he falter. On paper, the group looked like it was upgraded enough to fulfill then-coach Gary Kubiak's dream of a ball-control, play-action offense.
That plan never got off the ground, as Stephenson and Okung spent much of the campaign nicked up or ineffective. Sambrailo, who showed versatility playing multiple spots while at Colorado State, never got up to speed due to his own injury problems. Combine that with McGovern being too green to take a single snap during the regular season and the line was, again, a major point of blame for the sputtering offensive output in 2016.
Not content with that performance, Elway went into free agency and the draft this offseason to fix the line. He grabbed Ronald Leary and Menelik Watson in free agency and selected Garett Bolles with his first-round pick. Respected offensive line coach Jeff Davidson was also brought in to replace the departed Clancy Barone, bringing with him an emphasis on a power-style of blocking that would better suit the new acquisitions.
Seemingly overnight, the Broncos developed a new philosophy of what they want their offensive linemen to look and play like. In the simplest terms, they wanted to add some mean and nasty. With Leary and Bolles, Denver added a pair of players who take no prisoners between the white lines.
With Bolles and Watson the likely starters at tackle, it pushes Stephenson and Sambrailo to the bench, but improves the overall depth at that position as well. Leary should be an upgrade over the guard play of last season and allows Schofield to be the primary backup at both guard spots. The Broncos also have McGovern taking reps at center in an effort to get him closer to the playing field this year.
Elway has again re-tooled the offensive line, but this year appears to be significantly better in terms of quality and quantity – not to mention the noted shift in mindset. With key free-agent pickups, as well as spending a significant draft pick to shore up left tackle, Denver has legitimate Pro Bowl talent with Leary and center Matt Paradis to go along with promising players in Bolles, Garcia and Watson. If any one one of them should struggle or go down with an injury, they have also built up enough depth to not have to endure a noticeable drop-off in performance.
In just one offseason, the identity of the offensive line has morphed into a nasty, smash-mouth unit looking to take the fight to opposing defensive lines. The Broncos are going with the idea that a more physical group upfront will help a running game from a year ago find its footing, as well as keep either of its young quarterbacks in Paxton Lynch or Trevor Siemian off their backs and completing passes downfield this season. If everything holds up, an improved line with quality depth will allow the Broncos offense to start moving in the direction of the group that made Elway so successful all those years go.