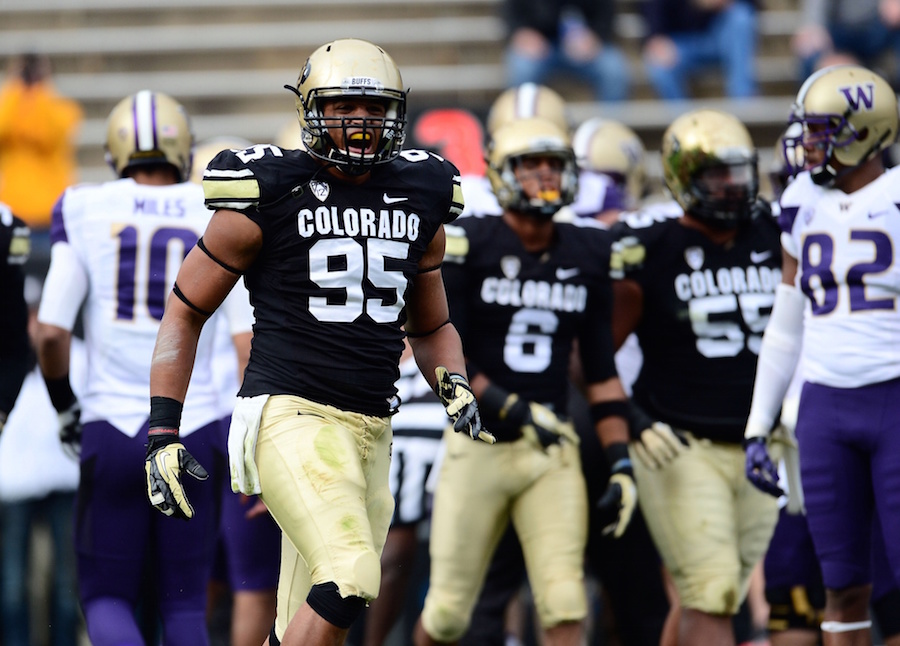 Former University of Colorado football defensive lineman Derek McCartney is looking forward to the upcoming NFL Draft, even if he's a seventh-round pick or earns his shot with an NFL team as an undrafted free agent.
In an interview with Eric Goodman and Les Shapiro on Mile High Sports AM 1340 | FM 104.7, McCartney discussed his hopes for the future, and the advice his family has given him leading up to the draft.
"You know, I think that one of the things my grandpa, [former CU head coach] Bill McCartney, has instilled this in me ever since I can remember is, you know, he would always tell me, 'If you think you can or can't, you're right'. The whole point of him saying that is not just to say you can do anything, but [that] you move in the direction of your self-talk, and if you're positive then you're going to move in a positive direction. So, that's kind of something that my grandpa's taught me my whole life," McCartney said.
McCartney, winner of the team's Eddie Crowder Award for outstanding leadership, has steered away from reading scout reports on him, but he evaluated pros and cons of his playing from his own point of view.
"I'll start with the pros: I would say I'm intelligent, and you know I'll be able to figure things out pretty quickly. Cons might just be that you know someone might see me as kind of a tweener because I'm not the strongest guy, I'm not the fastest guy, but I'm strong and I'm fast enough, and I think that sometimes that can look not so great," McCartney said.
Although McCartney did not get the chance to speak one-on-one with any scouts during CU's pro day, he did have the opportunity to meet with the Broncos' at their local prospects day.
"You know, I didn't spend a lot of time talking with scouts that day. You know, I had an opportunity with the Denver Broncos, I went to their local pro day, and that was really cool for me, and other than that I haven't had a lot of one-on-one conversations with people," McCartney said.
No matter what ends up happening in next week's draft, McCartney is hopeful for any opportunity that he is able to get, and is optimistic about the future.
"You know, I think in my position it's best to find a team that is the right fit for me, and I don't exactly know what that is right now, but as the draft goes on I might be able to have a better idea. So, in some situations it might be better to be an undrafted free agent if you get to make that kind of decision," McCartney said.
Click here to listen to the full interview with Derek McCartney, including conversations about his family, or listen to the podcast below.
Catch Goodman and Shapiro every weekday afternoon from 4p-6p on Mile High Sports AM 1340 | FM 104.7 or stream live any time for the best local coverage of Colorado sports from Denver's biggest sports talk lineup. Download the all-new free Mile High Sports Radio app for Apple or Android.