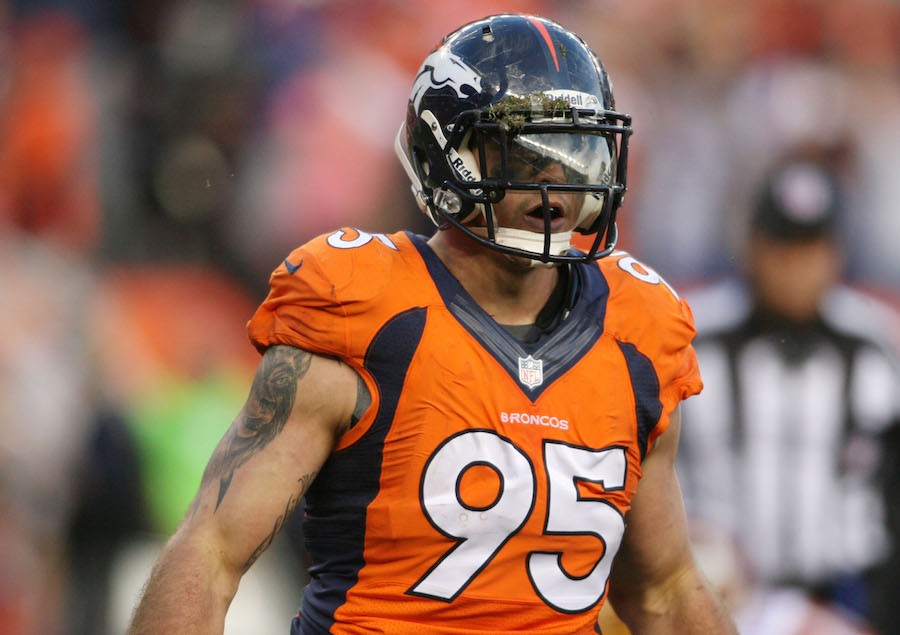 It should come as no surprise that the Denver Bronco who once told an opposing quarterback that he was going to eat his children didn't mince words when it came to discussing the expectations for 2017. In his own words, Derek Wolfe isn't going to take any shit this season.
On the heels of a disappointing 2016 season, Wolfe made it very clear in speaking to the Denver media on Tuesday that the team got a little lax in the wake of their Super Bowl 50 victory – especially in stopping the run.
"I can sit here and make all the excuses I want, but at the end of the day, we just didn't get it done," Wolfe said. "It doesn't matter what happens – look at the Super Bowl season. We got put in a lot of bad situations, we just made it happen. There's no excuse for that. It's just poor focus, bad football, guys were banged up, whatever. It doesn't matter. You just have to get it done. And that's what we're going to do this year, get that shit done."
Wolfe is taking personal responsibility for making sure it's done, and now sees himself in an important leadership role on the team.
"When I see guys not doing the right thing, I'm going to tell them. I'm not going to sit back and let that shit slide," Wolfe said.
In 2016, Denver's defense ranked fourth in total yards allowed with 316.1 per game. But against the run Denver ranked 28th in the league, allowing 130.3 yards per game. Wolfe isn't worrying about the numbers, though. He's focused on the strength of the team as a whole, and reviving that never-quit mentality that helped deliver the franchise's third Super Bowl victory.
"They can talk about numbers and all that shit, but they can't measure heart," Wolfe said. "I think this team has more heart than anybody and we're going to prove that this year."
Wolfe is one of the key figures in the defensive corps, and while he says he plans to be a more vocal and stringent leader this year, his emotions are rooted in a love for winning and a love for his teammates.
"I love to win," Wolfe said to conclude his time with the Denver media. "I love the relationship – football has always been my family. I built such a relationship with these guys that I'm around: Von [Miller], Aqib [Talib], Chris Harris, and the list goes on. I could name guys who have been with me the whole time, that I'm really – T.J. [Ward] – I'm just so close with those guys. I just couldn't imagine playing with another group of guys."
In a world of often generic and politically correct interview responses, it's refreshing to hear Wolfe speak with such candor and passion. But there should really be no surprise about his words on Tuesday. That's the Derek Wolfe the Broncos drafted and the Derek Wolfe that has evolved to being one of the best all-around defensive ends in the National Football League.