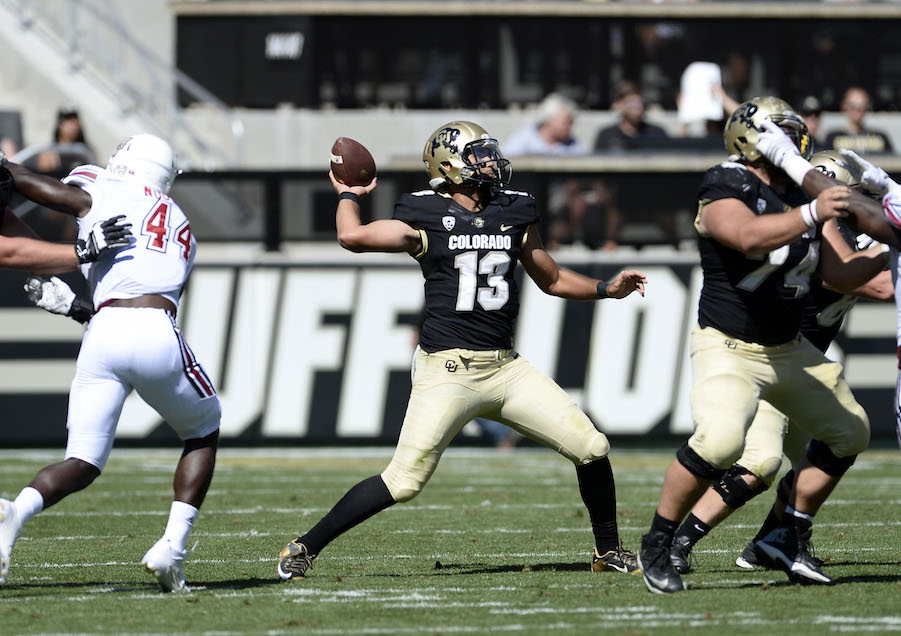 Following Saturday's tilt with the Nicholls Colonels, the CU Buffs enter a frightening October schedule. Gil Whiteley of Mile High Sports AM 1340 calls it downright "hellacious."
But Neill Woelk, a longtime beat writer covering the Buffs and now contributing editor for cubuffs.com, told Whiteley he thinks Colorado could surprise some people during the month that ends with a Halloween night road game against current AP No. 9 UCLA.
The Bruins aren't the only ranked opponent the Buffs will face in October. In fact, four of the five teams CU has on the schedule next month were ranked in the AP Preseason Top 25. Only Arizona State has dropped off of that list, leaving Oregon (13), Arizona (16) and the aforementioned UCLA on the schedule, along with Oregon State.
Still, Woelk says that Pac-12 coaches aren't taking this Buffs squad lightly like they might have in prior years. Colorado is better at creating turnovers and their passing game, while not producing eye-popping numbers, is becoming very efficient.
The result, says Woelk, could be the Buffs pulling off some unexpected victories. He thinks the Arizona and Arizona State games, not to mention Oregon State, are now very winnable games for Colorado.
The most promising thing for CU fans should be that, according to Woelk, the team is excited about the challenge ahead. "The Buffs are really looking forward to it," he says.
Gil says that Saturday's matchup with Nicholls should be a big confidence booster for the Buffs as they head into the frightening month upcoming.
Listen to the full conversation in the podcast below.
Listen to Gil Whiteley every weekday from 11a-1p on Mile High Sports AM 1340 or stream live any time for the best local coverage of what's new and what's next in Colorado sports.