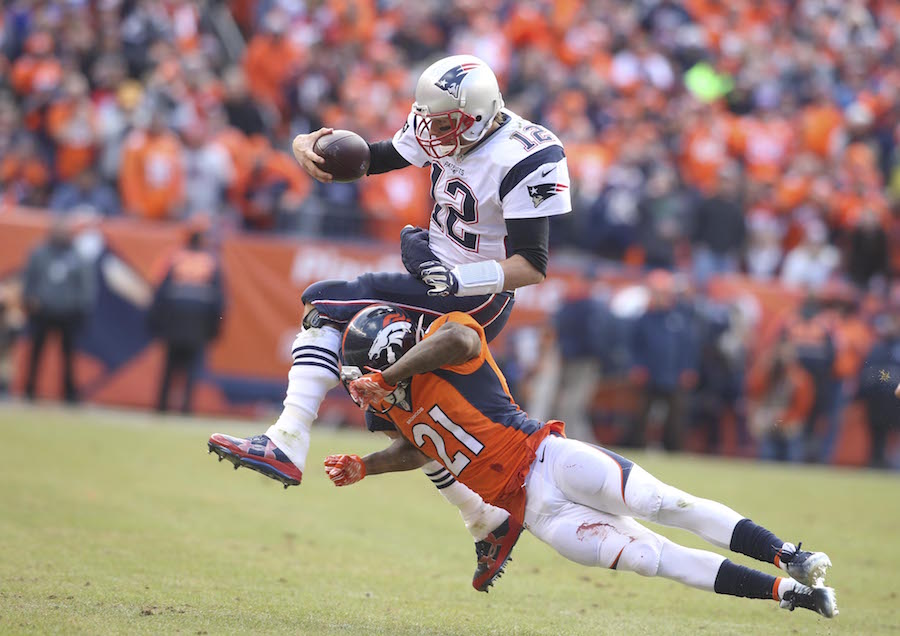 The New England Patriots are a better football team than the Denver Broncos. Only the irrational fans in Broncos Country can contest that as an opinion and not respect it as fact. When it comes to the most important parts that make up an NFL team, the Patriots have all of the advantages. That all starts with the best signal caller to ever play the game under center (who is playing great football at the age of 39) and the greatest head coach this league has ever seen. It's a tandem that's experienced long-term success unprecedented in the modern game.
Once again this season, Bill Belichick and his staff have continued to innovate rather than stagnate. They get more out of each player on their roster than anyone in the league; when it comes to utilizing the talent on his roster, Belichick has no equal. And, when it comes to discarding unwanted or unneeded talent, no one cuts bait quicker than him. Belichick has proven time and time again his way is the right way.
The last thing an 8-5 football team in a must-win situation wants to do is face Belichick and Brady in December. This notion, justifiably so, has Denver in a tizzy. Fans aren't just panicking; folks are selling their tickets to avoid watching a blowout in near freezing temperatures. What once looked like a game that'd determine home-field advantage in the AFC now has the feel of a walkover game for a Super Bowl contender. But not so fast, Broncos Country, everyone needs to pull back on the reins.
Remember, the Broncos team that'll suit up Sunday isn't so different from the one that beat New England in overtime last regular season and then mauled Tom Brady in the playoffs. Denver is still getting subpar (stating it nicely) play at quarterback, the offensive line still stinks, the running game is once again 3 yards and a cloud of dust and the defense is still great. Those factors gave the Broncos a fighting chance last year and Sunday will be no different.
Last season's games were decided between New England's offense and Denver's defense. This will undoubtedly be the case again.
Von Miller and the defense are the heart and soul of this team (obviously no secret); as they go, so goes the Broncos. Denver's defense sacked Tom Brady seven times in their two matchups last year. That consistent pressure forced Brady to throw two interceptions in a playoff game, something rarely seen from the future Hall of Famer. The game plan wasn't rocket science, either — hit Brady at every turn. It was simple and executed perfectly.
The 2016 Patriots do present a new challenge, though: a stout running game. LeGarrette Blount has rushed for over 1,000 years and leads the league in rushing touchdowns. Unfortunately for the Broncos, Wade Phillips has struggled to formulate game plans to stop the run all year. That doesn't mean there isn't a silver lining, because Phillips has the squad to make the Patriots one-dimensional.
Chris Harris, Aqib Talib and Bradley Roby are better than any trio of receivers the Patriots can throw on the field. They can handle their matchups one-on-one, allowing Phillips to use the linebackers and T.J. Ward exclusively to stop the run. Pair that with Miller leading a group far superior to the offensive line they'll be facing and Phillips has to like his odds.
On Sunday there's no reason to get cute when trying to stop Brady and the offense because Denver still has all of the matchup advantages. Especially considering the Patriots are without star tight end Rob Gronkowski. The Broncos will rely on their cornerbacks to shutdown Julian Edelman, Martellus Bennett and Chris Hogan on the outside and clog up the middle to stop the run. All while sending Brady to the ground every chance they get.
As luck would have it this is a game plan they're all too familiar with.
At first glance Sunday's game looks lopsided. You have an 11-2 team still in the hunt for the number one seed in the AFC and another stuck in neutral and in danger of missing the playoffs at 8-5. Denver's offense can't run the ball, the offensive line has been atrocious and they're facing a really, really good defense. And, the Patriots coaching staff is head and shoulders better than Denver's. But, this is a play we've seen before.
The team that beat the New England Patriots last year is a mirror image of the team that'll be playing New England Sunday. This game isn't the mismatch that it appears be. Rest assured Broncos Country, this team knows how to beat Brady and Belichick.