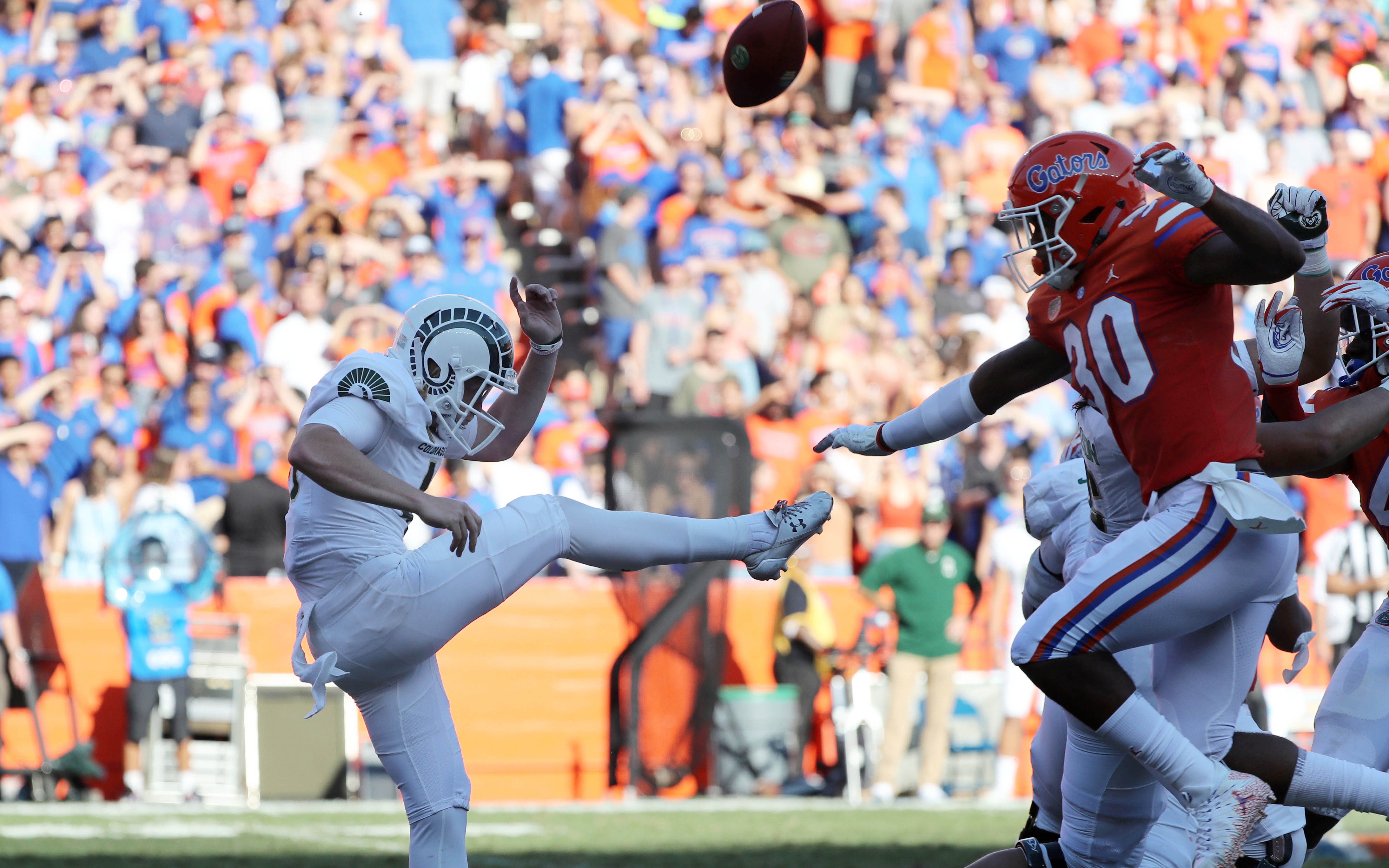 Ryan Stonehouse has a monstrous leg.
Before his sophomore season kicked off, in 2018, Stonehouse told the media he wanted to "Go out there and punt it over the stadium." And when I asked special teams coach Ben Larson about that comment, the coach said he just wanted to see "Five seconds of hang time."
That's the goal for any punter, to not only boot the ball far, but more importantly, high in the air for that long hang time. With that hang time, it gives his teammates a chance to run down, surround the returner and tackle him before he can do damage.
This year, we saw a mixed bag in terms of long and high punts from Stonehouse.
When the season was all said and done, Stonehouse's 48.3 yards per punt average was the second-best number in the entire nation. However, that great average comes with some caveats.
At times, Stonehouse out-kicked the coverage, getting incredible length but not putting the ball high enough in the air. Out-kicking the coverage allows the return man to not only see the field and pick his route, it also allows him to gain speed before facing a would-be tackler.
While not all his fault, the Rams special teams allowed 561 punt return yards, which was by-far the worst in the entire nation. To put that number in perspective, the second-worst team in the FBS was Jim McElwain's new team, Central Michigan, allowing 392 punt return yards. CSU gave up nearly 1.5 times what the second-worst team did in CMU. That's shocking.
Even with Stonehouse's huge leg, his eight touchbacks and those 561 yards led to the Rams being 86th in net punting, at 36.65 yards per boot.
While Colorado State's punt return coverage unit improved drastically over the last four weeks of the season, they still allowed three punt return touchdowns in 2018; two to Florida and one to Boise State.
Stonehouse, who was named First-Team All-Mountain West this year, enjoyed punts of 70 (Arkansas), 68 (Illinois State) and 61 (Colorado) this season. However, his coverage unit was easily the worst in the nation.
Colorado State was awful defensively this year, giving up 36.8 points per game, which was 118th of 130 teams. The Rams were also terrible offensively, scoring only 22.8, which was 108th.
But, net punting and the return yardage points to the Rams deficiencies on special teams as well. That's on top of a lack of a return game themselves — save a few decent kickoff returns by Anthony Hawkins — and includes Wyatt Bryan going only 11-18 on his field goal attempts this year. Oh, and we can't forget the multiple blocked punts by Florida, either.
Simply, for the Rams to bounce back in 2019, they have to be better in every, single phase of the game. Yes, Mike Bobo is an offensive-minded head coach, so one could guess that side of the ball will improve most quickly. And after one year with the team, John Jancek's schemes should be better received by players.
But if Colorado State wants to win close games, special teams will come into play time and time again.
For the Rams to rebound next year, focus on all three phases will be paramount in Fort Collins.
More Rams:
Listen to the latest CSU RamsCast here.