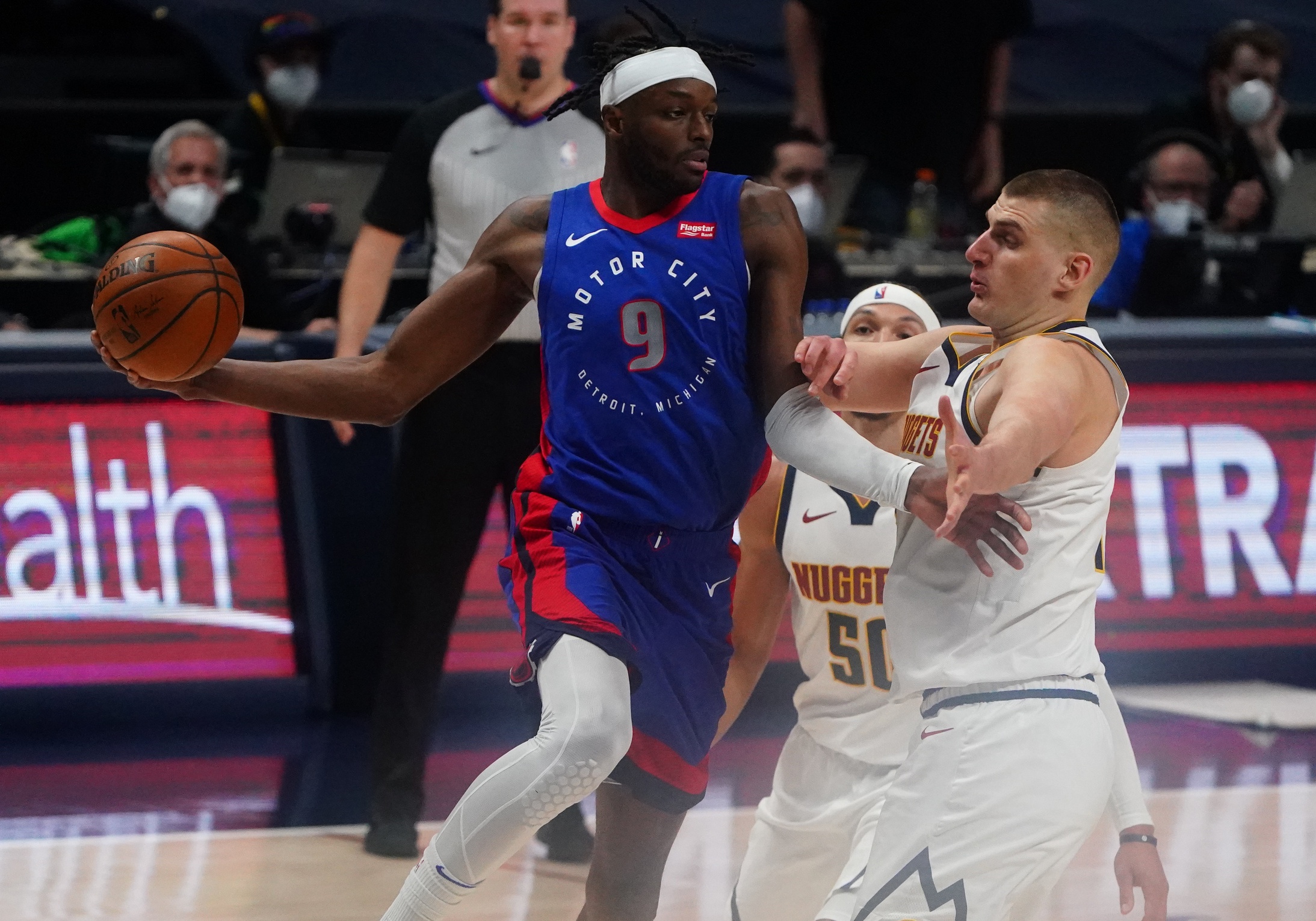 Former Denver forward Jerami Grant has enjoyed a career year in his first season with the Detroit Pistons. But the decision to move east was never an easy one. It was largely made with a feeling of self-belief — the belief in capitalizing on an opportunity to play a larger role.
That was part of the reason why Grant initiated a sign-and-trade last offseason, agreeing to a three-year $60 million deal with the Pistons — an offer the Nuggets were willing to pay to retain his rights.
In his return to Ball Arena, the former Nugget led the game with 29 points but watched as Denver ran away with a 134-119 victory over his Pistons on Tuesday.
Mason Plumlee, who spent four seasons with the Nuggets before signing in Detroit last offseason, recorded just four points in the loss.
"I love my guys. I was with them last year but it felt like three years in one," Grant said of his return to Denver. "I got a lot of brothers over there. Definitely close to them. But when we step on the court you just got to play."
Grant spent just one season in Denver after being acquired from Oklahoma City for a first-round draft pick in 2019. The now 26-year-old was taking steps towards becoming the star he's always believed he could be.
Grant started just 24 games in Denver last year, often playing behind starters Will Barton and Paul Millsap. He recorded just 12 points per game, down from the 13.6 he had with the Thunder in 2019.
Things have changed immensely for him this year. In starting all 47 games in Detroit prior to this game, Grant has turned the volume up on his productivity. He leads the Pistons with 22.4 points per game, highlighted by a career-high 43-point performance against the Bulls in February.
The victory was the Nuggets' sixth in a row since a loss against the Toronto Raptors on March 24. Denver (32-18) is one game back of the L.A. Clippers for third in the Western Conference.
"Our offense is elite," Nuggets coach Michael Malone said of his teams winning streak. "That's one thing that's carried us."
The Nuggets stormed out to a 76-56 lead at the half, playing the entirety of the game without star point guard Jamal Murray (knee). Center Nikola Jokic, who was serenaded with chants of "M.V.P." in the fourth quarter, recorded a team-high 27 points.
Michael Porter Jr. (25) and Barton (24) also recorded 20-plus points for the Nuggets.
"They're a great team. They got a lot of weapons," Grant of his former teammates. "They got a lot of talent and know how to play basketball. Definitely a championship caliber team."
The Nuggets shot 56-for-94 from the field and made 14-of-31 from beyond the arc.
They began to build their lead late in the first quarter and never turned back. They had a 14-0 run in the first and started the second 5-0.
"We got the win. Our offense played at a high level," Malone said. "The defense was poor. Our approach was alright. It could have been better. We're going to have to defend a hell of a lot better tomorrow night."
The Nuggets host the Spurs on Wednesday, looking to extend their winning streak to seven.
Notes: Denver was set to host the Pistons on Feb. 1, during the first leg of the regular season schedule. The game was postponed just moments before tip-off because of COVID contact tracing within the Pistons organization. The two teams will meet again at Little Caesars Arena in Detroit on May 14.