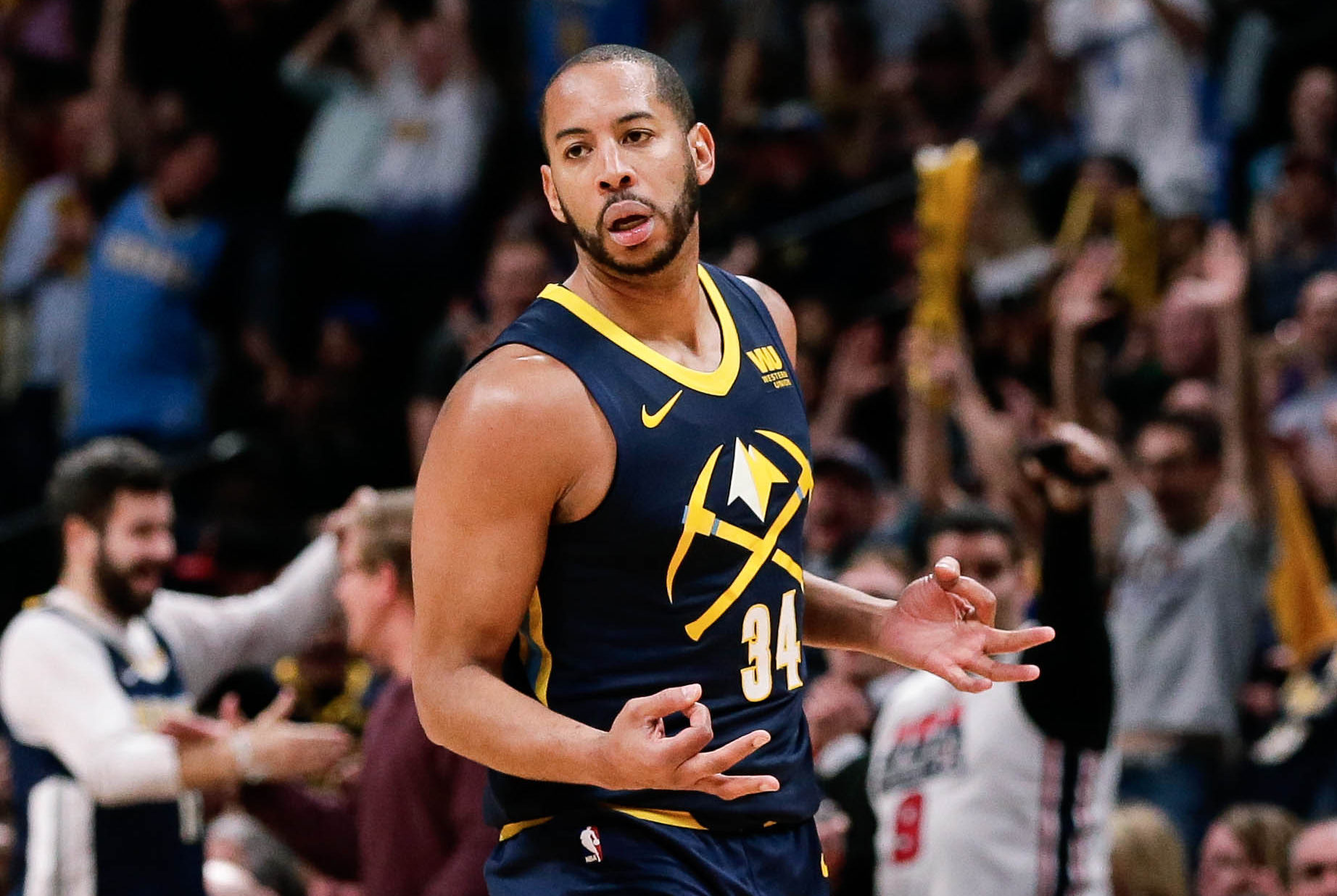 As of the beginning of February 2018, Devin Harris had been relegated to the role of veteran role model and mentor with the lowly Dallas Mavericks. His minutes had disappeared as they were redistributed to the more youthful members of the backcourt, which left Harris as the odd-man out.
Fast forward to the present day and Harris has now finished off his 14th NBA season as the reliable back up point guard for the Denver Nuggets, who fell short of the playoffs on the final game of the season in a winner-take-all matchup. Harris was relied on in many different capacities and was a big part why the Nuggets finished the season on a six-game winning streak before falling to the Minnesota Timberwolves on the final day of the season.
Now, Harris is giving serious consideration to attempting to stick with the Nuggets as he begins his offseason after playing an important role with the team. Denver will be without a backup point guard if Harris leaves, so there could be mutual interest between the two parties.
"I am going to take some time off and see where I am at," Harris said when asked about what he thinks the future holds for him "Free agency will present itself come July. I will let my agent talk on that, but I could see myself coming back here next year."
While Denver will likely not have any cap space to sign players, they will have both their bi-annual exception and mid-level exception to sign players even though they are over the cap. While getting Nikola Jokic signed long-term is likely the first priority of the offseason, the Nuggets will need a backup point guard going into next season and it is hard not to see how well Harris fits what the Nuggets want and what Harris is looking for.
Back on February 9th, the day that the Denver Nuggets traded for Harris, things changed quickly for the former All-Star. All that Harris wanted was to be back playing consistent minutes in high-stakes games and his wish was granted when he was traded to Denver.
The Nuggets acquired Harris in a three-team trade with the Mavericks and the New York Knicks in a deal that sent Doug McDermott to Dallas while Emmanuel Mudiay was on his way to New York. In return, Harris was suddenly on his way to a youthful Denver team who needed him to play as the de facto point guard off the bench as they pushed for their first playoff berth in four years. Harris was playing meaningful minutes in meaningful games once again and he could not be more appreciative.
"I am just grateful to be here," Harris said in his exit interview when reflected back on his couple months as a member of the Nuggets. "Coming from the situation that I came from, being able to play meaningful basketball late, trying to make a playoff push, and all that was fantastic."
Harris' averages of 8.2 points, 1.6 rebounds, 2.5 turnovers on 40.6 percent from the field and 34.3 percent from three-point distance do not jump off the page, but each point, assist, and three-pointer was seemingly a bucket that kept the Nuggets either above water or helped them extend the lead. Harris was not a guy that would put up big numbers, but he was a steadying hand whenever the Nuggets' young players or lineups began to lose control. It is no coincidence that Harris was a member of the Nuggets for the final 27 games of the season and Denver went on to finish 17-10. Having a steady backup point guard who had played in multiple playoffs and is a 13-year veteran was huge for the young Nuggets' roster.
In addition to his on-court production, he also embraced the role of being a mentor to the young guards on the Nuggets' roster. It did not matter if it was Malik Beasley, Jamal Murray, Gary Harris, or even Will Barton, there were multiple moments where Harris was seen getting in the ear of each of them. Harris embracing that role does nothing but help his chances of returning to the Nuggets this coming offseason. Harris has been vocal in how much he has enjoyed the balance of being relied on as on-court producer and also helping groom the future franchise cornerstones of the Nuggets.
"Learning and getting to know these young guys and trying to help them along in this process is all a positive for me as I breach on the senior age of certain individuals (Richard Jefferson)," Harris said while getting made fun of by Richard Jefferson, who did his exit interview with Harris. "It was a learning experience for me, but it was very enjoyable."
Now, all that remains is waiting until free agency begins on July 1st. Regardless of the outcome, Harris is proud of the younger Nuggets' players who stepped up in a big way to finish out the 2017-18 NBA season. Harris can see a bright future for this youthful Denver team. Just maybe, Harris will be around to see the youth in Denver culminate into a playoff opponent that no team wants to play.
"It is still tough. Being on the road in that situation — a playoff team in a playoff atmosphere, being down the whole game — I am just proud of how our guys fought back," Harris said. "We gave ourselves a chance to win. We just need to execute better late-game and that comes with experience. They have a veteran team over there and we have a bunch of young guys who haven't been in that situation before but they played their butts off and hopefully it is a great learning experience for them to come back ready for next year."