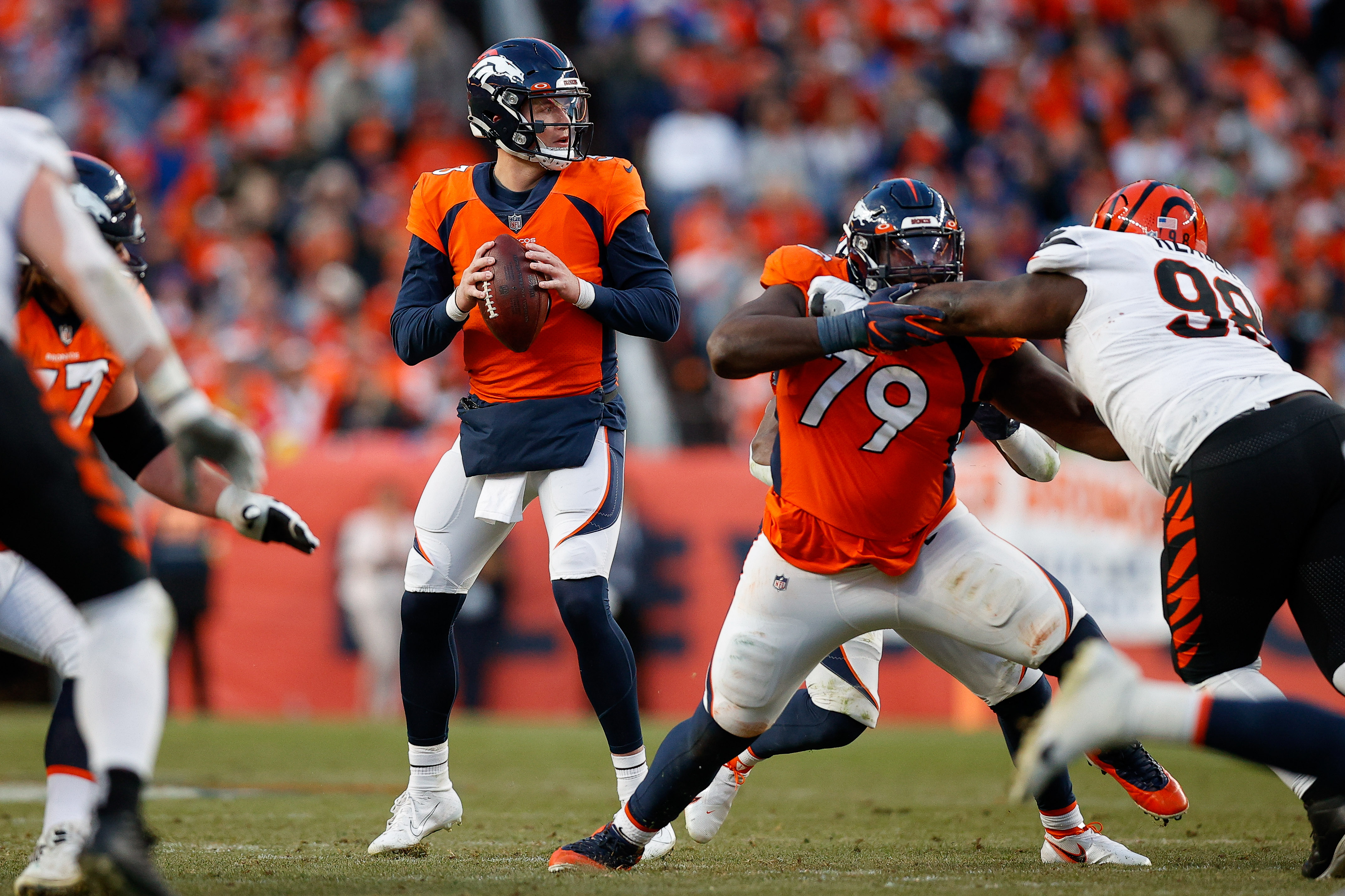 The Denver Broncos had their playoff fate in the palm of their hands and they blew it. The playoffs now seem out of reach barring a miracle.
However, they did get some quality play from backup quarterback Drew Lock. Will that showing be enough to re-spark the quarterback debate in Denver?
Stock Up
Baron Browning and Jonas Griffith
When the starting lineup showed Baron Browning and Jonas Griffith as the team's starting linebackers, there was cause for concern, but the young tandem was quick to silence any doubt.
Against the Bengals, the third-round rookie linebacker out of Ohio State — Browning — turned in the best performance of his young career.
When the Broncos selected Browning, it wasn't expected that he'd make a large impact as a rookie, as he was a relatively raw commodity. However, his athleticism was undeniable and gave him the potential to be a superstar, making him appear like an investment that would be well worth the wait.
Unfortunately, injuries to Alexander Johnson and Josey Jewell forced him into the lineup sooner than expected, but he's responded beautifully.
That reached a peak this week, as Browning was all over the field for the Broncos.
He registered multiple big hits just short of the sticks to stop the offense. The most notable instance of this might have come when he laid a nice lick on Tyler Boyd just short of the first-down marker to force a three-and-out on the first possession of the game.
Griffith had an equally large game full of critical stops in big moments. With how many linebackers the Broncos have cycled through this season, it's nothing short of remarkable that they're still able to dig up quality linebacker play. Plus, Griffith looked so good today that he will definitely earn consideration for more playing time moving forward.
Drew Lock
This season has not been kind to quarterback Drew Lock, but today might have been his best day.
Lock provided a spark upon entering the game following a gruesome injury to Teddy Bridgewater, while the offense was looking almost entirely anemic. Lock led the offense down the field and scored a deep passing touchdown to put the Broncos up ahead 10-9.
Then, following a Bengals touchdown, Lock drove the offense down the field yet again and had them in scoring position. He then quickly pulled a 'Lock special', made the wrong read on a read-option (which shouldn't have been called in the first place), and then ran right into a defensive lineman, whom he handed the ball off to.
If Lock doesn't make that error, the Broncos have the ball on third and goal from the seven, down five. At worst, they can make it a two-point game. Instead, Lock made his mistake, and the game's fate was ultimately sealed.
For the large majority of his snaps, Lock did a fine job. He added an explosive component the offense was in desperate need of. However, you're also showcasing your true allegiances if you refuse to hold his feet to the fire for what was by far the worst mistake made by any member of the Broncos organization today.
Ultimately, Lock showed Broncos Country flashes of what gave the fan base so much hope just a couple of seasons ago, while also showcasing exactly why he isn't in the team's long-term plans.
However, it was a solid backup performance that is sure to re-ignite Denver's quarterback controversy, and that certainly means Lock's stock is on the rise tonight.
Stock Down
Broncos offensive line
It was a bad game all around for the Broncos offense, but all of it came back to what might have been the line's worst game of the entire season.
Throughout the first half, the offensive line was mauled by the Bengals defensive line, as if the opponent's defensive line was actually made up of a ferocious pack of Bengal tigers.
In the run game, they were unable to move Cincinnati's front, making it hard for Denver's running backs to find any holes to slip through. In the passing game, Bridgewater seldom had time to survey the field before he would have a white jersey in his lap.
At one point in the first half, the Broncos had a sequence of six plays (two three-down series) that resulted in two punts, and five of those six plays were blown up by poor blocking before they even had a chance to develop.
We also saw a regression of Garett Bolles, who had two costly holding penalties late for the Broncos.