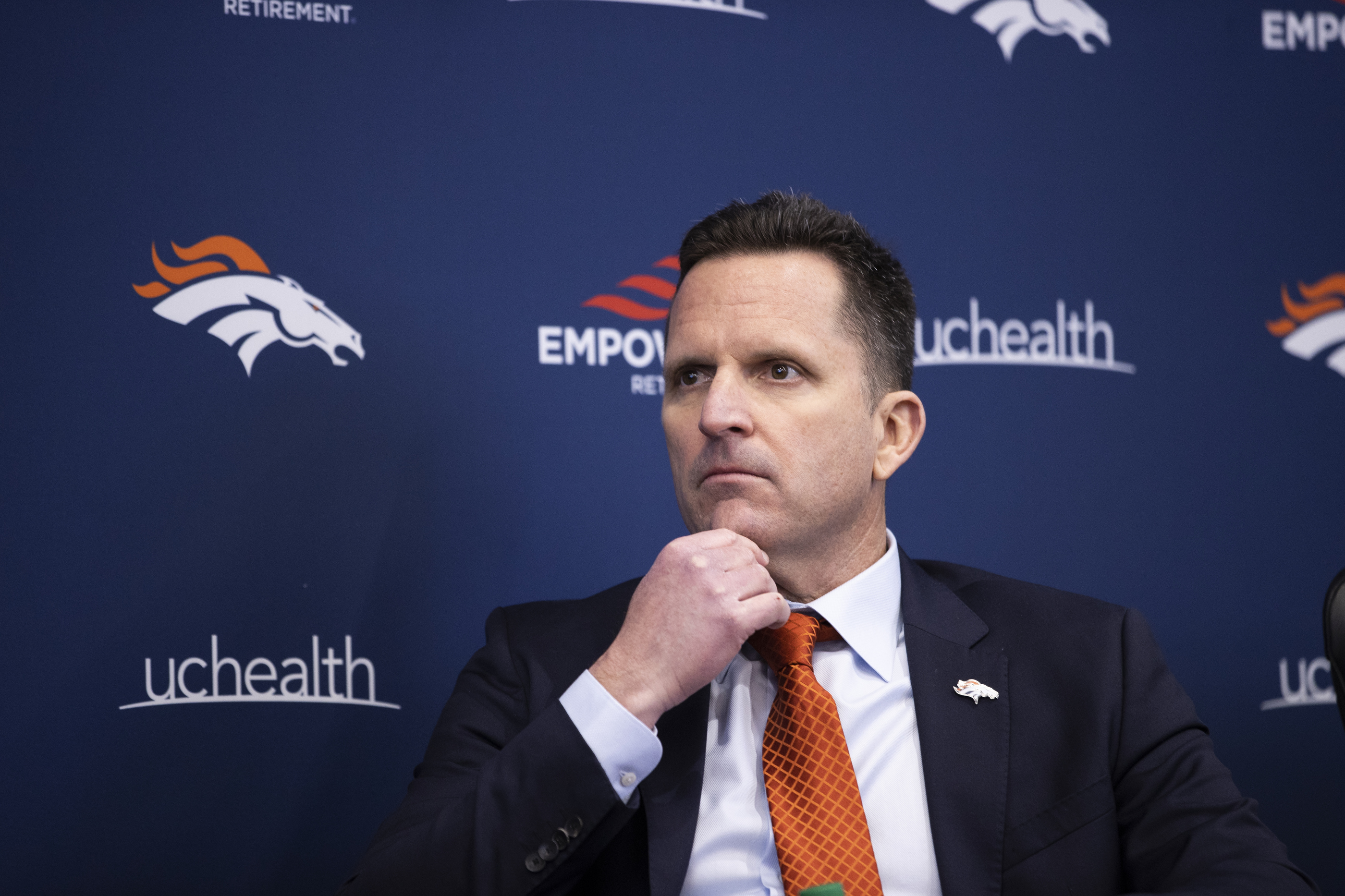 NFL Draft weekend was an entree' of rumors and stories for Broncos Country, with a side of veiled intent, served up by General Manager George Paton. Rumors of Aaron Rodgers coming to town on top of narratives of young talented quarterbacks to be selected in the Draft to wear orange and blue, made for loud praise but with equally loud critique.
Let's take a look at how the Broncos performed in the draft, and compare it to the other hauls around the AFC West.
Denver Broncos
Round 1, Pick No. 9: Patrick Surtain II, CB, Alabama
Round 2, Pick No. 35: Javonte Williams, RB, North Carolina
Round 3, Pick No. 98: Quinn Meinerz, OG, Wisconsin-Whitewater
Round 5, Pick No. 152: Caden Sterns, S, Texas
Round 5, Pick No. 164: Jamar Johnson, S, Indiana
Round 6, Pick No. 219: Seth Williams, WR, Auburn
Round 7, Pick No. 237: Kary Vincent Jr., CB, LSU
Round 7, Pick No. 239: Jonathan Cooper, DE, Ohio State
Round 7, Pick No. 253: Marquiss Spencer, DE, Mississippi State
When the dust settled, the Broncos made off with an impressive bounty of talent that has well received by national analysts and local analysts alike.
George Paton and company took the bull by the horns and selected a number of players that can come in and make an impact from the jump and their roster is exponentially deeper than it was just a few short days ago.
Patrick Surtain is a Pro-Bowler in the making, Javonte Williams will bring duplicity to the Broncos running attack, and who doesn't love an offensive lineman nicknamed "The Gut"?
The question remains: How did they stack up against the other teams in the AFC West?
Las Vegas Raiders
Round 1, Pick No. 17: Alex Leatherwood, OT, Alabama
Round 2, Pick No. 43: Trevon Moehrig, S, TCU
Round 3, Pick No. 79: Malcolm Koonce, EDGE, Buffalo
Round 3, Pick No. 80: Divine Deablo, S, Virginia Tech
Round 5, Pick No. 143: Tyree Gillespie, S, Missouri
Round 5, Pick No. 167: Nate Hobbs, CB, Illinois
Round 6, Pick No. 230: Jimmy Morrissey, C, Pitt
There are three certainties in life: death, taxes, and the Raiders reaching in the draft.
Listen, I am willing to give them a bit of a pass with their first-round selection of Alex Leatherwood, OT, Alabama. Even if you do not think he was the best offensive tackle available (you would be correct) the positional value would be good for a team that had a gaping hole at right tackle, though many thought Leatherwood was more of a guard at the next level.
Now, the selection of three safeties in the second, third and fourth rounds requires a level of explanation that I cannot provide, and I am not sure has really been given by the organization.
Trevon Moehrig will likely get to compete for regular playing time against Johnathan Abram and Karl Joseph, and will most assuredly be the backup in case either goes down with an injury. He was a nice addition.
Divine Diablo was announced as a linebacker selection for the team, which is the saving grace for the three safety selections. He is large for a safety, so the transition to linebacker could be easier than anticipated from a physical standpoint, however, the draft grade on Diablo was generally determined as more of an early Day 3 grade than a mid-Day 2 selection.
If the idea is that Diablo will be able to be a coverage backer, then why not draft Baron Browning or Jabril Cox who are supremely athletic linebackers and have played the linebacker position at a higher level? That seems like it would be a natural sentiment.
Mike Mayock and company have had, what we could call, an unorthodox drafting method up to this point and this draft class has all but confirmed that. It's one thing to be unorthodox, it's another to be unorthodox and unsuccessful.
LA Chargers
Round 1, Pick No. 13: Rashawn Slater, OT, Northwestern
Round 2, Pick No. 47: Asante Samuel Jr, CB, Florida State
Round 3, Pick No.  77: Josh Palmer, WR, Tennessee
Round 3, Pick No. 97: Tre' McKitty, TE, Georgia
Round 4, Pick No. 118: Chris Rumph II, LB, Duke
Round 5, Pick No. 159: Brenden Jaimes, OT, Nebraska
Round 6, Pick No. 185: Nick Niemann, LB, Iowa
Round 6, Pick No. 198: Larry Roundtree III, RB, Missouri
Round 7, Pick No. 241: Mark Webb, S, Georgia
Landing Rashawn Slater at thirteenth overall was an amazing selection for the Chargers. If there was one huge need for LA going into the draft it was the demand for a blue-chip offensive tackle, and they were able to get that without having to give up any assets.
Then they followed that up by getting Asante Samuel Jr. in the second round who, pound-for-pound, was one of the top cornerback prospects in the draft. If it were not for his slightly undersized frame, he may have been ranked up with the Jaycee Horn's and Patrick Surtain's of the world.
I don't care how tall he is. Asante Samuel Jr. can ball. pic.twitter.com/pZUWSBbpeA

— Aaron Nagler (@AaronNagler) April 25, 2021
The Chargers made smart selection after smart selection, getting Josh Palmer, and Tre Mckitty who can both come in and contribute on offense on day one for their team.
Towards the end of the draft, they took some risks on some developmental players but never reached or gave away any capital. They let the chips fall to them and came out winners.
Kansas City Chiefs 
Round 2: No. 58: Nick Bolton, LB, Missouri
Round 2: No. 63: Creed Humphrey, C, Oklahoma
Round 4: No. 144:  Joshua Kaindoh, DE, Florida State
Round 5: No. 162: Noah Gray, TE, Duke
Round 5: No. 181: Cornell Powell, WR, Clemson
Round 6: No. 226: Trey Smith, G, Tennessee
When you are the defending AFC champs, it is tough to argue that your roster has too many holes. That being said, Kansas City had allowed some notable guys walk this off-season (Sammy Watkins, WR; Eric Fisher, OT; Mitchell Schwartz, OT) and needed to replace them with talent and depth.
Much of the Chiefs' 2021 Draft capital was given up in the earlier acquisition of Pro Bowl tackle Orlando Brown, leaving them six picks to shore up their ranks, and they did just that.
The trade details ⬇️

— Kansas City Chiefs (@Chiefs) April 26, 2021
With their first pick of the draft, they selected Nick Bolton the linebacker out of Missouri, who is a heady, instinctual defensive leader that plays with physicality. Even though he is likely to only play in base sets this season, Bolton will be the anticipated replacement to either Anthony Hitchens or Willie Gay Jr moving forward.
With their other second-rounder, they took Creed Humphrey, C, Oklahoma. Humphrey will be thrust into a training camp battle with a real shot to take over the center duties for Patrick Mahomes.
Arguably this was not an amazing pick taking positional value into consideration, but it does fill a definite hole and Humphrey has the potential to stick in this league for years to come.
Kansas City used four of their six picks on the offensive side of the ball, which makes sense with how the Chiefs operate, offense first. Their picks were neither overwhelming nor underwhelming but they filled their areas of need in able to keep them afloat as Superbowl contenders.
Final thoughts
George Paton did a masterful job getting the players he wanted at the price he wanted. Even though there are doubts that Patrick Surtain II was the right choice with Justin Fields being available, it would be tough to argue the Denver Broncos had anything but a great draft.
Paton will get the credit, but it sounds like this was a team effort from top to bottom.
"It's been a great partnership with Vic and the coaching staff," Paton said. "It's been a collaboration all the way. We would sit in rooms for hours discussing players, how they fit, Vic's vision and the coaches' vision. That's what it's all about. When you're in my shoes, when you're with the scouts, you just want to be able to discuss and collaborate."
On paper, the picks the LA Chargers made would make them the only real contender that could push for the best draft in the division.
Ultimately, Denver came away with more playmakers and higher upside prospects. The nod for who had the best class goes to the Broncos.