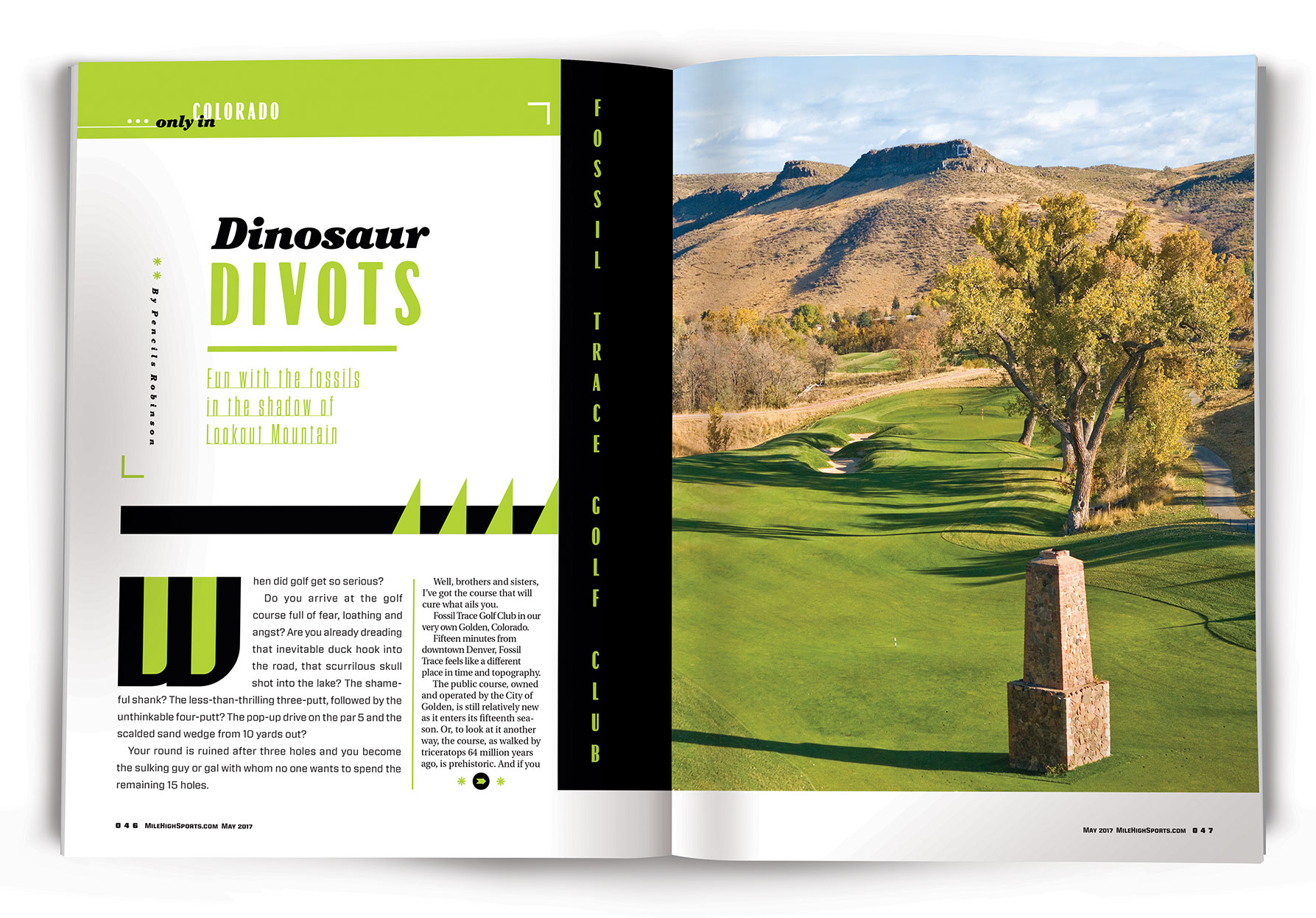 This story originally appeared in Mile High Sports Magazine. Read the full digital edition.
When did golf get so serious?
Do you arrive at the golf course full of fear, loathing and angst? Are you already dreading that inevitable duck hook into the road, that scurrilous skull shot into the lake? The shameful shank? The less-than-thrilling three-putt, followed by the unthinkable four-putt? The pop-up drive on the par 5 and the scalded sand wedge from 10 yards out?
Your round is ruined after three holes and you become the sulking guy or gal with whom no one wants to spend the remaining 15 holes.
Well, brothers and sisters, I've got the course that will cure what ails you.
Fossil Trace Golf Club in our very own Golden, Colorado.
Fifteen minutes from downtown Denver, Fossil Trace feels like a different place in time and topography.
The public course, owned and operated by the City of Golden, is still relatively new as it enters its fifteenth season. Or, to look at it another way, the course, as walked by triceratops 64 million years ago, is prehistoric. And if you want proof, check out the sandstone column near the 12th green, which houses the palm frond (used in the club's logo) wall and the dinosaur footprints.
The tract, designed by golf architect Jim Engh of Castle Rock, is all about fun. Miniature golf for adults.
There are no windmills or Mayan temples (maybe a stray incinerator) but Fossil Trace plays through sandstone cliffs and rock pillars that remain from over 100 years of clay mining on the site, which sits just north of the Taj Mahal (aka the Jefferson County Government Center). The area for holes 11 through 15 was donated by Chip Parfet, whose family owned and mined clay from that ground from 1877 until the golf course construction began in 2001. Did Chip have kids named Sandy and Ace?
Some of the fairways on the west side of the course run directly up to sheer rock walls looming over 60 feet tall. Such is the case on the notorious No. 12, a 585-yard (black tees) par 5 that also features three limestone pillars, each the size of a small condo. Engh, an architect with an off-the-limestone-wall sense of humor, resisted what might have seemed like sane suggestions to have the huge rocks bulldozed.
I wasn't laughing when two decent shots left me 20 yards behind one of the pillars directly between my ball and the flag. I was pleased to get over the rock but landed somewhere on top of another boulder en route to an 8. In retrospect, it was the most fun I've had making a "snowman" since the kids and I crafted Frosty during the Christmas Blizzard of 1982.
There are other objects around the course that an architect with less respect for history and incongruous comedy than Engh might have jettisoned. The visual fun begins right away on the opening hole where various buildings, including dairy and horse barns from the early 1900s, can be seen just right of the upper fairway. Sitting squarely in the middle of No. 1's lower fairway is an incinerator, which was used by the "Boys School" in the mid-1900s to burn trash and, hopefully, not books.
The back nine reveals several pieces of machinery, highlighted by a Bay City (Michigan) half-ton yard shovel (located right of No. 11, above the No. 15 green) purchased in 1954, prior to which all the clay mining was done by hand and dynamite. The two pieces of machinery high on the wall on 12 and left of the 14th green are Caterpillar consecutive serial numbered machines purchased in 1956, a three-quarter-ton dragline bucket and a shovel boom.
Was Engh deprived of a sandbox when he was a kid? Is he a serious collector of heavy machinery? I've always wanted a matching pair of Ferrari GTOs with consecutive serial numbers, but, since they made only 39 of them and they're selling for upwards of $30 million dollars, I might consider making a bid on the bucket and boom instead.
Speaking of sandboxes, I visited so many of Fossil Trace's ever-present fairway and greenside bunkers that my partners started calling me Brian Wilson. Fun, fun, fun until Daddy takes the T-Rex away.
So is Engh just a local boy with a jaded sense of humor who got hired on the cheap by the City of Golden? "No way," says none other than a trio of respected sporting publications. He won Golf Digest's first "Architect of the Year" in 2003.
This rag, in a May 2010 piece on Engh titled "The Visionary" by James Merilatt, said: "His courses tell stories. His courses have soul. Rekindling these attributes in golf design are his lasting impression on the game."
A Golf Magazine piece probably said it best: "Jim Engh's design philosophy is simple: he wants you to have fun – and you will."
So, did our threesome – myself, MHSM editor Ed and Tony, the Czar of Conifer – have fun? How could we not? The day was sunny, windless, collared shirtsleeve comfortable. Despite recent aerating and top dressing, the course – from tee to fairway to rough to traps to green to sandstone boulders – was in fabulous condition thanks to course superintendent Noy Sparks III. We teed off at 10:10 and holed out on 18 at 2:15. We played breakfast balls, a mulligan here and there, and observed a generous "circle of friendship" around the cup. Didn't want to waste a perfect day agonizing over 18-inch putts (which I am prone to routinely missing).
Of course, what's the single most significant factor in enjoying a round of golf? It's the group you play with. Hard to find more affable golfing companions than Ed and the Czar. Ed's only fault was mashing an occasional 275-yard drive that made me wish I was 25 years younger. But then I remembered I never hit 'em that far even in my prime. Tony, perhaps still fatigued from shoveling snow off his long Conifer driveway, was uncharacteristically erratic off the tee but maintained his status as an elite septuagenarian putter. Anyway, you couldn't find two better guys with whom to spend a spring day in Colorado.
And here's a unique twist: No beer. Don't panic, a complete selection of gulf grub and grog is available. I found out I could putt (sort of) without beer. What a concept. One of us shot an 87, another just broke a 100 and, perhaps distracted by the vintage machinery, our final member carded a 108. I promised Ed I wouldn't bore the reader with a blow-by-blow account of our round, nor would I embarrass anyone by attributing a score to a particular golfer.
I'm no golfer, and no golf writer, so I won't try to give you a technical evaluation of the course. What stands out for me, a confirmed lifelong hacker, is that Fossil Trace gives the golfer a feeling that the course is with you – not an adversary, but a partner. Oh, it challenges you in a variety of ways, few of which are related to distance requiring uncommon power. The white tees play 5,559 yards; the black stakes, 6,831. It distracts you with such a diversity of scenery and "looks;" each hole is unique. Yet, much of the design and terrain seems to be gently but decisively guiding your ball toward the green. You continue to progress in a manner that seems comfortable and reassuring. If you count your good shots – which first assistant professional and unabashed Fossil Trace fan Adam Finch suggests is the true measure of a golf round – instead of your misses, you can't help but have a good time.
That's what's called fun. If your golfing experience has been lacking that lately, take a step way back in time and visit the dinosaurs at Fossil Trace.