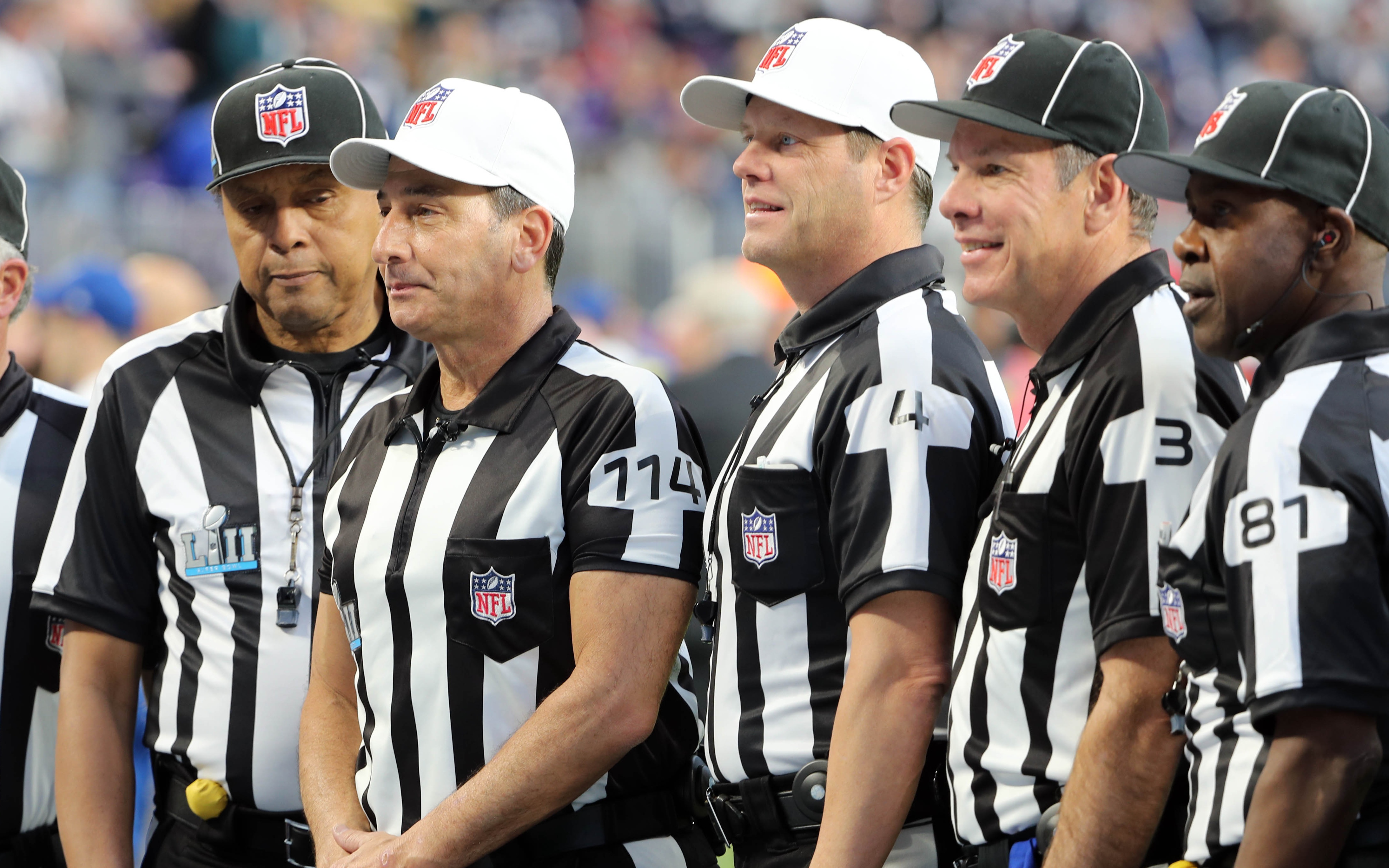 The NFL — the greatest sport in the world — has a rules problem.
First and foremost, there are simply too many rules, which has only compounded on itself over recent years. Longtime fans are having trouble keeping up, and so are their referees. At the same time, the league struggles to secure new fans because the game is so difficult to understand in its current state.
And beyond there being too large a number of rules, the complexity of those rules themselves — the new "lowering the helmet rule" for example — is making the beloved game of football difficult to watch.
OK, it's only preseason, yes. The NFL's officials are fine-tuning the way they call the game, and they're struggling to keep up with the drastic changes, too. Almost without a doubt, there won't be 28 penalties combined in games, as there were in the Broncos loss to the Bears Saturday night. But the frequency of flags being thrown is enough to worry media members and players alike.
The NFL helmet contact rule is by far the worst rule ever to be used in the history of football. It CANNOT and WON'T ever work. It's unfair and it completely changes the way we are supposed to play tackle football. What group of clowns decided this was good for football? Blows!

— Sean Salisbury (@SeanUnfiltered) August 18, 2018
This helmet rule is a freaking joke!

— mark schlereth (@markschlereth) August 19, 2018
the nfl in 10 years: pic.twitter.com/jzpnUJfvku

— Romi Bean (@Romi_Bean) August 19, 2018
While safety is the intent of the rule emphasis, the new call is missing the mark on the football field because basically every tackle could now be considered illegal.
We know, preseason game results don't matter in the end. But, this first glimpse of football for the 2018 season is a worrisome for fans who just want to watch their beautiful game being played.
Some tackles being flagged in preseason are drawing basic fundamental questions; How is a tackle suppose to be executed anymore?
15-yard penalty for playing football. pic.twitter.com/BOtbXmExtp

— Field Yates (@FieldYates) August 18, 2018
Did the defender drive the quarterback into the ground? Possibly. But, that's got to be considered a clean tackle.
Here, we see what should be another clean tackle — because this is how football players have tackled for the entire history of the game — and yet, it's a personal foul.
If this is a 15 yard flag the NFL is in big trouble pic.twitter.com/QAXrp43IbE

— WTP Sports (@WTPsports) August 17, 2018
And this one has to be considered a clean hit:
So here's a play that my 49ers client Raheem Mostert got an unnecessary roughness penalty on last night for leading with his head… Is this really the way we want to affect the outcome of games this season? pic.twitter.com/lotRzIxiue

— Brett Tessler (@TesslerSports) August 19, 2018
Denver Broncos defensive end Derek Wolfe explains how difficult this all is to digest from a player's perspective:
These penalties are getting ridiculous. Tough to take someone to the ground without landing on them, whipping them down, grazing their head or hitting their legs. This is a tough game for tough people.

— Derek Wolfe (@Derek_Wolfe95) August 19, 2018
In the Broncos loss to the Bears Saturday night, 28 total penalties were called for 288 combined yards; that's exactly double the number (14.2) we saw called in 2016.
"I'm hopeful it won't look like that. Obviously right now, they're throwing penalties that, if it's close, they're throwing it," Broncos head coach Vance Joseph said of the penalties called postgame after Week 2 of preseason.
During the Bears' broadcast of the Denver – Chicago game on Saturday, those hometown announcers explained the officials have been instructed, "When in doubt, throw the flag." Then, the league intends on gathering all the video of this new helmet rule to show their officials before the regular season gets underway. That, hopefully, will help.
"I get it. It's preseason," Joseph continued. "They want to change the behavior…hopefully, Week 1 starts, it kind of calms down a little bit. Both teams had [14] penalties for 144 [plus] yards. These games are going to be all night. Hopefully it calms down some. It usually does Week 1."
Joseph makes a great point there; games in the NFL are already too long, going three-to-four hours already, and with a jump in the number of penalties called, contests will only be extended further into the night.
These last two examples are a bit maddening. What else could the defender have done in the first tackle? In the second, while Janovich shouldn't have lowered his head, the defender did launch into his helmet, and that one was actually called correctly in terms of being a personal foul.
The two elements of the helmet rule:
1. Player must lower his head
2. Player must initiate & make contact with his helmet on the opponent.

Defender did NEITHER, offensive player did BOTH, but called a penalty on the defense. pic.twitter.com/OWDQ0UyP6I

— Warren Sharp (@SharpFootball) August 19, 2018
Again, the intent of the new helmet rule is to make the game safer. We've seen the NFL work toward a "safer" game of football for many years, but we've not seen a rule which is a complete game-changer like this one before.
What's making this all worse: As explained in the linked piece by Keven Seifert, we're experiencing a confluence of problems due to officiating.
The biggest problem is this new helmet rule and the vagueness around what is/isn't a personal foul. But, almost equally as important is the giant officiating turnover headlined by two referees — Gene Steratore and Terry McAulay retired surprisingly before the season to become rules experts on broadcast television, poached away by CBS and NBC.
"This is my 29th year doing NFL games," Fred Gaudelli, executive producer of Sunday Night Football on NBC said. "The rules seem to get more complicated and more nuanced every single year. … It was getting to the point where it was unrealistic to think that Al [Michaels] and Cris [Collinsworth] could really understand every nuance and every aspect of the game."
If the "experts" calling the game on television can't understand the game in real-time, what makes the NFL think their fans can?
That's the biggest takeaway from this current officiating disaster; with the NFL being an entertainment business, they're in real danger of losing fans in a mass exodus if the game continues to be called the way we've seen in the preseason.
As Derek Wolfe tweeted, football is a "tough game for tough people" and these players know what they're getting themselves into. In fact, on the back of every helmet — from pee-wee to the pros — it explains in plain language that if worn or used improperly, the player could sustain injury or even death. Death.
Am I against players launching themselves like a missile into others, or seemingly intentionally knocking opponents out like Vontaze Burfict did to Antonio Brown? Definitely.
While it's brought some controversy with it, too, the defenseless receiver rule is actually good for football.
But, this lowering of the helmet rule has a chance to end the game of football as we know it, and we're already seeing what the game could look like if this rule is allowed to stay.
Late Saturday night, running back Phillip Lindsay took the ball right and, as he was about to be hit, continued to stand straight up, where he was blasted in the chest and knocked to the ground. It was as if he knew he couldn't brace for impact, he couldn't lower his head.
In the past, when the NFL created some new rules, officials either called them to the letter of the law or basically ignored them, to a degree. What will happen with this new helmet rule? Hopefully, they decide to only call the most egregious examples and the NFL continues to be a great game.
Note: This piece was written in a collaborative effort with Ronnie Kohrt.