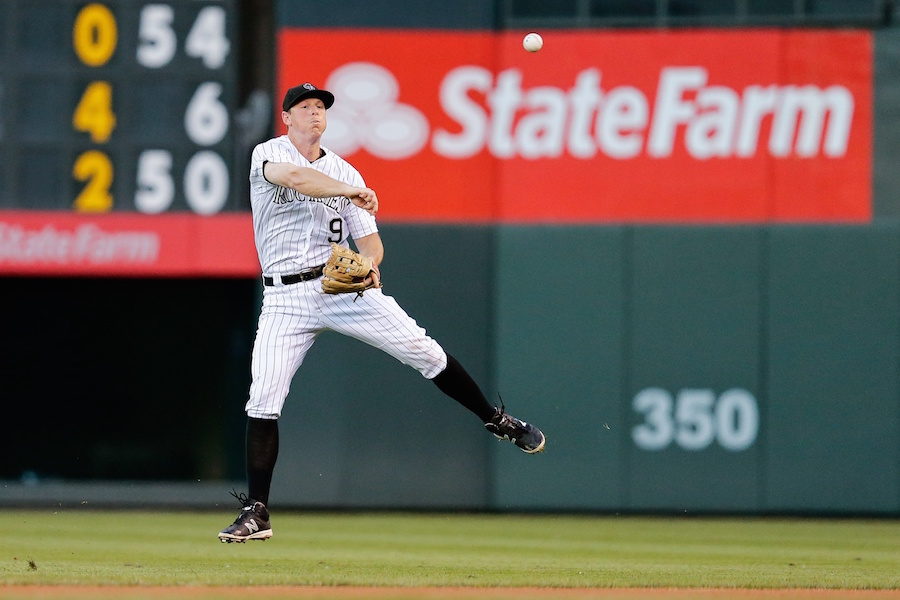 The Society for American Baseball Research (SABR) released their final defensive rankings index for the 2017 season, and it confirmed something fans of the Colorado Rockies have been saying for years: DJ LeMahieu is the best defensive second baseman in baseball. In 2017, no one was even close.
The SABR Defensive Index (SDI) has been used to help select the winners of the Rawlings Gold Glove Award and Rawlings Platinum Glove Award dating back to 2013.
According to SABR, "Fielding metrics included in the SDI capture a fielder's range, his throwing arm, his sure-handedness, his ability to turn double-plays (for SS and 2B) … as well as the number of 'excellent' and 'poor' fielding plays."
Additionally, "The SDI is built from two types of defensive metrics — those that come from batted ball location-based data, and those which originate from the play-by-play records of games. [SABR] gave more weight (70%) to the batted ball location-based metrics, which evaluate the degree to which a fielder makes plays in specific zones on the diamond. The player's performance is measured in comparison to his peers."
Compared to his peers, LeMahieu was nearly twice as good as the next closest second baseman in 2017 according to SDI. His 10.2 SDI rating was sixth among all players in the National League and nearly twice as good as the next-closest second baseman in baseball.
Here's how LeMahieu compared to the other top-5 second basemen in terms of SDI.
*2017 Rawlings Gold Glove Award Winner
LeMahieu played 153 games (151 starts) in 2017, ending the year with a .989 fielding percentage – both tops among qualified NL second basemen. His 729 total chances were most in the NL, as were his 470 assists. He was part of 106 double plays, also most among NL second basemen. Additionally, his eight errors were fewest among all qualified second basemen.
LeMahieu helped lead Colorado to a team fielding percentage of .987, just .001 percent behind Miami for tops in the National League in 2017.
Surprisingly, LeMahieu's SDI numbers have not been nearly this strong in years past, including in his 2014 Gold Glove campaign. Last season, LeMahieu actually registered a negative SDI at -0.1. He ranked seventh at 2.5 in 2015. During his first Gold Glove campaign in 2014, he ranked second with an 8.6 rating behind Chase Utley at 9.0.
The SABR Defensive Index accounts for approximately 25 percent of the Rawlings Gold Glove Award selection process that was added to the votes from the managers and coaches.