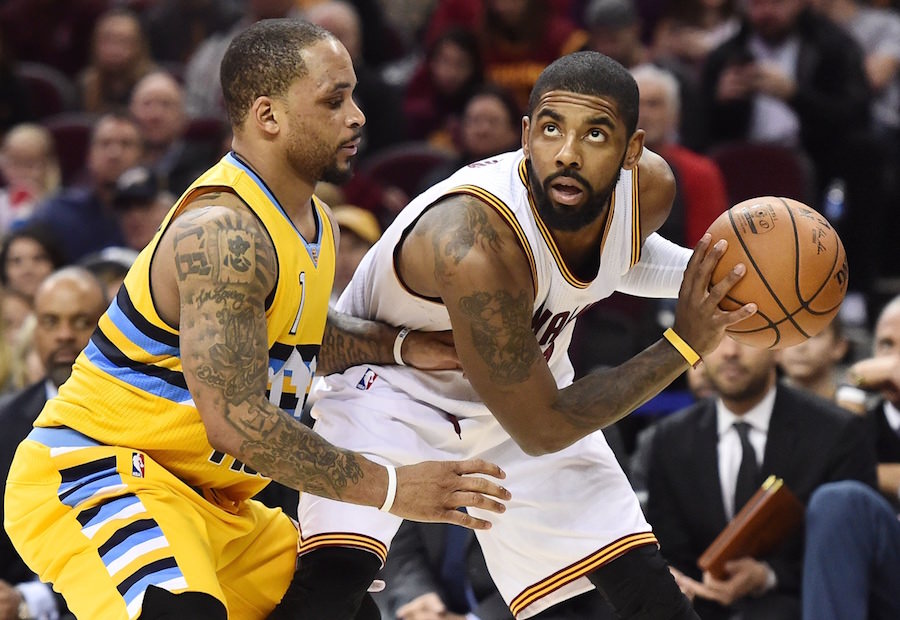 Mike Miller has seen a thing or two. He's won a thing or two, too.
Two things – two rings – to be exact.
The Nuggets could be a "top-four team in the West."
Miller's words, not mine.
If anything from Mike Miller's recent onversation with Scott Hastings should ring loudest in Denver, it's those words. Miller knows the Nuggets and he knows the West. And he also knows Kyrie Irving, which is who, according to Miller, would make the Nuggets a top-four team in the NBA's most dominant conference. To be exact, this is what Miller said:
"If you can roll out Kyrie, Paul Millsap, and Joker (Nikola Jokic), and obviously, the other guys they have, you're a top-four team in the West."
Notice there was no caveat, no disclaimer, no if's, and's or but's. Just those three players, and "other guys" would make Denver an instant contender – that's how I read it. When was the last time anyone in the Mountain Time Zone said that? If we're being honest, it was sometime around May of 2009, when the Nuggets made it all the way to the Western Conference Finals.
The Nuggets have already gotten better this offseason. By adding Paul Millsap, they did that. Inking the former resident of Montbello was brilliant, in fact. But, again, notice that Miller didn't say the Nuggets are a top-four team in the West; he said they'd become one. And all Tim Connelly has to do is get Irving, who, by the way wants to be traded anyway. It's so bad in Cleveland, he isn't even taking the team's phone calls.
Credit Connelly for two major accomplishments as the man calling the shots in Denver. First, he's stockpiled a lot – and I mean a lot – of assets. The Nuggets have the ability to spend and trade as they wish. They've got an arsenal of valuable offerings. Second, the Nuggets are one of the rare teams in the NBA that has significant depth. They have so much depth, in fact, that it's hard to develop some of their (potentially) brightest youngsters (see Juancho Hernangomez and Malik Beasley).
But in the NBA, if a team has 12 pretty darn good players, that team will get beat by one with three stars and some role players. Remember the Miami Heat? Three – and some "other guys" – was all it took. If the Nuggets believe the sky is the limit for 22-year-old Jokic (they do), and the four-time (consecutive, no less) All-Star Millsap is as he appears, then all they need is a third star.
Please, Denver, just do this. Go get that star. He's right there for the taking.
It can be done. And while Connelly shouldn't necessarily throw everything in the kitchen sink at Cleveland right away, he should consider the entire kitchen (outside of Jokic and Millsap, of course) if that's what it takes. I know, I know, you don't want to lose Jamal Murray and/or Gary Harris. Seriously?
Could Jamal Murray become the star Denver thinks he can be? Sure he could. But that's a big "if." Is Gary Harris the elite defensive stopper that the Nuggets think he is or can be? Maybe, but Harris didn't earn a single vote when it came to the All-Defensive Team voting.
Personally, I like them both. But I'm also impatient. There are no guarantees that either player develops into a true star. Make no mistake, stars are what it takes in the NBA.
Hear this: Kyrie Irving is a star. There's no debating that. He's also just 25, with two years left on his current contract. It's not like Denver would be wagering the future, or everything that Connelly has assembled, on one transaction. It's not like two years isn't long enough to sell someone on why Denver is a place to call home, a place that can be built into a contender.
The Broncos are in search of a quarterback? So are the Nuggets. They don't have a true point guard, or at least one that completely fits the bill. Murray is developing and might be a two-guard anyway. Mudiay, once the future of the position, has somehow lost the confidence (or so it would appear) of the organization. Irving is unquestionably a point guard, and oh by the way, he's the best finisher at the rim in the Association. And he wants the ball in crunch time.
Who in Denver wanted the ball when it mattered most last season? Who got the ball? There's no obvious answer, and therein lies the reason the Nuggets are not currently a top-four team in the West.
But they could be.
According to Miller.
Who knows a thing or two about a thing or two.
The time is now, Denver. Strike while this rare opportunity exists.