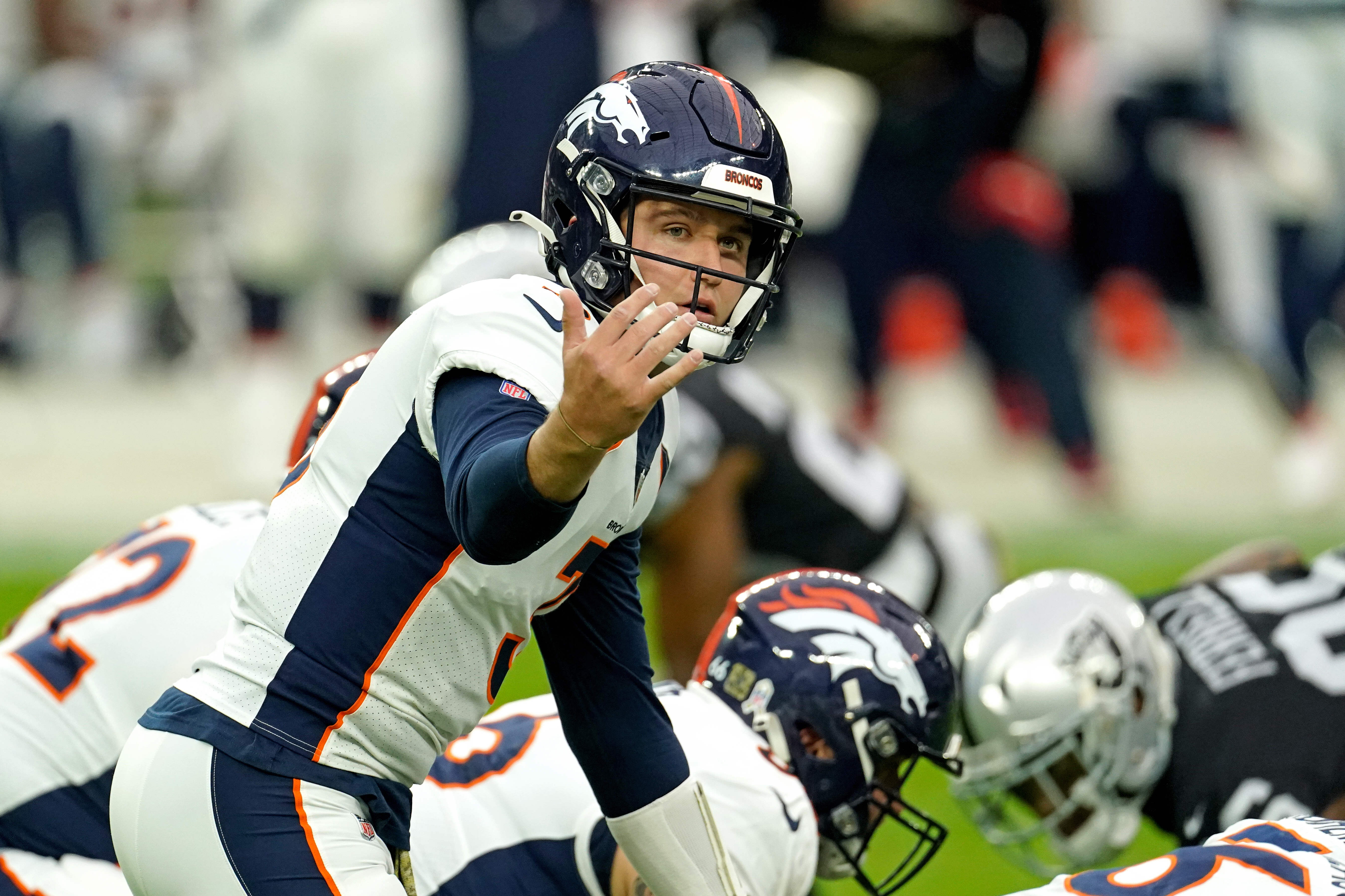 The buzz around the Denver Broncos has been building throughout the offseason, and seemingly, with good reason.
The defense looks to be the most talented in the entire league and the skill position groups have the potential to be up there too. Plus Drew Lock is finally ready to take 'the leap' this season, right guys? Right?
Lock jokes aside, the hype has continued to grow and Teddy Bridgewater provides the team with some semblance of a safety net. However some analysts, like CBS Sports' Tyler Sullivan, who listed Denver among the offseason's most overrated teams.
The Broncos are set at +2500 to win the Super Bowl, and the over/under on their win-total has been set at a perfectly-mediocre 8.5 wins, but Sullivan believes that is still too rich.
"The Broncos are a weird team to try to project," Sullivan wrote. "They are tied for the sixth-best odds to win the title this year and that's solely dependent upon whether they are able to acquire reigning NFL MVP Aaron Rodgers as he continues to squabble with the Packers. While it does appear that Rodgers is firm in his desire to be traded out of Green Bay and Denver has continued to be looked at as the favorite to land him, that's a pretty big if and not something I'd be willing to throw some cash at when looking at a future bet to win the Super Bowl."
Plus, Sullivan believes that without Rodgers, the Broncos won't come anywhere near a championship.
"Yes, the Broncos have some interesting offensive skill position players and a defense that could easily be a top 10 unit this year, but their ceiling is capped with what they currently have at the quarterback position," he wrote. "Denver is gearing up for a training camp battle between 2020 starter Drew Lock and veteran Teddy Bridgewater. No matter who comes out on top and wins the starter job, it doesn't really change my opinion on whether this team can be a viable threat in the AFC. Again, if Rodgers ends up at Mile High, it's a totally different ballgame. But as this roster is currently constructed — particularly at quarterback — it's hard to have much faith that the Broncos will be able to live up to some of these lofty odds that have been placed on them."
Sullivan makes a lot of convincing points, however Broncos Country is less than a decade removed from winning a Super Bowl with even worse quarterback play than they saw last season from Lock.
In 2020, Lock had a QBR of 48.8, EPA/play (expected points added per play) of +0.02 and a DVOA (Defense-adjusted Value Over Average) of -16.2%, ranking 29th, 31st, and 27th respectively, but in 2015, Manning had a QBR of 44.2, an EPA/play of -0.08, and a DVOA of -25.8%, ranking 28th, 32nd and 32ndrespectively.
Now, it's unlikely the Broncos are able to replicate the luck that their 2015 team experienced, so the Super Bowl odds might be overly-inflated, by a win total of 8.5 appears to look like a solid bet.