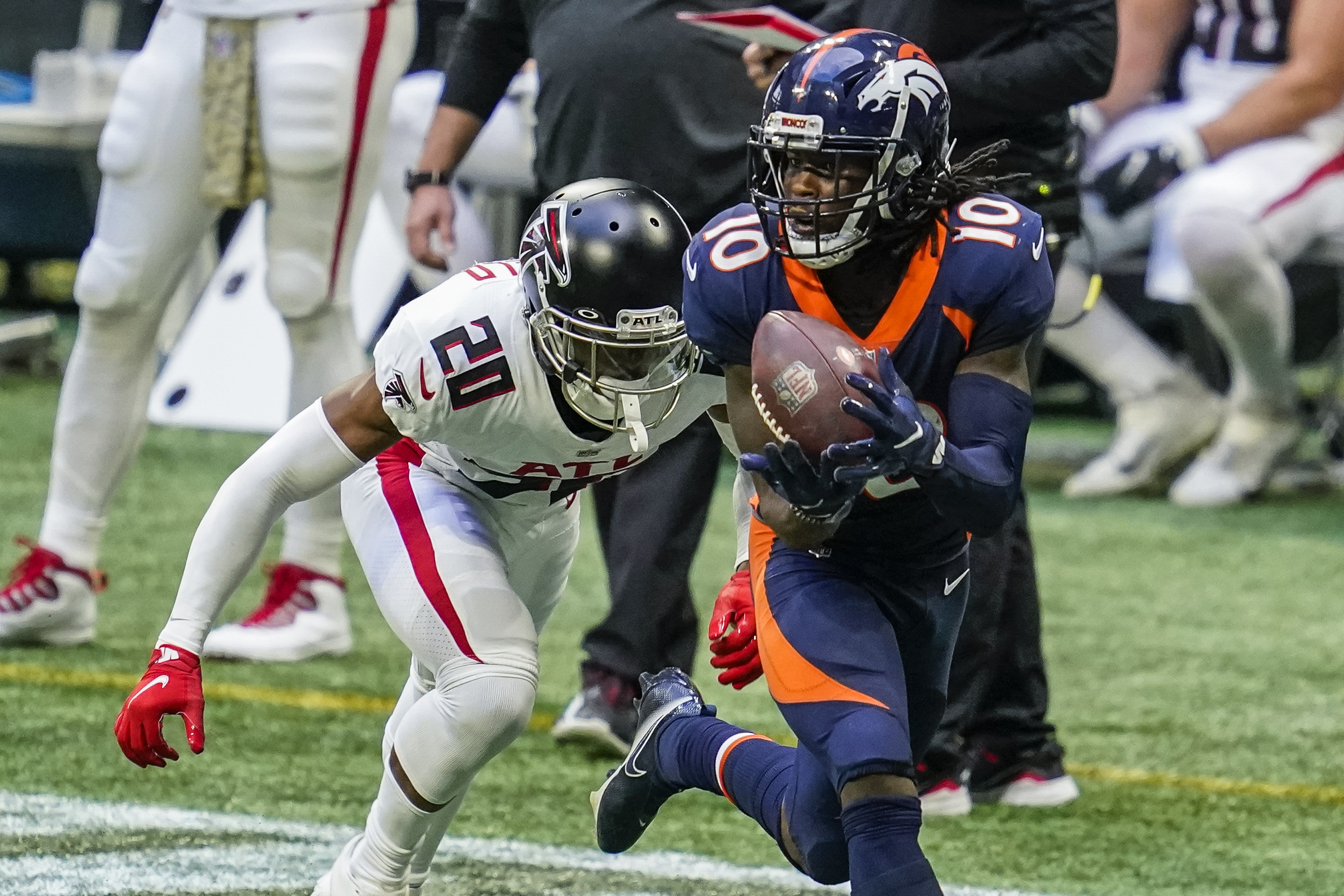 This time of year, the analytics junkies over at Pro Football Focus go through each position group and rank how all the different teams stack up.
After seeing the exciting potential of Denver's young receiving corps from a season ago, Steve Palazzolo has ranked the Broncos' pass-catchers as the sixth-best group in the league.
"The Broncos' wide receivers have as much potential as any in the league, but they had some growing pains last season," Palazzolo wrote. "They ultimately graded at just 66.7 as a unit, good for 30th in the NFL."
So, why is Palazzolo expecting this unit to make a massive leap, from 30th to sixth? Second-year receivers taking a big step forward, and the return of Courtland Sutton.
"Courtland Sutton was limited to just 31 snaps last season, and his return will be a huge boost, given that he graded at 80.5 while averaging 15.4 yards per reception in 2019," Palazzolo wrote. "First-rounder Jerry Jeudy was as advertised as a playmaker, but he dropped 12 of his 64 catchable targets. That should be better this season. Make no mistake, Jeudy has a big Year 2 in him. Fellow rookie K.J. Hamler went through drop issues of his own as he let seven of his 37 catchable targets hit the ground. Hamler is a dynamic playmaker who has the speed and quickness to win down the field and in the short game."
And don't sleep on the remarkably reliable Tim Patrick coming off a breakout season.
"Tim Patrick is one of the most underrated receivers in the league. Patrick showed it last season, earning a 75.6 receiving grade and catching 67% of his contested targets, tied for seventh-best in the league," Palazzolo wrote. "He did all of this without dropping a single pass."
That incredible depth at wide receiver is what has the Broncos so high on this list. Few teams have four options that tantalizing at receiver. As the cherry on top though, Denver's tight ends are also deadly.
If the Broncos can even get league-average play from the quarterback position, the offense could become explosive in a hurry.