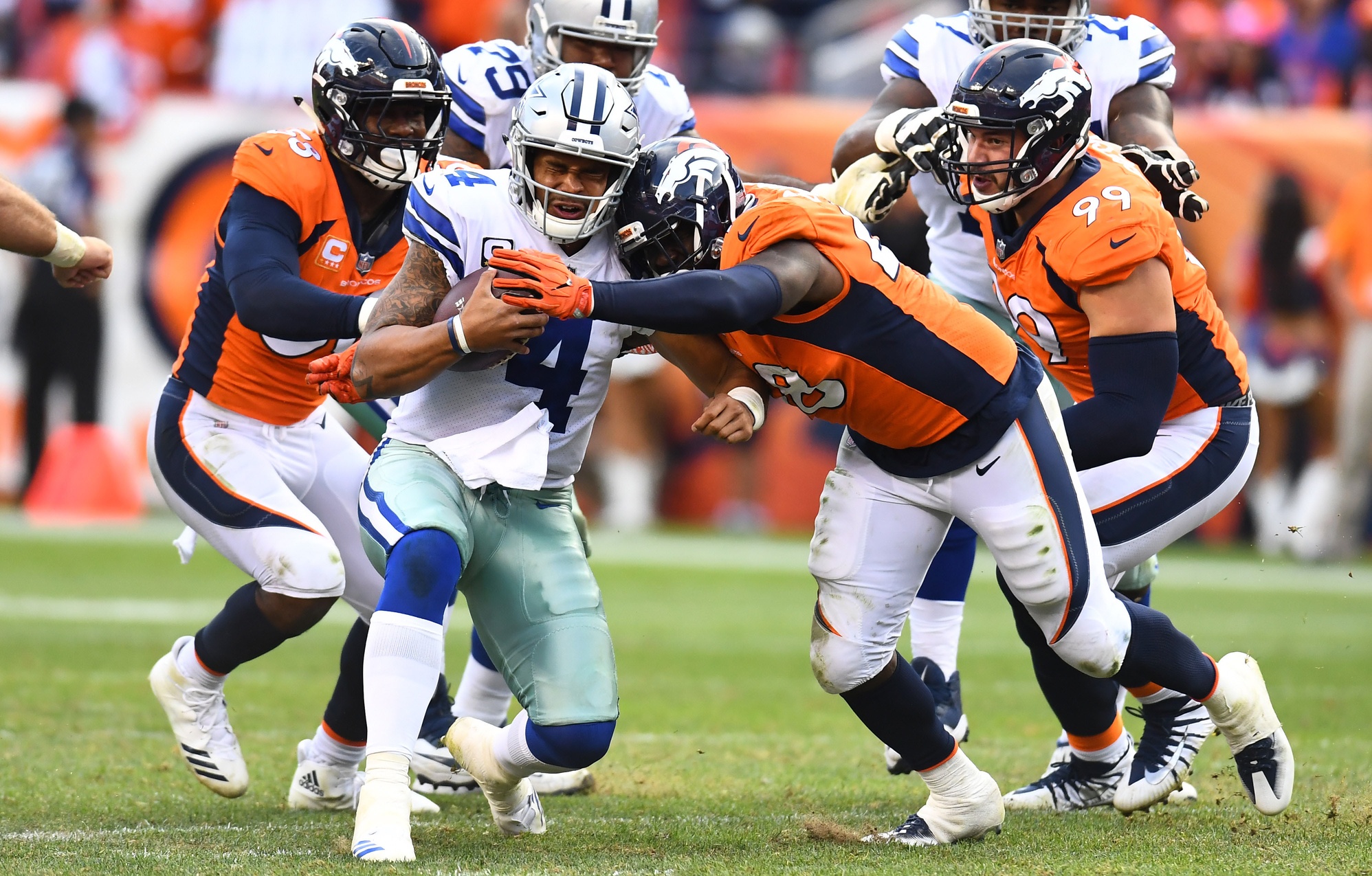 The Denver Broncos snapped a four-game losing streak against a dismal Washington Football Team, and now face a much tougher test if they want to maintain that momentum.
What can they do to upset the red-hot Dallas Cowboys? Let's look.
How can the Broncos beat the Cowboys
Play up to their level of talent defensively: Last week and a handful of possessions against the Cleveland Browns showcased the Broncos taking steps in the right direction defensively, but they're still performing like a bottom 10 defense.
When isolating the last two weeks, which have been promising relative to where the Broncos were, they still rank as the 22nd defense overall in EPA/play (expected points added per play) surrendered, 19th in EPA/dropback and 29th in EPA/rushing attempt.
If they perform like that against a high-flying Dallas offense they're likely going to be boat raced.
Plus with Dak Prescott at the helm, the Cowboys look much more similar offensively to the Las Vegas Raiders or Baltimore Ravens that lit the Denver defense up, than the Case Keenum- or Taylor Heinicke-led attacks Denver 'got back on track against.'
It's time for the Broncos to finally play up to their level of defensive talent in order to keep this game close. Now, with that said, the Cowboys are able to put up 30 routinely, even on a high-end defense. So while Denver's defense must step up in order to keep this game even remotely competitive, they'll likely need the offense to have its best game of the season as well.
Hit on big-play opportunities: Contrary to popular belief, the Broncos aren't lacking aggressiveness overall on the season. In terms of total deep passes (defined as a throw that travels at least 20 yards downfield), Teddy Bridgewater ranks fifth in the NFL this season, and in terms of rate, he ranks seventh.
The problem is Bridgewater's relative inability to hit on these deep shots, and the poor design of them. With Pat Shurmur still installed as the offensive coordinator, the latter won't be changing this week, but we could hope for some improvement from the former.
Although Bridgewater has been an upgrade on last season's starter on downfield passes in terms of accuracy, efficiency, and production (yes, really), he's still been pretty bad relative to the rest of the league. He ranks 26th in completion percentage on deep shots, 27th in adjusted completion percentage, 30th in big-time throw percentage, 30th in turnover-worthy play percentage and 31st in passer rating.
For the Broncos to hang with the Cowboys, they'll need big plays, and a lot of that relies on Bridgewater being more productive on these deep shots.
If Bridgewater is able to accomplish that task, Denver has a chance.
Convert in critical situations: The Broncos' offense is performing about average in most facets of the game, but they've been near the bottom of the league on third downs and in the red zone.
They'll have to maintain drives and turn scoring opportunities on a consistent basis to keep up with Dallas' offense, and their ability to keep up with that elite opposing unit will likely determine the outcome of this game.
How the Cowboys beat the Broncos
Literally, just show up: The Cowboys might be the best team in football right now and they get a home game against the reeling Broncos. This should be a cakewalk for them.
Every key listed above for the Broncos to even stand a chance in this game requires an entire overhaul of what their team has been through the season so far, and in regard to Bridgewater and Shurmur, about what they've been their entire careers.
If the Cowboys don't entirely implode and Mike McCarthy doesn't make a million time management errors, it's nearly impossible to see the Broncos escaping with a victory.
Final Thoughts and Score Predictions
As mentioned above, the Cowboys are a far superior team than the Broncos. Not only do they have the superior offense, defense and special teams, but all of three of their units are likely better than any of Denver's.
Their coaching staff is far superior, and their quarterback is far superior.
That said, the Broncos have seen a limited number of possessions in their games so far this season, which should help keep the game closer than it has any right to be.
Cowboys win 31-20