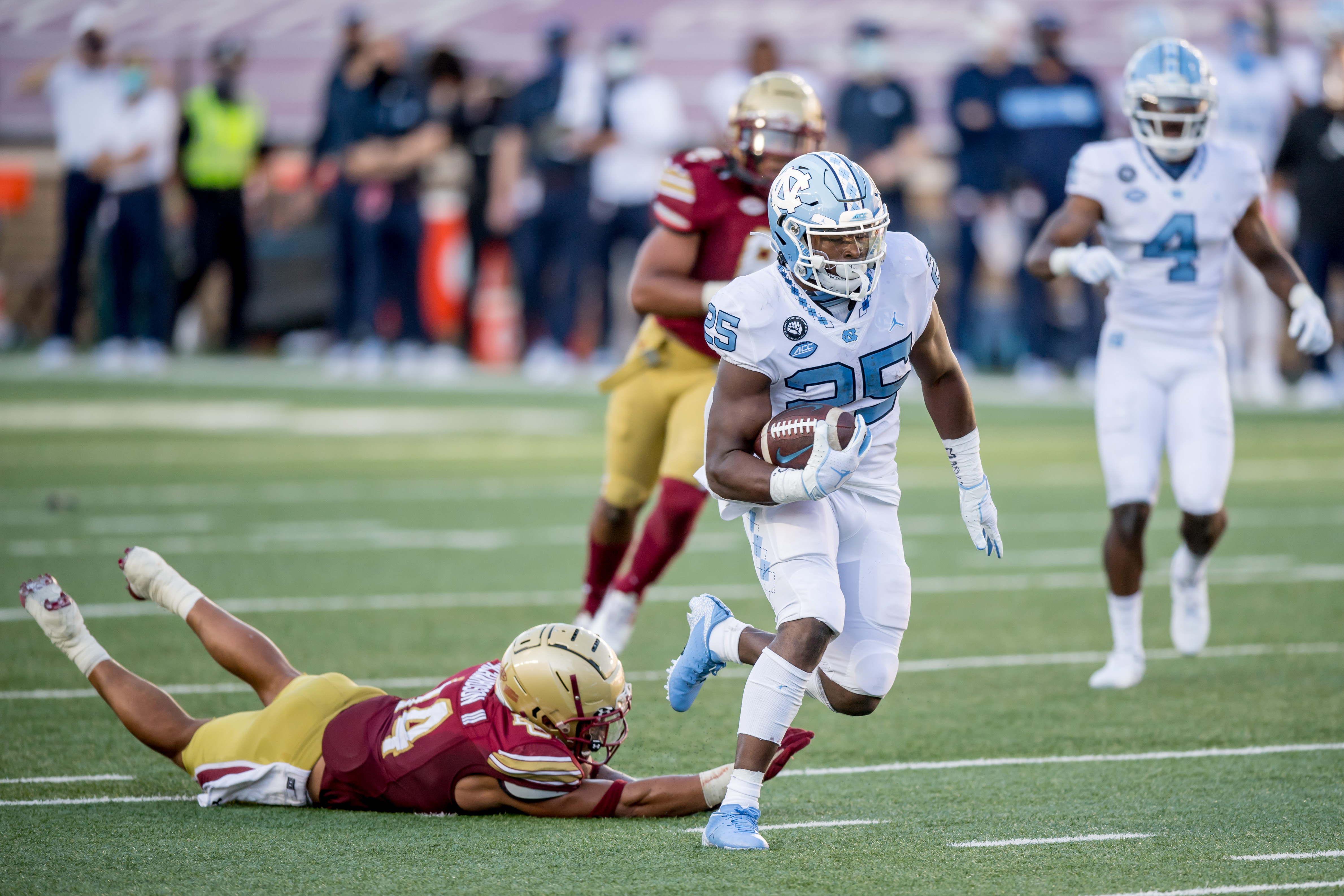 We're now in the dog days of summer, which makes it the perfect time for some rankings and some season preview content.
In this series, we'll be ranking the teams in the AFC West based on how they compare to the rest of the division at each and every position group.
Here, we kick things off by looking at the running backs, where Denver might surprisingly lead their division.
4th: Kansas City Chiefs
Running backs: Clyde Edwards-Helaire, Darrel Williams, Darwin Thompson and Jerrick McKinnon
With the amount of established talent the other four teams in the division have at running back, Kansas City pretty easily fell to the last spot.
You can make an argument for each of the three other teams in the division having the best running back room, and KC doesn't come close.
Clyde Edwards-Helaire was an exciting first-round pick and seemed like the perfect fit for the Chiefs, but his inability in pass protection led to him coming off the field for much of the team's playoff run.
The depth behind him is also among the worst — if not the worst — of any team in the division.
All that said, with Andy Reid dialing up plays for Patrick Mahomes, Travis Kelce and Tyreek Hill behind that rebuilt offensive line, the Chiefs will be just find on offense.
3rd: Las Vegas Raiders
Running backs: Josh Jacobs, Kenyan Drake, Jalen Richard, Theo Riddick
Now things get interesting, as the other three teams in the division are so close at running back, that you could make an argument for any of them being first, and any of them being third.
The argument for the Raiders being first is simple. Between Josh Jacobs, free-agent acquisition Kenyan Drake, Jalen Richard and Theo Riddick, they might have the most talent — or at the very least, name recognition — of anyone in the division.
However, how poorly they allocated assets to build that running back, and how nad 2020 went for a lot of those players, leads to them losing the tiebreak.
Josh Jacobs cost a first-round pick, and his rapid decline from his rookie season to 2020 should be somewhat of a concern. After looking like a top-10 back in 2019, he couldn't average more than four yards per carry, and frequently looked far less explosive than Devontae Booker — who wasn't exactly 'Mr. Explosiveness' during his time in Denver.
The Kenyan Drake signing is dubious too. Drake is coming off the worst year of his career, playing in a system that seemed like a tailor-made fit for him just one season ago. Drake was inefficient touches, but even worse, the Arizona Cardinals run game improved as Drake received less playing time down the stretch.
Las Vegas also paid well above market-value for Drake's services, because they felt they needed a premium pass-catching complimentary piece to Jacobs in the backfield.
The fact the Raiders feel that premium piece next to Jacobs is such a necessity that they invested that amount of money — especially considering they're just one year removed from spending a Day 2 pick on Lynn Bowden Jr. to fill that same role — has to leave you wondering if Jacobs was worth a first-round pick in the first place.
You should almost never take a running back in the first round, and when you do, they should be a clear-cut, No. 1, workhorse running back that's in the conversation for 'best back in the league'. After this off-season, Jacobs might not tick any of those boxes.
2nd: Los Angeles Chargers
Running backs: Austin Ekeler, Josh Jackson, Joshua Kelley, Larry Rountree
At least for now, Austin Ekeler is easily the best running back in the division.
He contributes in the passing game as a receiver and blocker, but is also a deadly runner who powers his way through most defenders. He's a prime example of what a modern NFL running back should look like.
Ekeler strained his hamstring in Week 4, which led to the star running back missing six games, but that isn't a concern heading into the 2021 season.
If anything, 2021 projects to be Austin Ekeler's best season yet, as he's now healthy without Melvin Gordon around to steal his touches, and he has a much-improved offensive line ahead of him.
The Chargers also have a nice amount of depth at the position, even if that depth is still probably second-worst in the division. Josh Jackson and Joshua Kelley are solid options backing Ekeler up, and Larry Rountree was one of the best late-round backs in the draft.
1st: Denver Broncos
Running backs: Melvin Gordon, Javonte Williams, Mike Boone, Royce Freeman
Why are the Broncos in the top spot? Three major reasons.
First off, Melvin Gordon undoubtedly outperformed every running back in the division not-named Austin Ekeler last season. Jacobs wasn't far behind as a ball-carrier now, but he trails quite a bit behind Gordon in the passing game, and you have to impact the passing game as a running back in the modern NFL. One could even argue Gordon outperformed Ekeler last season, considering the time he missed due to injury.
Secondly, although Ekeler is presently the best running back in the division, that might not last too long. Javonte Williams is now in the division and projects to be a top-five running back with his bullish running style, versatility, and lack of tread on his tires.
Finally, Denver's all-around depth is much better. Whether Gordon or Williams is the No. 2, they're better than Kelley, and Boone is better than Los Angeles' No. 3 and No. 4 backs.
The fact the Broncos offensive line will elevate Williams and Gordon more than Chargers line will elevate Ekeler's play is also a factor, though we are trying to isolate the running back position as much as possible for this exercise.