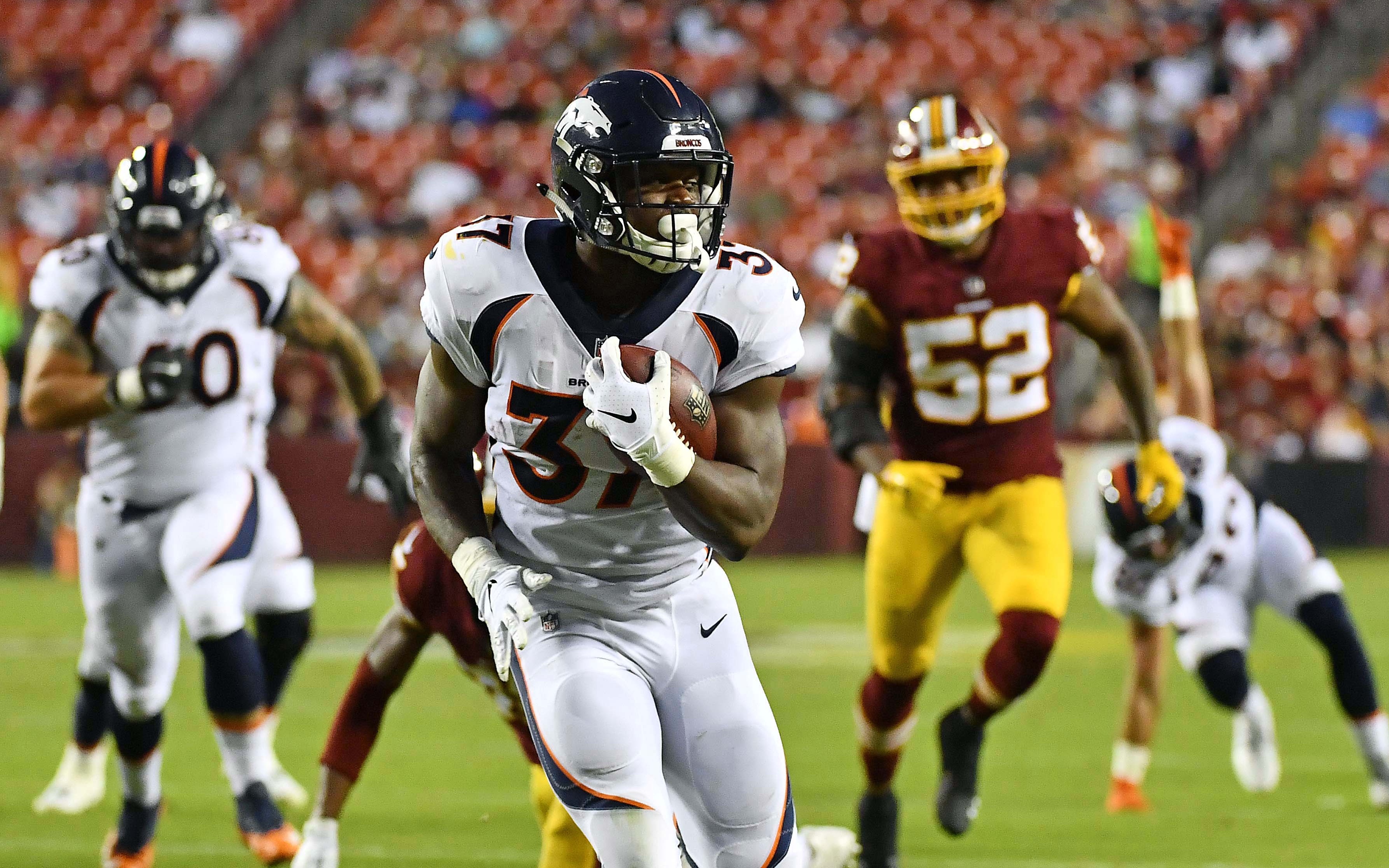 The Denver Broncos arguably have the best rookie class in the NFL this year.
While John Elway has been somewhat spectacular at signing huge-name free agents since taking over in 2011, the Broncos general manager has been loudly questioned for his ability to draft consistently.
This year, however, it seems Elway knocked the draft out of the park.
Bradley Chubb has been regarded as the best player overall in the entire draft by many "experts," and Denver got him at No. 5. Royce Freeman has been very impressive so far in training camp and now in the preseason, Courtland Sutton was the camp darling, Isaac Yiadom has room for improvement but is gaining valuable experience currently, and the list goes on.
Good Morning Football agrees:
Does Denver have the NFL's top rookies?@heykayadams thinks the @Broncos draft class is a 'mile higher' than the rest of the league.@astronaut @rolls_royce21 @SuttonCourtland pic.twitter.com/xVoWbo4yMT

— GMFB (@gmfb) August 27, 2018
Chubb is working to become a cornerstone of the Denver defense for many years to come, and he enjoyed a sack for a safety in Week 2 of the preseason, as well as sharing this sack last week with DeMarcus Walker:
The highlight we've been waiting for since April …@VonMiller x @astronaut combine for the SACK!#DENvsWAS pic.twitter.com/Psfz5muELd

— Denver Broncos (@Broncos) August 25, 2018
Freeman has been nothing short of amazing as a rookie running back this preseason. In the loss to the Minnesota Vikings, Freeman ran right for a 23-yard touchdown and led the team with 38 yards on the ground. He scored again in Week 2, and then rushed through three would-be tacklers for a touchdown last week in the win over the Redskins:
Come for @rolls_royce21's 24-yard touchdown run, stay for his offensive line's celebration. ?#DENvsWAS pic.twitter.com/1qnuxScSIR

— Denver Broncos (@Broncos) August 25, 2018
Sutton is continuing to get it going, doing Josh Norman dirty, as GMFB showed in their video above. Yiadom has been facing some of the best receivers — like Stephon Diggs in Week 1 — and while he's given up some catches and had a few penalties called on him, he's working to be starting-quality.
Moving down the list, Josey Jewell has been one of the best run-stopping linebackers in the NFL this preseason, as we shared yesterday, and DaeSean Hamilton has enjoyed some solid catches, too.
The later-round guys still have a ton to prove, and they'll get their shot once again this Thursday in Arizona against the Cardinals as the preseason wraps up.
But, we'd be remiss to forget to mention Phillip Lindsay, the undrafted free agent from the University of Colorado, who's also been very impressive this summer.
All told, it'd be difficult to find a better rookie class than the long list of talented players the Broncos are currently putting out on the field. One thing's for sure, it'll be a fun ride watching this class grow over the course of this season and into the future.