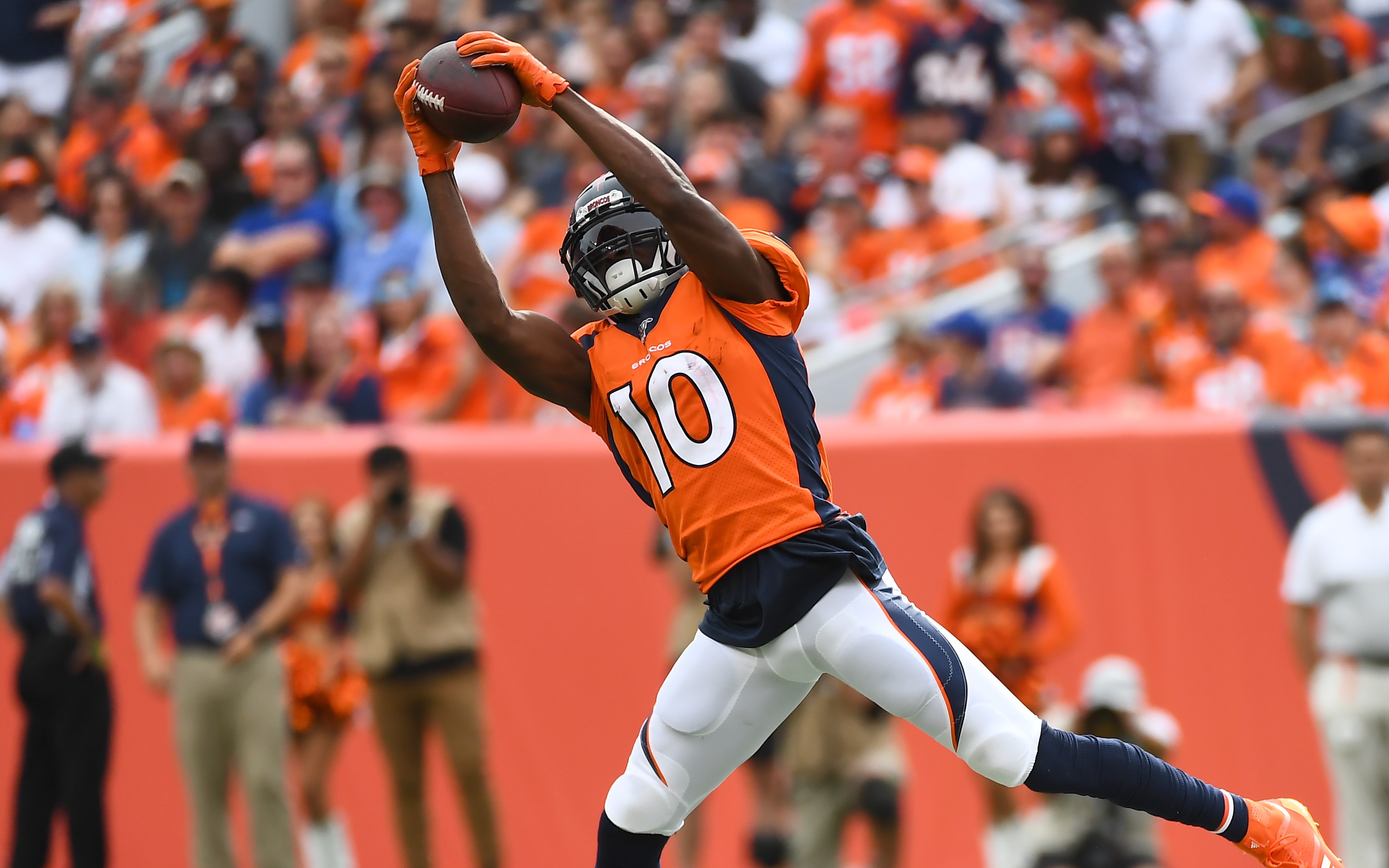 This morning, the New England Patriots traded a second-round pick in 2020 to the Atlanta Falcons for Mohamed Sanu, signaling what could be considered a "seller's market" in the NFL right now.
Maybe the Broncos can get a similarly high draft pick for Sanders.
Not so fast.
Sanu, an eight-year wideout, has never hit the 1,000-yard mark in a season (838 last year was a career-high) and five touchdowns was the most he's hauled in during a year. Those are lackluster numbers for wide receivers in today's NFL and they pale in comparison to the numbers Emmanuel Sanders has compiled over the years.
But, here's what Sanu has that Sanders doesn't. Sanu is taller (by three inches), he's younger (by two years) and Sanders tore his achilles tendon last season. Sure, he's bounced back and played decently this season, but that major injury is a certain concern for a team looking for a deep playoff push.
However, maybe the biggest thing that Sanu has which Sanders doesn't is a contract that continues into next year. The Patriots not only get his services this season — New England is again the favorite to win the AFC at 7-0 and were needing a wide out — but they'll have him next year, too.
Sanders' contract expires at the end of the year, meaning it's a half-season rental for whatever team ends up taking the plunge and trading for him. If a deal happens at all, which isn't guaranteed.
That means the Broncos aren't looking at a second-round pick, which would be wonderful in a rebuild, but more like a fourth or even fifth-round pick for Sanders. Remember, last year the Broncos traded away Demaryius Thomas for a fourth-rounder; we could see it happen again this season.
So, should the Denver Broncos trade Emmanuel Sanders? We looked at the reasons for and against sending the veteran on an expiring contract away yesterday.
While the Patriots were interested in Sanders before they got Sanu, other teams who were rumored to be interested in Sanders' services include the Philadelphia Eagles, the 6-0 San Francisco 49ers and the Carolina Panthers.
Other Broncos trade rumors
While some fans and even some in the media have called for Von Miller to be traded, that's not happening. At least, there's no smoke to believe there's a fire.
However, the Houston Texans did inquire about Chris Harris Jr. per Benjamin Allbright. Houston ended up trading a third-round pick to the Raiders for Gareon Conley yesterday.
It sounds like the Broncos want much more than a third-rounder for Harris, so don't worry too much that he may be leaving.