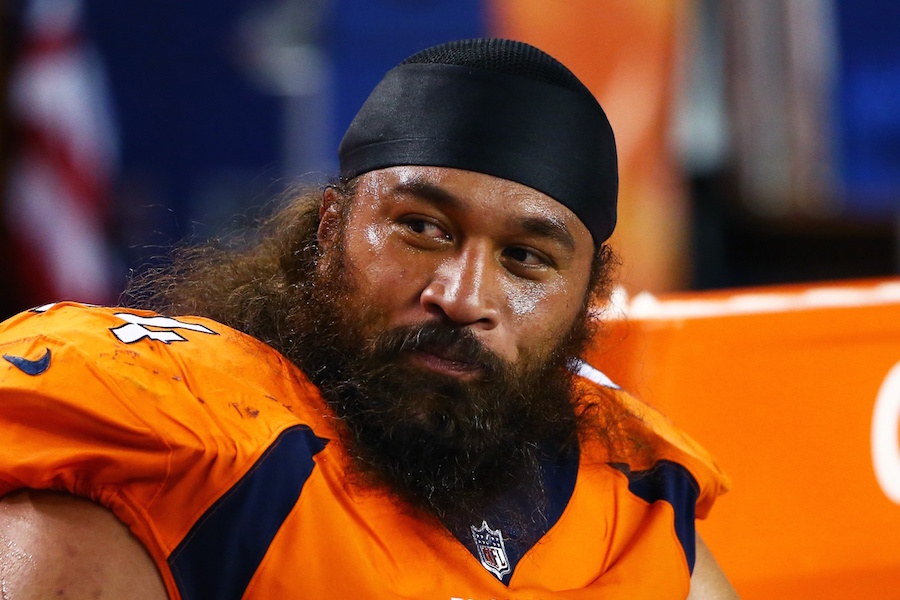 Domata Peko is entering his second season with the Denver Broncos, and his energy and charismatic leadership helped make Denver a top five rushing defense in the NFL last year.
Speaking to Eric Goodman and Les Shapiro of Mile High Sports AM 1340 | FM 104.7, Broncos nose tackle Domata Peko talked about what has changed from last year to this year and what he has noticed from new quarterback Case Keenum.
The Broncos had one of their worst seasons in franchise history last year (5-11), but Peko has already noticed that the team has improved.
"It feels like we are practicing harder," said Peko. "Everyone's flying around. Just looking at the speed of last year's practices compared to this year, everyone's speed has gone up. That's a big testament to last year's season. Having a bad year everyone has a chip on their shoulder. Everyone is ready to go."
Peko mentioned that last year can be a reminder for the team on what not to do this season.
"You don't want to do that again," Peko continued. " You don't want to repeat that. You are going to do everything in your power to fix it and that's what we're doing right now. We're trying to play faster, play stronger, and it's been working out so far at camp."
Peko lines up right across from Keenum every day at practice and has liked what he has seen from their new starting quarterback.
"He's been doing a great job," said Peko. "He's a true professional. Out there on the field, he takes command of the huddle. He does everything a veteran quarterback and a star quarterback needs to do. He's really smart with the ball, and that's what we need on our offense."
Click here to listen to the full interview with Domata Peko.
Catch Afternoon Drive with Goodman and Shapiro every weekday from 4p-6p on Mile High Sports AM 1340 | FM 104.7 or stream live any time for the best local coverage of Colorado sports from Denver's biggest sports talk lineup. Download the all-new free Mile High Sports Radio mobile app for Apple or Android.