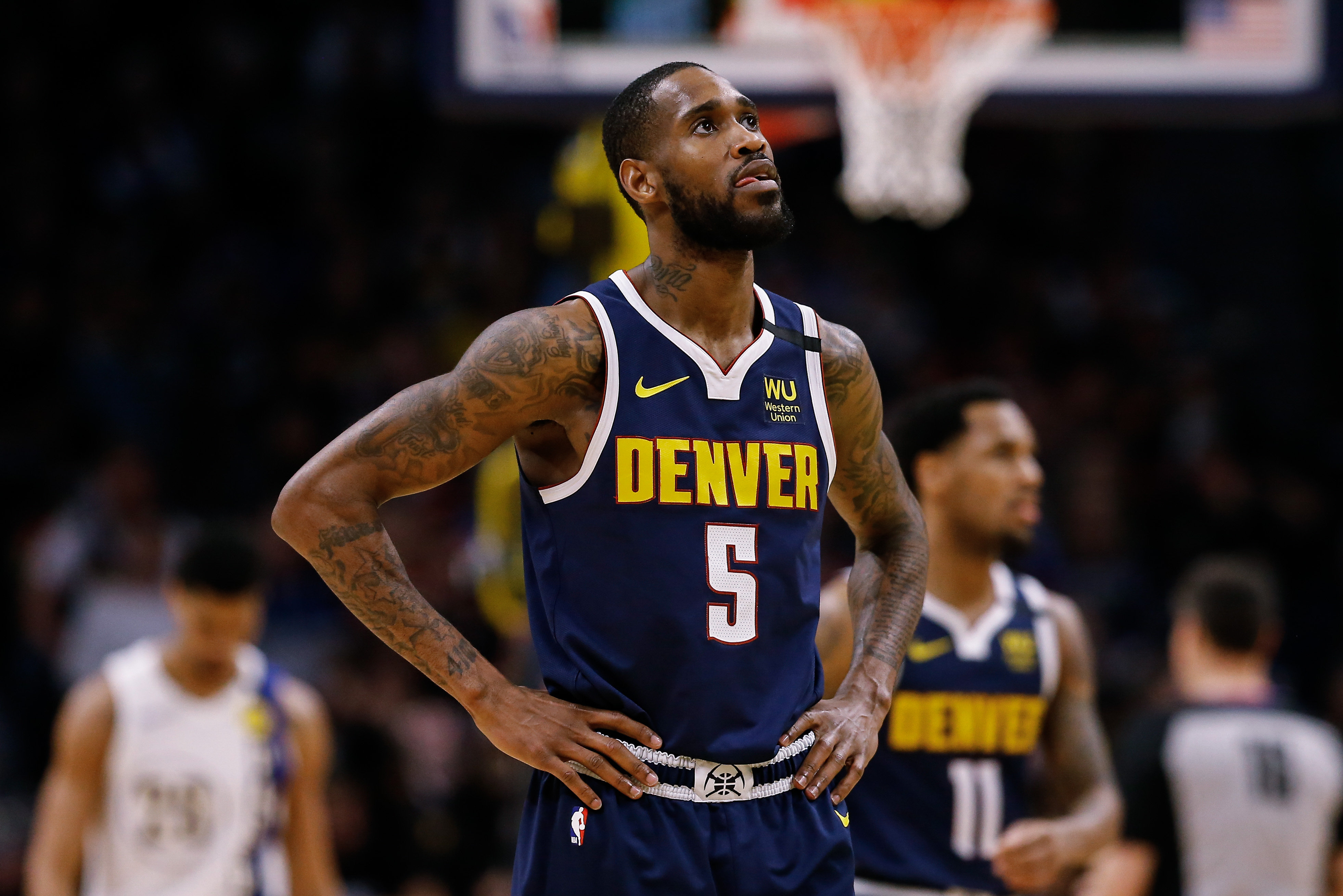 So long, Will. It's been a thrill.
If you haven't heard, Will Barton's future with the Denver Nuggets is unknown (at best). Two weekends ago, the Nuggets forward suggested, at the MLB Celebrity Softball Game, that he wanted to be somewhere he was "appreciated." Over the past weekend, he further interpreted his statements by declining his player option with the Nuggets.
Will Barton might not necessarily want out, but he doesn't want the deal that currently sits in front of him. The contract option that stared Barton in the face came in at $4.7 million – but it seems as if he'd rather see what kind of big fish he could reel in after tossing out his line. He might even get the Nuggets to bite.
Swim away, Tim Connelly. Don't do it. Let Will thrill elsewhere.
It's not that Barton isn't a competent NBA player. He is. And Lord knows the Nuggets need guards above all else. If Barton splits, they'll need one more.
No problem. Let Will free.
If you believe in the "Big Three" model, Will Barton doesn't fit into it, at least not in Denver. He's not a star – not in the KD-Kyrie-Harden mold. In Brooklyn, Barton wouldn't surplant an aging Blake Griffin as a clear-cut No. 4. Does Barton play a role that's more key than trade acquisition Arron Gordon? Sure, Barton can score more, but he's not an elite defender – certainly not against positions 1-4, and maybe 5 in a pinch, like Gordon.
Yet, Barton feels he's worthy of a bigger, more prominent role (aka – he wants to be "appreciated").
Not everyone can have a "Big Three." So, ask yourself this: At $14.7 million (or more, as we might assume The Thrill is seeking), is Barton overpriced or underpriced as a "third or higher" piece to the puzzle?
Some food for thought:
Right now – rather, about a month ago, when the Nuggets had zero answer for the Suns pick-n-roll game – would you have rather had Will Barton or Torrey Craig?
Assuming you made the right choice, or even thought about it, understand this: Craig made $1.7 while playing a meaningful role, albeit primarily defensively, for the runner-up Suns.
Let's look at both rosters competing in the NBA Finals. The Suns had just two players over the $25 million mark (Chris Paul @ $41.4 million, and Devin Booker @ $29.5 million). The Bucks had three players over the $25 million mark – Khris Middleton ($33 million), Giannis Antetokounmpo ($27.5 million) and Jrue Holiday ($25.1 million). Is Will Barton's value remotely close to Jrue Holliday? Is he within $8-9 million? If he isn't, then is there another player out there who could be?
Better yet, play this game: Would you rather have Will Barton or…
Jae Crowder? ($9.7 million in 2021-22)
Brook Lopez? ($13 million)
Bobby Portis ($3.8 million)
Pat Connaughton? ($5.3 million)
Some of those players, versus Will Barton anyway, are debatable. But if you had to consider for a moment, consider that Barton believes he's worth anywhere from $2-11 million more than anyone on the above list. Now consider that each of those players were instrumental in winning a title (or runner up) on a team with only two bona fide superstars.
The Nuggets have two bona fide stars in Nikola Jokic and Jamal Murray. In Denver, they may never accumulate a big three, but the Bucks and Suns just showed how things can be done with a big two and some key (see reasonably priced) role players.
Will Barton believes he should be Denver's third option, a starter rather than a reserve. He's a pro athlete who, understandably, believes wholeheartedly in his own abilities. If Barton was a true "No. 3" star, shouldn't the Nuggets have advanced further than they did? Yes, he wasn't necessarily healthy – (When has he been, by the way? He's played 43, 58 and 56 games in the last three seasons) – but have you ever viewed him as part of the Nuggets big three healthy or otherwise? Barton is, and can be anytime for anyone, an excellent role player. He can provide energy from the bench few NBA players can deliver.
Furthermore, Barton has become Michael Malone's Wooby. When young Michael Porter Jr. misses a defensive assignment, Malone yanks him in favor of Barton. When Malone accuses his team of quitting, he makes sure to exclude Barton. And Malone isn't entirely wrong – nobody will ever accuse Barton of poor effort or lack of confidence. He's a boom or bust player; problem is, the modern NBA values reliability and consistency – especially for its role players – over all or none. Barton can do it all; he can also shoot the Nuggets out of a game.
Would keeping a player like Barton be nice? Sure, but not to the tune of $15 million-plus. That money could be spent elsewhere.
Then again, is Will Barton – at any price – more help or hindrance? Barton isn't a part of anyone's big three" (ever), and he may be standing in the way of making Michael Porter Jr. a player who's worth of inclusion in Denver's big three. If he believes that he's worthy of being a team's first, second or even third option, please, by all means, let him walk.
Soon, NBA free agents will be seeking new homes and bigger contracts. Will Barton will be among them.
Don't do it, Denver. Say "thanks" and move on. Both player and team will be better off.