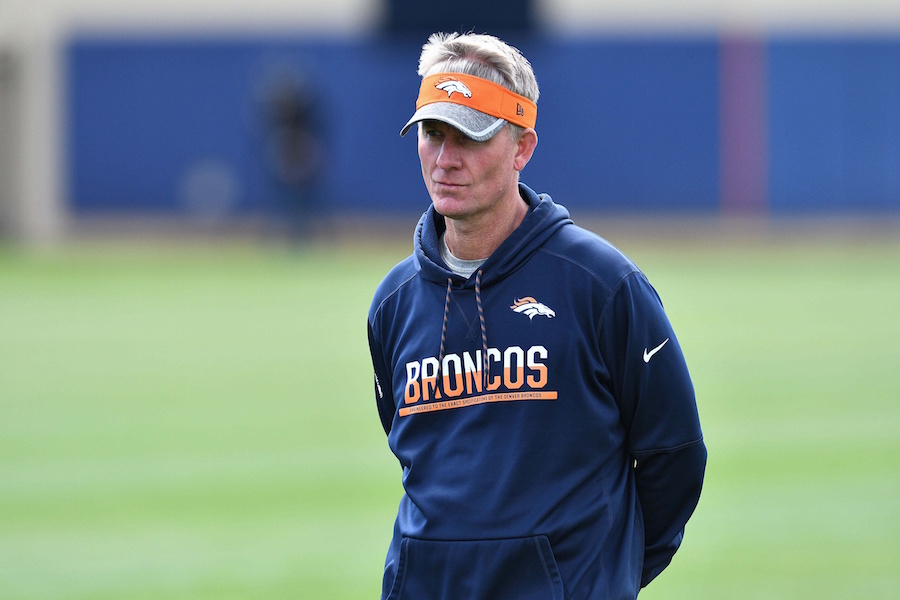 The Denver Broncos never really found themselves offensively last year. Whether it was production or identity, it seemed as if both changed with the wind. Although "against the wind" might be a better description for how the offense at times played last season.
As the Broncos get set to compete in their first preseason game on Thursday, they do so under the guidance of new/returning offensive coordinator Mike McCoy, now in his second stint as OC in Denver.
The offensive identity may change with the wind again this year, but that should be a good thing under McCoy's leadership.
"We're still putting everything together, but as an offense we want to do whatever it takes to win and go up and down the field all game long," McCoy said. "I'm not someone who's going to look and say, 'Hey, you have to run at a certain percentage, throw the ball a certain percentage.' I'll want to have an explosive offense."
At the core of an explosive offense are big plays.
"Explosive plays are going to be big in our system, whether it's in the passing game or explosive runs," McCoy said on Tuesday.
A big play, according to quarterback Trevor Siemian, is a play that moves the chains all at once.
"We have the numbers. I think it's over 15 [yards on a] pass play and 12 [on] run plays or something like that. I could be wrong there," Simian said
The improved offensive line has been a big help in getting the offense heading in the right direction. According to McCoy, the big boys up front seem to also have inspired the wide receivers.
"I think the thing that's going to allow us to have explosive runs is the way the line is played," McCoy said, "but not just the line but the way the receivers are blocked. They're been very unselfish. [WR Coach] Tyke's [Tolbert] done a phenomenal job with the receivers and the running game. I think as you watch the practice, the commitment they have, the blocking and they understand that the guys up front are going to block their tails off for the passing game."
McCoy has articulated pretty clearly what he expects to see out of his offense in 2017 regardless of who is behind center, and it appears that both Siemian and Paxton Lynch are aware of that as well.
"Obviously we want to score points, give that defense a rest whenever they get off the field and be able to move the ball up and down the field," Lynch said on Tuesday. "I think when you have a good offense it benefits the whole team. You're not going three and out, the defense is running back out there and you put a lot of pressure on them. I think the big thing is just sustaining drives and being efficient."
"You have to have big plays," Siemian, who will start against the Bears, said on Tuesday."I forget what the number is, but you have to have a certain amount of explosive plays a game to really be in that top tier of offenses in the league. It makes it easier on your offensive line and it makes it easier on your run game. I think we'll get there. I think we're all excited about what we can do in this scheme and we're going to have a couple of those big ones this year I think."
Head coach Vance Joseph announced on Monday that Siemian will start against the Chicago Bears on Thursday, with Lynch starting the second preseason game against the San Francisco 49ers.
It's hard to nail down an identity without having named a starting quarterback or offensive line, but McCoy has an idea of what he wants his offense to look like with the season on the horizon. While he knows that it will likely change, he certainly has a plan.
"We want to do whatever it takes to win and score as many points as fast as we can week in and week out until the coach tells us to slow it down," McCoy said. "We're going to play up-tempo and it's going to change from week to week, too. You're going to see a different plan. You're not always going to see the same thing over and over again, and I can't tell you this is exactly what we're going to be yet. But we want to have an exciting offense for our fans and score a ton of points – whatever that is – running, throwing, whatever we have to do."