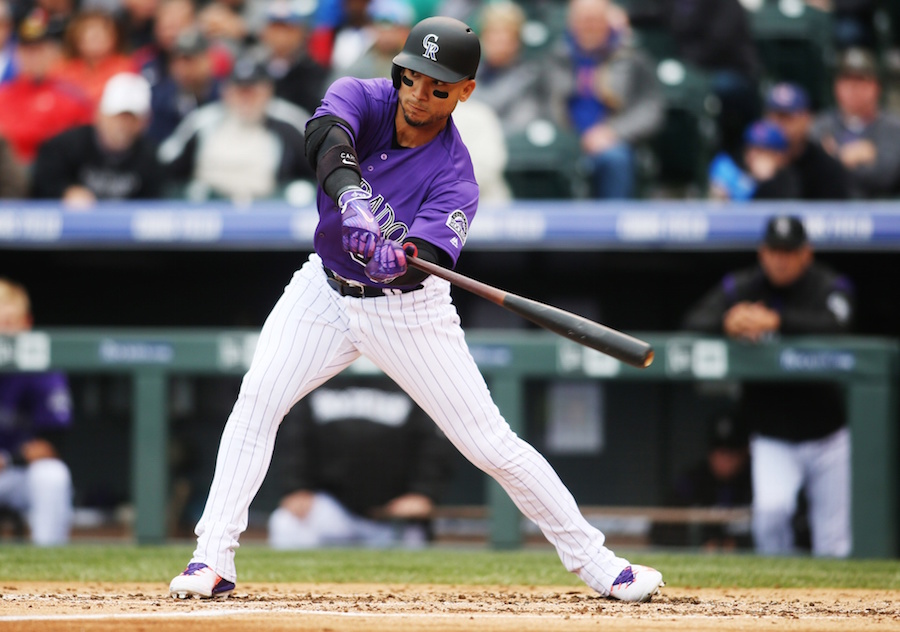 Don't do it, Rockies. Now is not the time.
While rumors of the possibility of trading right fielder Carlos Gonzalez are a) rumors at most, b) murmurs at present, and c) speculation most accurately, the "noise" surrounding one of the most beloved players in Rockies history will only get louder.
Louder as the All-Star break approaches.
Louder as the team and others discover the depth within its roster (and there's no doubt that the Rockies have respectable depth this season).
Louder as the opportunity to bolster a much-improved pitching staff may or may not present itself.
Louder as the final $10-or-so-million the Rockies officially owe Gonzalez comes due, completing the entirety of his current 7-year, $80 million contract – if he finishes the season in Colorado.
Yes, there are reasons to consider trading Gonzalez. He's at the end of a big deal and he's still going to command some significant market value on his next contract. If what many believe – that the Rockies won't want to compete with teams willing to throw big bucks at CarGo as he enters free agency – is true, trading him now, rather than letting his contract expire, would at least yield the Rockies something.
But at 31 years old, he's anything but "old." He's still got one of the sweetest swings in baseball. He's still got a cannon for an arm. He still makes those game-saving catches in right. He's indisputably still a five-tool player, and those don't come around too often.
He's also a great Rockie, a clubhouse favorite who rarely gripes or grumbles. Despite the team's poor play for most of his tenure in Colorado – since 2008 when he arrived, the Rockies have only posted two winning seasons, making the playoffs just once – he's never been a problem. He's never been a distraction, like, say, Troy Tulowitzki was prior to being surprisingly traded to Toronto.
And you know what? If, sometime in September, the Rockies need a home run in the bottom of the ninth to tie or win a game that puts them in the playoffs, I want one player at the plate: CarGo.
That's the thing – that day in September could be coming this season.
This team is good. Very good. They've won four of their last five division series, and split the most recent one with the Dodgers. They took two out of three from the NL Central leading (and World Series defending champion) Cubs. They stumbled against the Washington Nationals, losing three of four at home, but they bounced right back, showing a resilience not too familiar in these parts. Best of all, they're doing all of this with very good pitching, both from starters and relievers. Something about this season feels different, that's for sure.
Throughout all of it, ironically, Gonzalez hasn't batted particularly well, further raising the question, "Should the Rockies consider trading Gonzalez?"
Don't be fooled. As goes the weather, so goes Cargo. Throughout his career, his monthly batting averages look like this: March/April – .271; May – .288; June – .299; July – .311; August – .272; September/October – .292. A cool start is nothing new, although he's been a bit below his career averages this season – .216 in April and .205 thus far in May. He has, however, hit safely in four consecutive games, and five out of the last six.
But forget about Gonzalez's trade value on July 31. It shouldn't matter. What should matter  is what his value to the Rockies will be down the stretch.
For the first time in a long time, fans of the Colorado Rockies are seriously talking playoffs. Sure, it's still early, but this team has all the makings of a playoff team. And if you think you've got a shot, you should give that shot everything you've got.
Trading Gonzalez, unless it's for a top-flight pitcher who can help win "right now," won't make the Rockies immediately better; it won't make them a better team as they approach the postseason. Most likely, CarGo would fetch young pitching prospects.
And while there's nothing wrong with that in a season that fizzles through summer, making that move in a year filled with hope would send a terrible message – to fans, to current Rockies players and to future Rockies players.
If Gonzalez walks next season because he's simply too expensive for the Rockies, so be it. Jeff Bridich has built a roster loaded with outfield depth, one that could ultimately survive the loss of CarGo. The economics of baseball don't allow teams to stockpile the best talent forever, especially mid- to small-market franchises. The Rockies and Gonzalez will both be forgiven if they never strike a deal for next season and beyond.
Besides, at this moment, who cares about next season? In what feels rare and exciting, the Rockies are in the thick of things right now. And there's no question that the Rockies are better with Gonzalez than without him. Right now, he's with them. As the wins pile up, and as Cargo's bat inevitably heats up, why rock the boat??
Carlos Gonzalez has seen some tough times in a Colorado Rockies uniform. He deserves to be here when the playoffs are on the line. And the Rockies, as a franchise, owe it to themselves and their fans to bring the best roster possible into August and September.
And CarGo is on that roster.