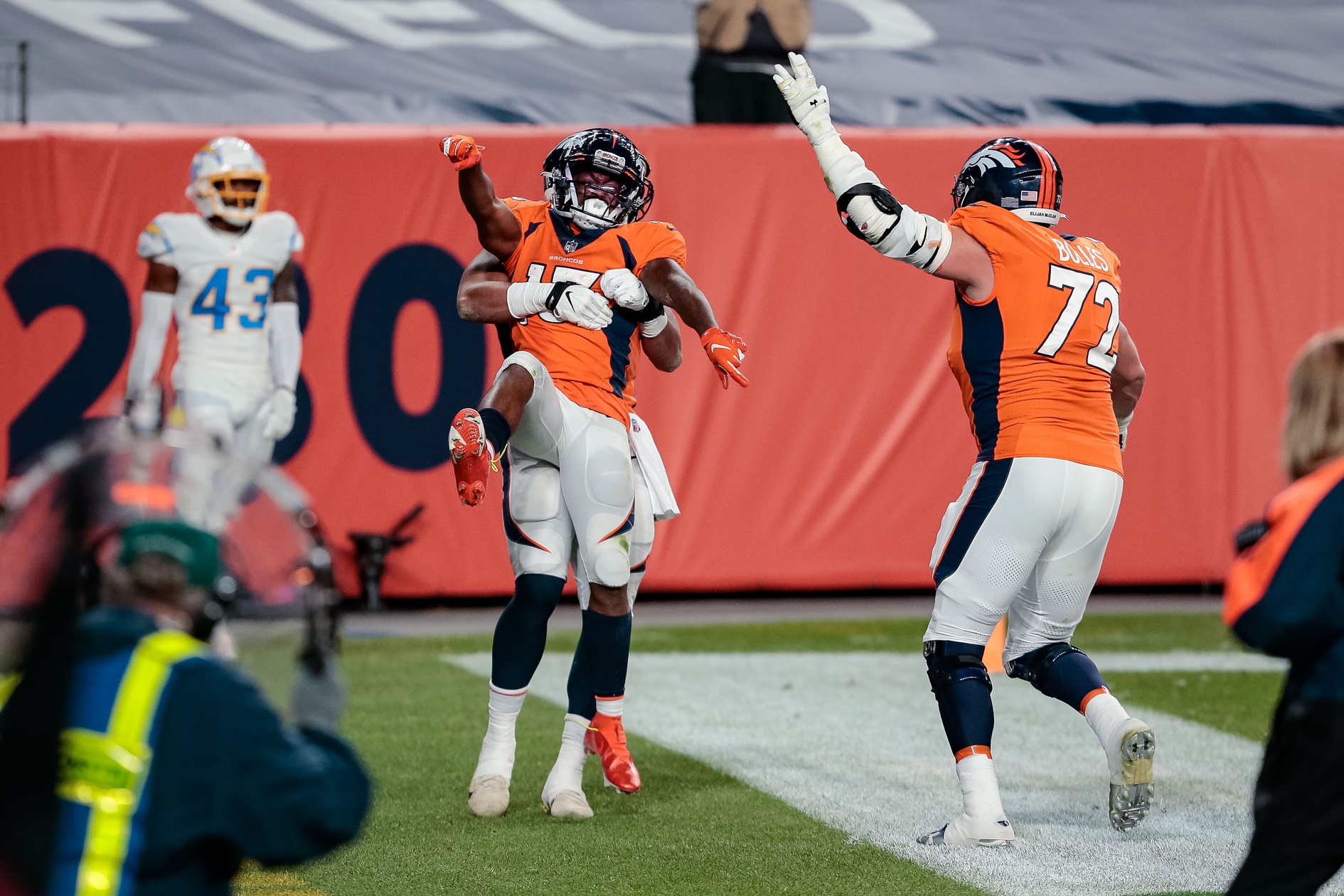 We all thought the Broncos were cooked after they went down 24-3 last Sunday. Don't lie. There wasn't a single person in Broncos Country who thought they were coming back from that. So you can imagine the frustration that needed to be let out by a fanbase that's had just about enough this year. And since not many of us can attend games to voice our displeasure, social media is the route we must take.
Social media has made your sports heroes as close as your phone screen, and it's great that players are interacting with the fans these days, but should they be? It would be hard to imagine being an athlete and having some couch-bound wanker critiquing your every move on and off the field. Can you imagine if Twitter was around during Elway's nascent career? Oof. So when Broncos fans pissed and moaned about the teams horrendous first three quarters of folly against the Chargers last week, several players let their voices be heard after the miraculous comeback victory.
Social media is obviously a two-way street. You can say just about anything you want, but that freedom comes at a cost if enough people decide to take umbrage with it. We've seen plenty of people go into hiding over errant thoughts and sports takes are not immune. Generally teams would have to be opposed to players fighting with fans, and it seems to always happen when someone crosses a line that gets crossed more and more each day. Player interaction is great and offers another dimension to the fan experience, but when it turns ugly, teams will usually want its players to stay away from that kind of no-win situation.
NFL diehards are very vocal and are represented by some of the smartest (and dumbest) fans of any sport. And when they find something to hammer home, they do so with ferocity. I'm not into booing, so no matter how bad my team is doing, I would never boo them because I know what it's like to not be able to get it in gear while playing a game. Those guys are trying – despite what @NFLBroncos69_43351275 is claiming – and sometimes it's just not your day. But you can voice your displeasure on social media which, depending on your follower account, is only being seen by a certain number of people. And whether it's good or bad, it gives a fan a place to vent.
So the Broncos players absolutely earned the right to shove it back into the faces of fans who booed or took them apart on social media. But what if that game never turned around? Would we still have seen the defiant statements about "not believing in us"? Of course not. But they pulled out the win so they get to talk smack to those who didn't believe. Which was all of us. Those are the rules.
It's been implied that the players standing up to the Broncos faithful is somehow alienating fans, but if you think the Broncos players give two figs about that and you're upset they defended themselves, the world of sports social media may not be for you. In fact, if you're one of those people who cry to players about lack of fantasy production or complain because they didn't come down with a pass in the fourth quarter, you probably need to take a break altogether.
Social media is a great equalizer but it can also be a cat with diarrhea stuck in your bedroom while you're at work on a hot day. When in doubt, don't post. And enjoy any spectacular win from this Broncos team because with only nine games left, and all the bad social media takes to come, it's still going to be a long season.
Congrats New Jersey. Let's gamble!
The Football Team v Giants -3 o/u 42
That's a pretty low o/u for two teams that, while admittedly suck, can still put up points. I like the Team to cover the 3 and I say they go with the over at 42.
Ravens @ Colts Under 47
Another under I like because the Ravens are struggling a bit, they're on the road and Indy's D is pretty dang good. I think this is a slug fest with Phillip Rivers looking like his usual awful QB who's actually pretty good and the scoring stays low.
Chargers v Raiders -1
Chargers are only favored by one? Come on. They're not that bad are they? Justin Herbert is GOOD and they will stick it to the Raiders to get the taste of that Broncos loss out of their mouths.
Cardinals v Dolphins -4
Cardinals are coming off a bye and the Dolphins still have a rookie QB who has thrown like four passes. The Dolphins D is the best part about that team but the Cards are too high octane for these fish. Cards win this by 10 points at least.
Car @ KC +10.5 
I know the Panthers aren't good but the Chiefs have been enjoying large points spreads and cupcake matchups for the last few weeks. The Panthers get CMC back and I think they give the Chiefs a game.
Aaron Rodgers to throw 3+ TD passes. Boosted to +155
Rodgers has all of his top RBs out. The dude is throwing three TDs as soon as he can.
Broncos @ Falcons +3.5
If you went with the Broncos last week, you were handsomely rewarded unless you cashed out because they were down 24-3 in the third. I'm sticking with Denver again this week, because if they can't actually win against a dismal Atlanta defense, they can certainly keep it to a field goal.