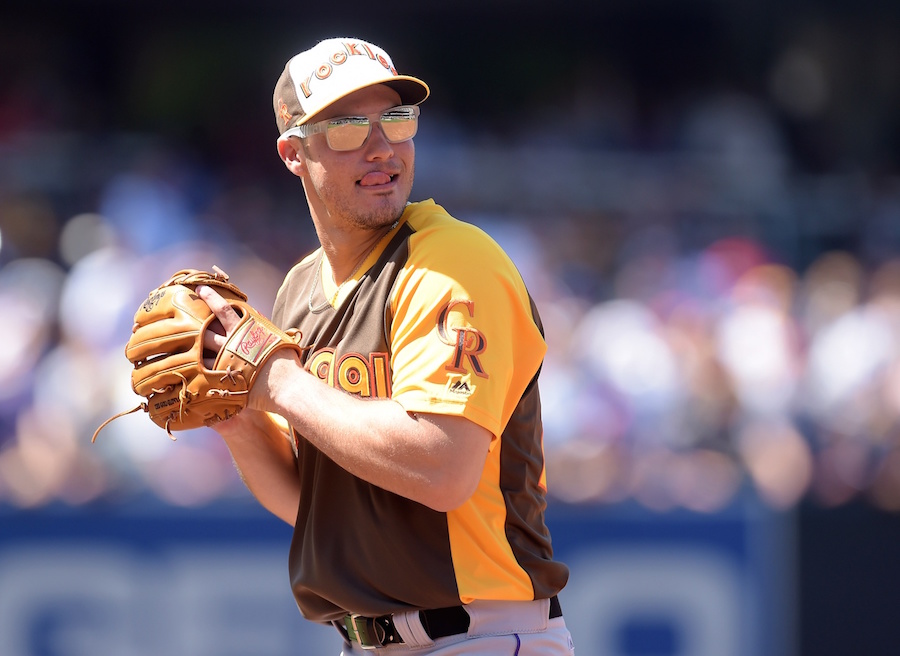 June is upon us, which means it's time to ramp up Major League Baseball All-Star voting campaigns. Rockies fans, I have a what may seem like a harsh message for you: Don't waste an All-Star vote on Nolan Arenado. I have another mission for you. More on that soon.
Yes, Arenado has been getting the short end of the stick these past few years.
Despite leading all of baseball in RBIs over the past two seasons and leading the NL in home runs each of the last two years, Arenado hasn't been an All-Star starter. And he won't be again in 2017.
For the same reasons he finished an insulting fifth in MVP voting, despite putting up better offensive and defensive numbers than Kris Bryant pretty much across the board, Arenado will once again play a backup role to Bryant in this year's All-Star game.
Simply put, Bryant is one of the biggest names on arguably the biggest team in baseball right now.
Forget the fact that the Cubs are below .500 and the Rockies are leading the NL West. Forget the fact that Arenado has more hits, doubles, home runs and RBIs than Bryant – and that only .002 separates their batting averages.
Bryant and the Cubs are on their World Series victory tour, and there's no chance last year's NL MVP won't be starting at the hot corner in Miami come July 11.
One batch of voting results has been made public so far, and Arenado trails Bryant by 240,849 votes. That gap will only widen as Cubs fans realize Bryant isn't a runaway leader. With a population that's four times larger than Denver's, Chicago has a major upper hand.
Here's the good news though, Rockies fans. Barring a massive meltdown in June, Arenado will earn his third consecutive All-Star nomination as a reserve. Simply put, Arenado is too widely respected among players and coaches to be left off the roster. A four-time Gold Glove winner (who has yet to make an error this year) and two-time Silver Slugger (who is again putting up solid numbers this year) will most definitely be on the roster.
(Public Service Announcement 1: This is hyperbole, folks. Of course I want you to vote for Nolan Arenado up to the 35 times you're allowed by MLB.)
Which brings me to the real point of this post…
Use your time and energy to vote for Charlie Blackmon and Mark Reynolds.
Both are having career years and deserve a run at making the 2017 NL All-Star roster.
Blackmon, an All-Star in 2014, leads all NL centerfielders in virtually every meaningful offensive category – by a sizable margin.
His .320 batting average is .032 points better than second place Ender Inciarte. For reference, Atlanta's Inciarte is .028 points ahead of Miami's Christian Yelich in third.
Blackmon's 13 home runs are five ahead of Pittsburgh's Andrew McCutchen. His 47 RBIs are nearly double McCutchen's 24 (both good for second place). He has twice as many triples as Dexter Fowler and Billy Hamilton.
His stolen base and walk numbers are mediocre compared to other NL centerfielders, but his OPS is otherworldly. At .965, it's a full .202 higher than Milwaukee's Keon Broxton in second place.
Blackmon deserves to be the NL's starting centerfielder. There is really no debate.
Fans seem to get that, as Blackmon is currently second in voting among all outfielders behind Bryce Harper. But there's more ground between Blackmon and Harper than there is between Blackmon and a trio of (who else) Cubs, in Jason Heyward, Ben Zobrist and Kyle Schwarber. Rockies fans need to spend their time and energy championing Blackmon's cause.
Reynolds faces a similar battle as Blackmon and Arenado in that a very popular Chicago Cub will command an unfair share of votes. At present, Anthony Rizzo leads all first basemen, despite having a noticeably down year. (Oh, to be a Cub.)
Reynolds doesn't even rank in the top five in voting, even though he ranks there statistically in many key categories.
Some of that blame can be placed on the fact that Reynolds isn't even on the ballot.
(Public Service Announcement 2: When voting for Reynolds, be sure to type his last name first. The All-Star Ballot uses last names in its search function for write-in votes.)
The Rockies projected Ian Desmond as their starting first baseman, thus he appears on the ballot, but a broken hand in Spring Training derailed that plan. In his stead, Reynolds has been putting up career numbers and making a legitimate case he should be an All-Star.
Among first basemen, Reynolds ranks third in batting average at .307 – one of four NL first basemen hitting above .300.
He's one of six NL first basemen with 14-plus home runs. Reynolds has 14, along with three others, while Ryan Zimmerman and Justin Bour each have 15.
Reynolds leads first basemen, and is second in the entire National League to his teammate Blackmon, with 46 RBIs.
His .996 fielding percentage is fifth in the NL, just .002 points behind the leader Joey Votto. But he boasts the best range factor at 9.99.
Reynolds is a longshot to make the All-Star roster, but he's been a Cinderella story for the Rockies this year (signed on a minor league contract) and is deserving of more attention on a national level.
Arenado is going to be an All-Star. Don't sweat that. Put your efforts into making sure Blackmon doesn't lose out to undeserving Cubs, and getting Reynolds into the very open competition at first base.