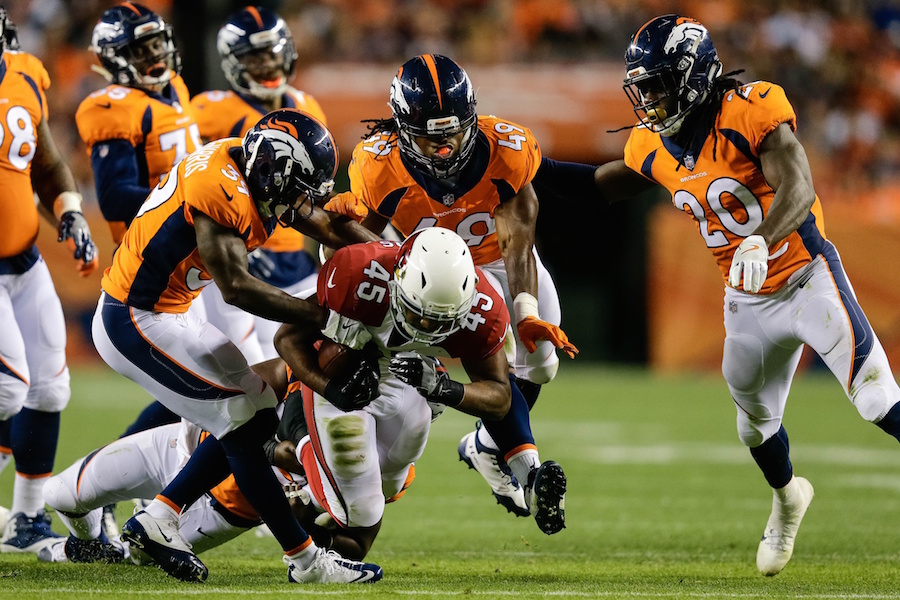 There were plenty of things to monitor during the Denver Broncos' 30-2 win over the Arizona Cardinals in their final preseason game of 2017.
One of the tightest battles, the battle for the final spot in the secondary and really the last open cornerback spot on the roster, was on full display on Thursday night.
The way the preseason has played out, the three defensive backs battling for the last one or two spots has come down to third-year cornerback Lorenzo Doss, seventh-year cornerback Chris Lewis-Harris and 2017 third-round selection Brendan Langley.
In their final chance to sway the coaching staff, all three competed like they were playing for their job.
The Cardinals' first two drives of the game were evidence as to why Broncos' defensive coordinator Joe Woods called Doss a "four-leaf clover" in the early days of training camp. Doss, as Woods stated, always manages to find the football, and he nearly picked off Blaine Gabbert twice early on, and then again in the fourth quarter. If Doss wants to be a part of the ball hawks that make up the Broncos' secondary, having a nose for the football is certainly a necessity.
Langley and Lewis-Harris, while not getting their hands on any passes on Thursday, did what they could to have their names ring through the speakers at Sports Authority Field at Mile High. Both Langley and Lewis-Harris had their names in on numerous tackles throughout Thursday night's game.
In an already crowded secondary, there isn't going to be a spot for all three on the final 53-man roster that will be set Saturday afternoon. That's no secret to either Langley, Lewis-Harris or Doss. Saturday will be the end of the road in Denver for at least one of them, but none of them played like it on Thursday night.
The last remaining roster spot(s) will likely come down to versatility and the ability to make a big play. Doss and Langley might edge Lewis-Harris in those two categories, but anything can happen come 2 p.m. Saturday.
It will certainly be one of the many tough decisions that the Broncos personnel department will have to make on the most hectic day in NFL history.