In what was his fourth MLS start for the veteran International, striker Kevin Doyle scored his first MLS goal to put the Rapids atop the Vancouver Whitecaps, 2-1 on the evening of the Fourth of July.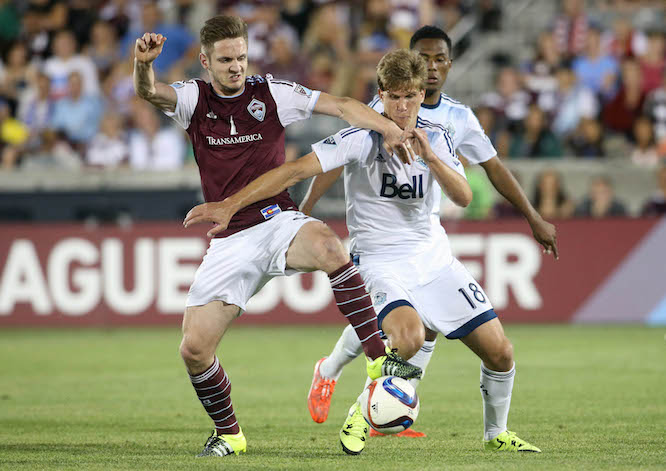 In the 56th minute, Lucas Pittinari floated a cross over the right to Doyle who struck with a header from about nine yards out, ending the Rapids' six-game winless streak in MLS play.
"That header was the difference," Doyle said in his postgame interview. "It hit inside the pole, spins on the line and spins in instead of spinning out. Maybe that bit of luck will change our season."
The Rapids began strong, scoring within the first 80 seconds of the game when Luis Solignac snuck his way to the byline on the left-hand side and cut the ball back for Vicente Sanchez to send home.
Vancouver – the Western Conference leaders – equalized in the 20th minute after Kakuta Manneh netted a cross from Mauro Rosales.
Unlike matches earlier in the season, Colorado pressured the Whitecaps not just at the start of the game but also to begin the second half. Head coach Pablo Mastroeni spoke on the team website about what was his message to his players at halftime. "They have to be patient and continue to press and force the game, put balls in the box, be aggressive, express yourselves and to be dynamic going forward," he said.
In a game that had 18,356 spectators awaiting the postgame fireworks, the Rapids took that memo to heart and played as if they were playing for not only the state of Colorado but the country as well.
That led to Doyle's 56th minute goal, earning their first win since May 23 against the very same Vancouver team at Dick's Sporting Goods Park, 1-0.
On the Fourth of July holiday, Colorado is now 12-3-4 in games played at home. Since moving to Dick's Sporting Goods Park in 2007, the team has only won two of eight matches (2-2-4) on Independence Day—their last loss on the holiday came to the Whitecaps in 2012, also a 1-0 result.
Saturday's win boosted the Rapids record to 3-6-9 while Vancouver sits as co-leaders, along with the Seattle Sounders, in the Western Conference at 10-7-2. The much needed victory came at a crucial time, the midway point of the season with still 16 games to be played.
The Rapids next upcoming home match is Saturday at DSG against rival Real Salt Lake before they hit the road July 18 to take on Seattle.
---
Mike Tolbert, a Mile High Sports intern and student at MSU-Denver, contributed to this report
---