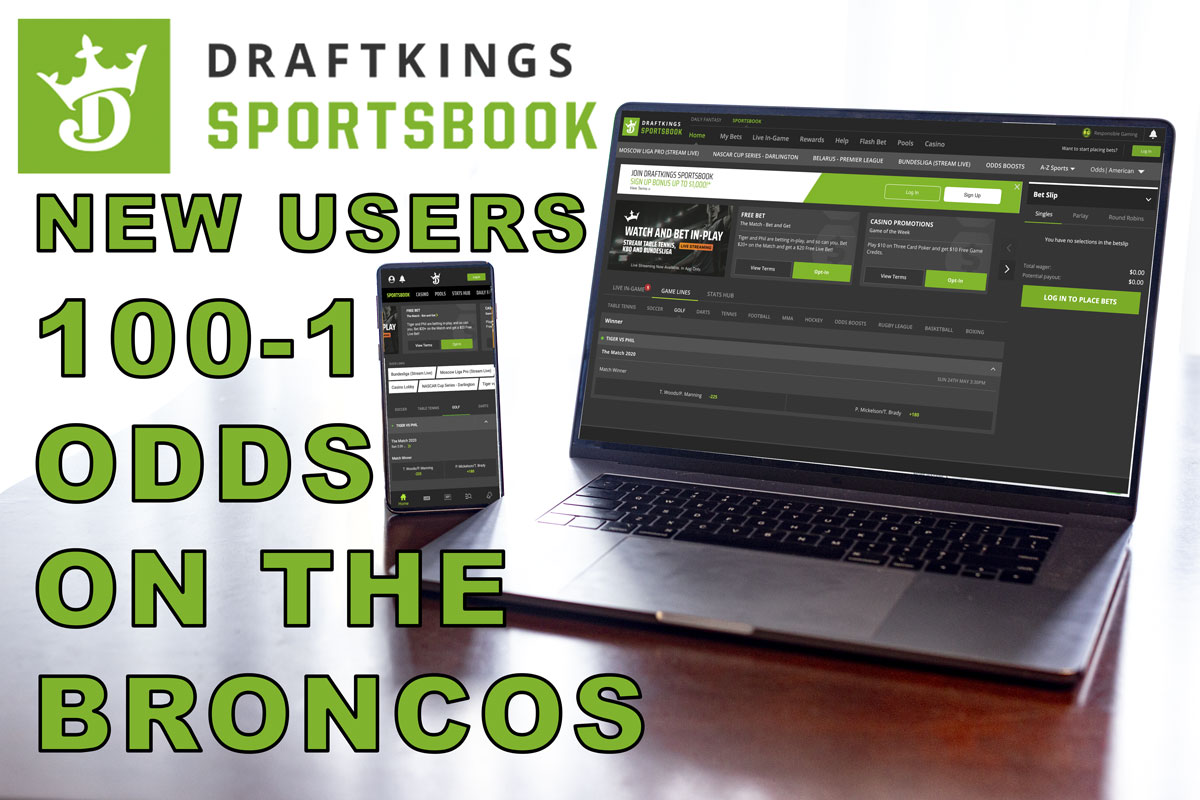 DraftKings Sportsbook Colorado is ready to usher in the first full weekend of legal football betting in Colorado with what is no doubt its best offer to date.
Get up to $1,000 in free bets and any NFL team at 100-1 odds to win this weekend at DraftKings Sportsbook right here.
It is a significant offer that is nothing short of going all-in in competitive markets such as Colorado with a must-grab promo. Take a big favorite to win, take the Broncos – it doesn't matter. Any team. 100-1 odds to win. That's the deal.

DraftKings Promo
States: AZ, CO, PA, NJ, IN, IL, IA, MI, MI, VA, TN, and WV
GET THE APP
100-1 Week 1 Boost at DraftKings Sportsbook
It was an offseason of uncertainty for the sports world and the NFL as many wondered if pro football would happen as scheduled. Despite those concerns, it has arrived, and that means Colorado sports betting is ready for its biggest and most important weekend to date.
As the competition for both bettors' wagers and attention heats up, DraftKings is rolling out an extremely aggressive 100-1 odds special that can be applied to any team taking the field this weekend. This special odds boost is good on any of this weekend's games, including those with even the most lopsided spreads.
In short, this is a can't-miss deal for those who have waited throughout the summer to take advantage of an outstanding football-specific promo.
How to Get 100-1 Week 1 Odds at DraftKings Sportsbook
Unlike some new user promos that simply replace preexisting offers with time sensitive specials, DraftKings is giving players both of its new user bonuses this weekend. With this 100-1 odds special and $1,000 in free bets, new players stand to grab up to as much as $1,100 in bonus money during Week 1.
Beginning Thursday night, new DraftKings players can wager $1 to win $100 on any NFL team (TNF game not eligible). Here's how to get in on this NFL kickoff offer:
Begin the registration process by clicking right here.
Make a minimum deposit of $5 (though we recommend more to take advantage of DraftKings' risk-free bet and deposit match bonuses).
After deposit, head over to the sportsbook promos/rewards section of the app and click "Boost This Game."
Then, a single-use 100-1 odds boost can be used on other side of the selected game. Once added to the bet slip, the bonus odds will appear.
This offer, which is available to bettors in states where DraftKings Sportsbook is currently live, is limited to one per user and capped at a $1 max wager.
Teams to Consider
A quick look at the Week 1 odds reveals there are a few teams that are considered huge favorites to open their seasons with a victory. Ultimately, this proposition amounts to a one-week survivor pool. Simply pick the team you believe is most likely to win and roll with it.
Currently, the weekend's biggest favorites include the Ravens (-8), Colts (-8), 49ers (-7), Bills (-6.5), and Patriots (-6.5).
In order to understand the full value of this deal, let's take a look at a team like Indianapolis which is currently a -400 moneyline favorite over Jacksonville. Typically, in order to win $100 on the Colts, a bettor would need to risk $400. In this case, they need only risk $1 to win the same payout, meaning the risk is reduced by $399.
Of course, if you're in the Colorado market and want to roll with the home team, you can grab the Broncos, though there's not quite as much value in that they're currently a small home underdog to the Titans.
Get up to $1,000 in free bets and any NFL team at 100-1 odds to win this weekend at DraftKings Sportsbook right here.

DraftKings Promo
States: AZ, CO, PA, NJ, IN, IL, IA, MI, MI, VA, TN, and WV
GET THE APP