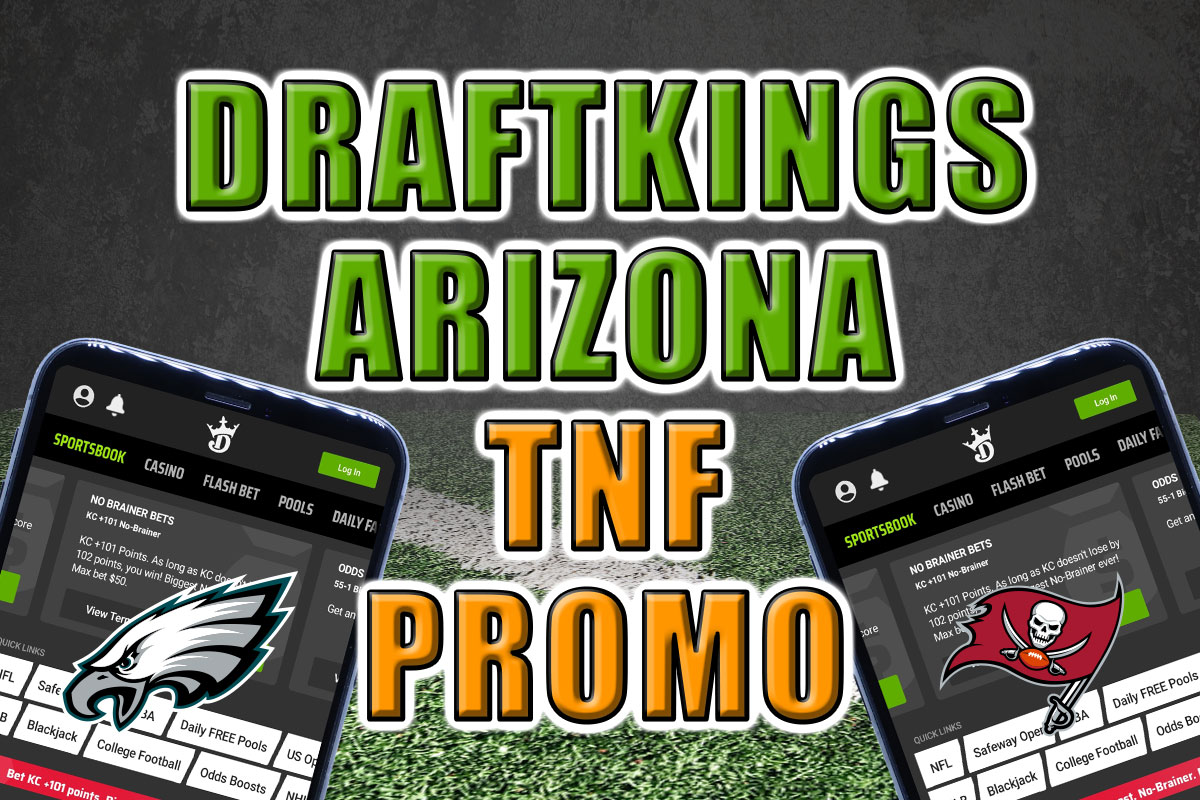 DraftKings Arizona Sportsbook is geared up for what could be a Thursday Night Football shootout between the Philadelphia Eagles and Tampa Bay Buccaneers.
DraftKings Arizona is giving away what essentially amounts to a guaranteed bonus of $100 to new users who sign up and make an initial deposit of $5 or more. Those who place a $1 wager on the Thursday Night Football moneyline between the Eagles and Bucs will win $100 in bonus credit when either team scores.

DraftKings Promo
States: AZ, CO, PA, NJ, IN, IL, IA, MI, MI, VA, TN, and WV
GET THE APP
It's important to note that the outcome of your original bet has no impact on whether or not you earn this $100 bonus. As long as one team scores, you win. It's that simple.
DraftKings Arizona is rolling out the big guns for Thursday Night Football this week. This new-user promo is the easiest way to snag $100 in bonus money for the rest of the Week 6 NFL games.
Win a $100 bonus for placing a $1 wager on Thursday Night Football by signing up with DraftKings Arizona right here.
DraftKings Arizona Promo Gives $100 Bonus for Bucs-Eagles
So, is this bonus really a guaranteed win for bettors? In short, yes. This is a complete guarantee considering the way the modern NFL is played. Plus, this one could feature plenty of big plays and points.
Then there's the whole historical component that takes us all the way back to 1943. That was the last time an NFL game finished in a 0-0 tie.
The Detroit Lions and New York Giants couldn't find the endzone in that game. For what it's worth, Franklin Delano Roosevelt was President of the United States when that happened. That should be all the evidence you need to see that this is a no-brainer bet. As soon as those first points go up on the board, you are a guaranteed winner.
DraftKings Arizona will credit new users with four $25 free bets after the original $1 wager settles. This gives you the chance to test drive this sportsbook with a few free bets.
Other DraftKings Arizona Promos and Bonuses
While this specific promotion is only available to first-time DraftKings Arizona depositors, there are a ton of other boosts and bonuses out there for bettors.
Head over to the promos page to see all the deals going on this weekend. One of our favorites for this weekend is a risk-free same game parlay. DraftKings Arizona will back up parlays up to $25 this weekend. If your parlay loses, they will refund your account in site credit.
They offer similar parlay boosts in other markets as well. You can get same game parlay insurance on MLB postseason games and college football this weekend.
Keep an eye out for new promos as Sunday approaches.
Getting Started
Remember, this $100 Thursday Night Football bonus is only available to new users and first-time depositors on DraftKings Arizona. Follow these steps to get started:
Create an account by clicking here.
Make an initial deposit of $5 or more to qualify for this promotion.
Place a $1 wager on the Eagles or Buccaneers on the moneyline.
Win $100 in bonuses when either team scores.
Win a $100 bonus for placing a $1 wager on Thursday Night Football by signing up with DraftKings Arizona right here.

DraftKings Promo
States: AZ, CO, PA, NJ, IN, IL, IA, MI, MI, VA, TN, and WV
GET THE APP