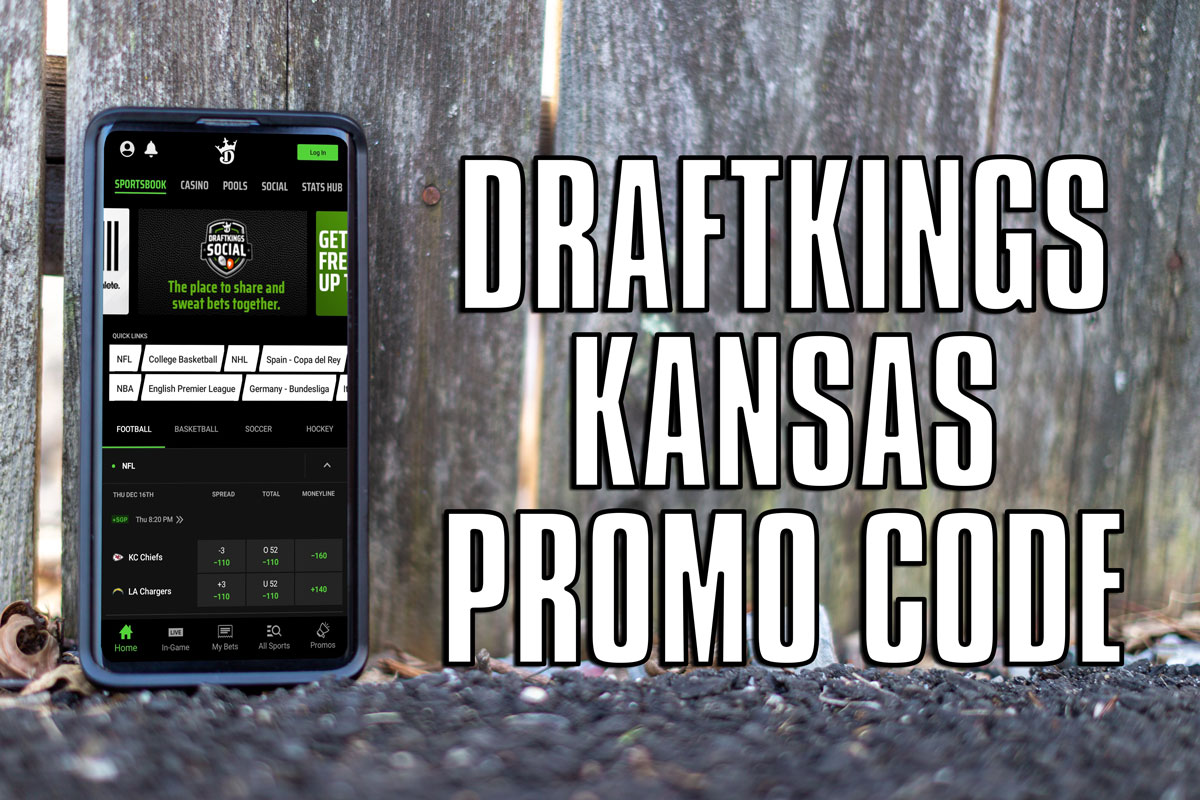 Sports betting hasn't been around long in the Sunflower State, however there is a DraftKings Kansas promo code that is the perfect way to start. Our links will apply the promo code when you sign up.

DraftKings Promo
States: NY, LA, KS, AZ, CO, PA, NJ, IN, IL, IA, MI, MI, VA, WY, TN, and WV
GET THE APP
To gain $200 in bonus money, customers must sign up with our DraftKings Kansas promo code and win a $5 bet on any NFL game. This bonus money is in addition to any winnings from the wager.
The DraftKings Sportsbook app is essential for NFL fans. There are tons of betting bonuses, and you can earn rewards though the loyalty program throughout the season. DraftKings brings along many entertaining features, such as DraftKings Social, which allows you to follow along with friends to see what they are betting on.
Customers can click here to register with the DraftKings Kansas promo code. You will get $200 in free bets if your first $5 NFL wager wins.
How to Register with the DraftKings Kansas Promo Code
It only takes a few minutes to create an account on DraftKings Sportsbook. Here are the steps to follow to claim the bonus.
Click here to activate the DraftKings Kansas promo code and sign up for an account.
Download the DraftKings mobile app.
Make a deposit of at least $5.
Place a $5 wager on any NFL game.
If your bet wins, you will get $200 in bonus money to go along with your winnings.
DraftKings Kansas Promo Code for NFL Week 3
The Steelers and Browns will get Week 3 started on Thursday night. The Browns are slightly favored at home. For Cleveland, this comes after a terrible loss to the Jets. And the Steelers have been struggling some on offense. If Mitch Trubisky has another tough game, it will start even more conversation about a change at quarterback.
The Bills and Dolphins will be one of the most popular games on Sunday. Miami had a big comeback win last week against the Ravens to go to 2-0. But the Bills have yet to be tested, easily winning their first two matchups. They remain the favorite to win the Super Bowl. Also at 1 pm ET, the Chiefs will face the Colts in Indianapolis.
Other games in Week 3 include the Rams vs. Cardinals, Packers vs. Buccaneers, 49ers vs. Broncos, and Cowboys vs. Giants.
More Bonuses & Free-to-Play for the NFL Season
An early win bonus is available for the Steelers vs. Browns on Thursday night. If the team you place a moneyline wager on goes up by seven points, you will automatically win the wager. This protects your bet from a comeback. There is also a same game parlay bonus for a 100% profit boost. This promo can be used on Thursday, Sunday, and Monday. The parlay on Thursday will be risk-free.
DraftKings has a free-to-play game every week of the NFL season. The prizes will be based on your level in Dynasty Rewards. The loyalty program is another way to earn perks and bonuses for the NFL season.
Click here for the DraftKings Kansas promo code. Sign up for an account and make a $5 wager on an NFL game. If the bet wins, you will get your winnings in addition to $200 in free bets.

DraftKings Promo
States: NY, LA, KS, AZ, CO, PA, NJ, IN, IL, IA, MI, MI, VA, WY, TN, and WV
GET THE APP