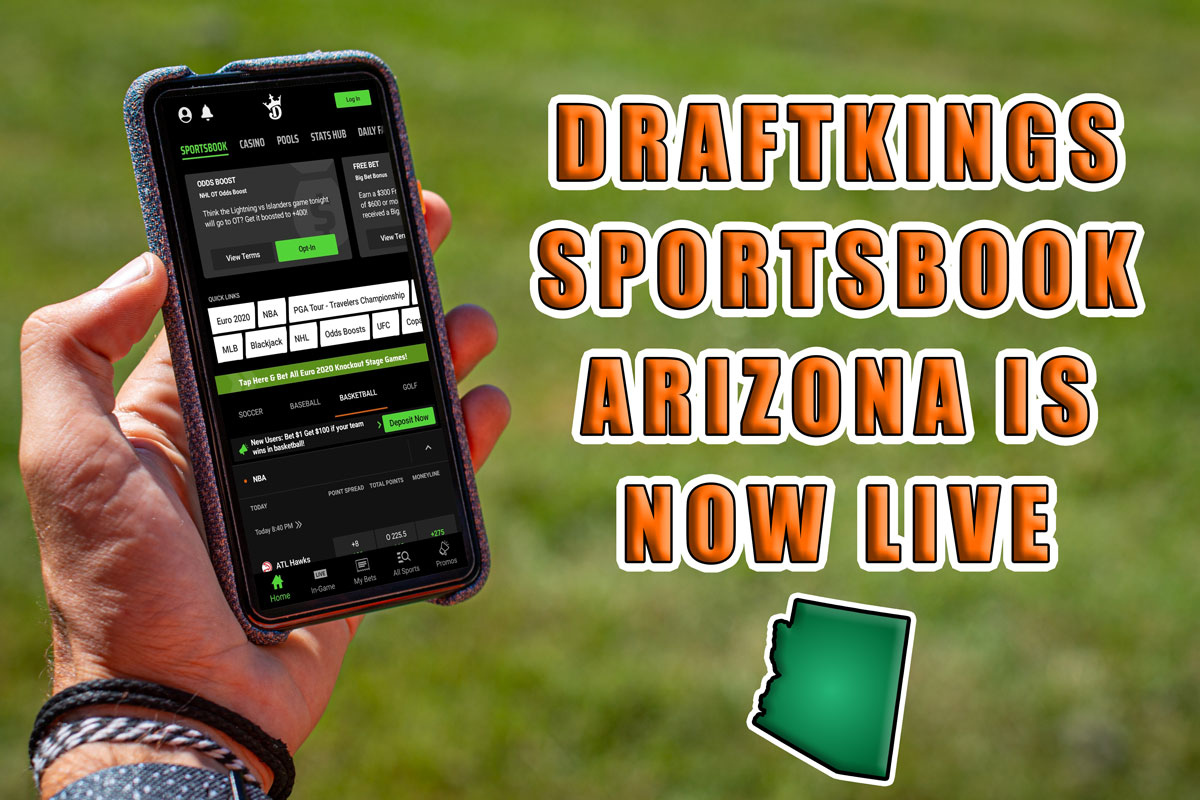 Sports betting is finally live in Arizona and it could not have possibly arrived at a better time. With the NFL season here and college football already underway, this is one of the best times of the year for sports bettors.
DraftKings Sportsbook Arizona is live and running some of the best promos of any online sportsbook. Their easy-to-use app and competitive odds make it a top destination for new and experienced sports bettors alike.

DraftKings Promo
States: NY, LA, AZ, CO, PA, NJ, IN, IL, IA, MI, MI, VA, WY, TN, and WV
GET THE APP
It's no surprise that Arizona pushed hard to launch sports betting by the start of the NFL season. The NFL (and to a lesser extent college football) dominates the sports betting world. It's the most popular market to wager on in the country.
To celebrate its launch, DraftKings Sportsbook Arizona is kicking things off by giving away free money to new users in the form of sign-up bonuses and no-brainer bets.
Sign up with DraftKings Sportsbook Arizona by clicking here and bet $1 on any football game to win $200 in bonus credit.
DraftKings Sportsbook Arizona Launches With Strong Promo
This isn't DraftKings Sportsbook's first rodeo. In fact, Arizona is now the 13th state where DraftKings Sportsbook operates. Following successful launches in a number of markets, most recently in states such as Michigan and Virginia, the company is expected to see similar results in the Arizona online sports betting landscape.
Supporting a strong overall user expereince, new users can grab a massive sign-up bonus. Anyone who makes an initial deposit of $5 and places a $1 wager on any football game will automatically earn $200 in bonus credit. You don't even need to win the initial bet to get the bonus money. Placing the bet is all it takes.
This credit will be paid out in the form of eight $25 free bets and they are valid for up to one week after the initial bet is placed. Starting off Week 1 of the NFL season with $200 in free bets isn't a bad way to do things.
How to Claim This DraftKings Sportsbook Arizona Promo
Getting started with DraftKings Sportsbook Arizona promo is a four-step process. Here is what you need to know to get started:
Register an account by clicking here.
Make an initial deposit of $5 or more to qualify for this football promo.
Place a $1 wager on any football game (NFL or college).
Win $200 in bonus credit.
Players must be at least 21 years of age to play on online sportsbooks in the state of Arizona.
AZ Sports Betting Launches in Time for Football
It's September. That means football season is here. With the NFL kicking off on the same exact day as Arizona launches sports betting, it's fitting that DraftKings Sportsbook Arizona is running a ridiculous no-brainer bet.
They are boosting the Tampa Bay Buccaneers to 73-point underdogs against the Dallas Cowboys. The Bucs are favored by a touchdown or more at most other sportsbooks. Arizona bettors can get a head start on Week 1 with this Thursday night no-brainer.
Meanwhile, the Arizona Cardinals are heading east to take on the Tennessee Titans on Sunday. This will be a good early test for Kyler Murray. The third-year quarterback is looking to help the Cards take the next step and make the playoffs this year.
Sign up with DraftKings Sportsbook Arizona by clicking here and bet $1 on any football game to get $200.

DraftKings Promo
States: NY, LA, AZ, CO, PA, NJ, IN, IL, IA, MI, MI, VA, WY, TN, and WV
GET THE APP