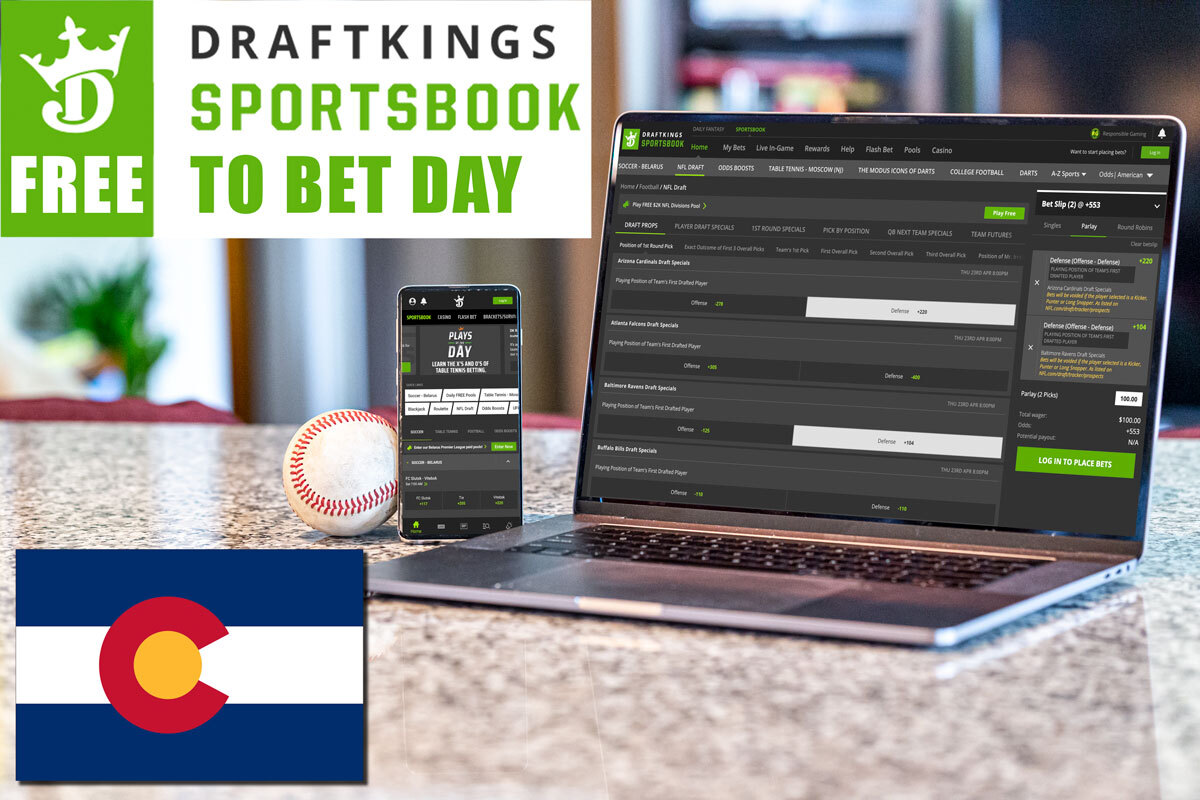 DraftKings Sportsbook Colorado is celebrating the two-year anniversary of the Supreme Court's landmark decision to repeal the federal ban on legal sports betting. Of course, that decision paved the way for this month's launch of Colorado online sports betting.
To mark the occasion, DraftKings Sportsbook is coming to the legal sports betting birthday party with a slew of free bets and huge bonuses for new players.
It's "Free to Bet Day."
Click here to grab up to $1,000 in free bets and an additional bonus "free to bet" play.

DraftKings Promo
States: NY, LA, AZ, CO, PA, NJ, IN, IL, IA, MI, MI, VA, WY, TN, and WV
GET THE APP
That's right. No cake, no music, just free cash.
On top of $1,000 in new player sign up bonuses, DraftKings Sportsbook Colorado offers all players a free $5.14 bet in honor of their "Free to Bet Day."
Why? Because the repeal of PASPA came on May 14, 2018 (5/14), so $5.14 seems only right.
"Free to Bet Day" Offers
DraftKings Sportsbook Colorado is celebrating the May 14, 2018 strikedown of the PASPA – the Professional and Amateur Sports Protection Act. That was the day it became legal for states to implement regulated retail and online sports betting platforms.
Following the success in states such as New Jersey, Pennsylvania, and Indiana, Colorado lawmakers approved legal sports betting last year.
To celebrate the day, DraftKings Sportsbook Colorado is giving new players up to $1,000 in free bets and an additional $5.14 free bet to all players. In order to get all three offers, players must sign up today. You can do that right here.
The $1,000 of potential bonuses come in the form of a $500 risk-free first bet and $500 deposit match. The $5.14 free bet is for a single bet across DraftKings Sportsbook Colorado's wide range of betting options.
DraftKings Sportsbook Colorado Ready For Action
Let's to be honest here. The timing of DraftKings Sportsbook Colorado's May 1 launch that coincided with the state's rollout of legal online sports betting wasn't ideal.
Much love to table tennis, darts, and Korean baseball, but betting options were limited.
Here's the good news – several prominent pro leagues are working their way back.
UFC is back, while NASCAR, golf, and international soccer return in the coming days. Meanwhile, MLB, NHL, and NBA leaders continue comeback discussions.
In other words, sports are heating up and DraftKings Sportsbook Colorado is giving players an opportunity to build their bankrolls with a plethora of free bet options.
While the situation remains fluid, a feasible scenario exists in which baseball, hockey, basketball, UFC, and NASCAR could all be revving up or resuming play over the next few weeks.
Getting Started With DraftKings Sportsbook Colorado
Those looking to get started with DraftKings Sportsbook and cash in on over $1,000 of free bets today can do so by clicking here .
Registering for an account will only take a couple of moments. The process requires only basic information.
Following registration, new players must make an initial deposit. Banking options include PayPal, online checking, and credit/debit card, among others. Funds should appear right away, allowing bettors to place their risk-free wagers.
Click here to grab up to $1,000 in free bets and an additional bonus "free to bet" play.

DraftKings Promo
States: NY, LA, AZ, CO, PA, NJ, IN, IL, IA, MI, MI, VA, WY, TN, and WV
GET THE APP