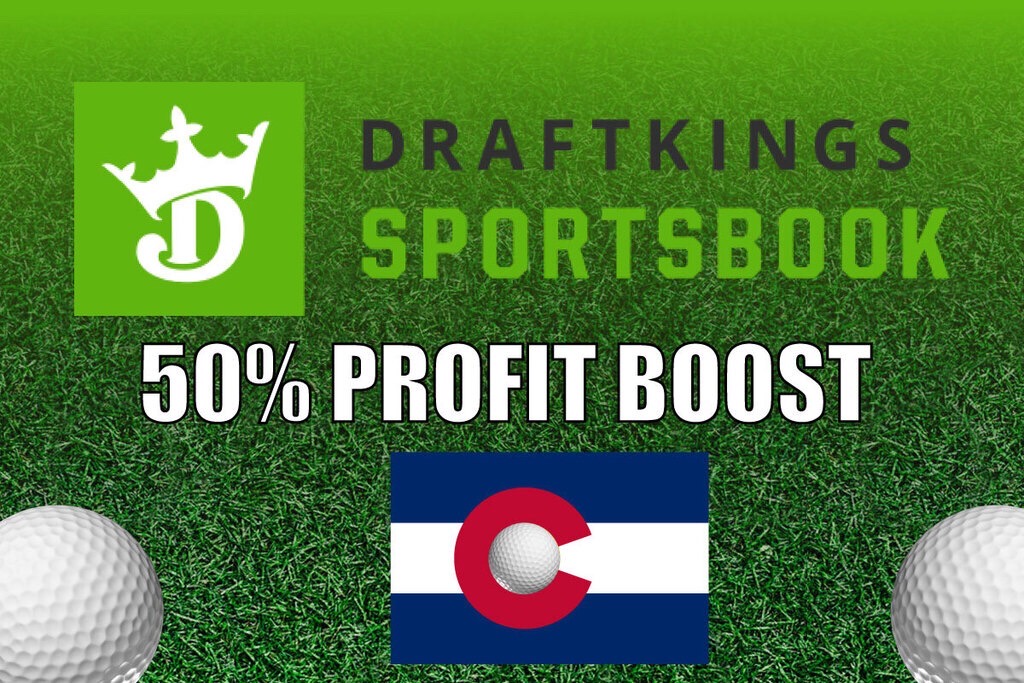 DraftKings Sportsbook Colorado is keeping the promotions coming as mainstream sports slowly make their return to heat up the CO online sports betting scene.
Sunday is the first day in over two months that features multiple headline sporting events. This time, it's golf and auto racing that take center stage. Rory McIlroy and Dustin Johnson go head-to-head with Rickie Fowler and Matthew Wolff in the Taylor Made Driving Relief match, while NASCAR returns at Darlington Raceway.
Get $1,000 of free bets and a 50% profit boost this weekend at DraftKings Sportsbook Colorado by clicking right here.

DraftKings Promo
States: AZ, CO, PA, NJ, IN, IL, IA, MI, MI, VA, TN, and WV
GET THE APP
With sports betting options limited since Colorado launched its legal sports betting platform earlier this month, Sunday promises to provide a ton of action across several markets.
DraftKings Sportsbook Colorado's Boost Your Drive Promo
DraftKings Sportsbook Colorado is offering new players up to $1,000 in free bets. That offer is backed by a 50% profit boost for Sunday's action.
This boost can be applied to in a multitude of ways. Bettors can use the boost to place a single bet on NASCAR's The Real Heroes 400, Taylor Made Driving Relief, or as a parlay between the two events.
In order to make sure the boost is applied, DraftKings Sportsbook Colorado bettors must first select it from the bet slip before placing wagers. If the bet, which is capped at a solid $50 for this promo, goes on to win, a 50% profit boost will be applied to the winnings.
For instance, a $50 wager at (+100) odds pays an additional $25 with the 50% boost.
Here's where this deal gets even crazier. Since this profit boost can be applied to any wager (including parlays), bettors can boost all the way up to $250.
Best of all, this promo includes live bets, too.
Rory McIlroy, Dustin Johnson, Rickie Fowler, Matthew Wolff Odds
While the profit boost provides DraftKings Sportsbook Colorado bettors with some added incentives, there's plenty of ways to use it this Sunday. Let's take a look at some of the biggest markets, starting with the Taylor Made Drive For Relief event.
McIlroy/Johnson (-175) are sizable favorites over Fowler/Wolff. In short, this makes sense. McIlroy is the world's current No. 1 player, while Johnson is a former No. 1. Meanwhile, Fowler currently sits No. 27 and Wolff, though skilled, is a relative unknown.
Still, McIlroy and Johnson both noted this week that they haven't played much in recent weeks with the PGA on hiatus. Fowler, meanwhile, has been practicing for weeks, while Wolff has the talent to help pull of an upset.
Here's a look at some additional betting markets at DraftKings Sportsbook Colorado:
Leader after 3, 6, 9, 12, 15 Holes
Will any of the four players hit a hole-in-one?
Most bonus money won
If you're looking for a longer payout, then take a look at the hole-in-one props. Currently, there's a +5000 payout if any of the four players achieves an ace, while Johnson, Wolff, and Fowler are each +15000 to hit one. McIlroy comes in at +12500.
DraftKings Sportsbook Colorado Odds
DraftKings Sportsbook Colorado also has some excellent betting options ahead of The Real Heroes 400 from Darlington.
Bettors can wager on all drivers to win, finish within the top 3, or finish top within the top 10.
Currently, Kyle Busch (+500) is the favorite. Kevin Harvick (+600) and Denny Hamlin (+650) follow close behind.
DraftKings Sportsbook Colorado bettors can also wager on yes/no propositions for each driver to finish within the top five spots. Here's a look at some additional props:
Best Finishing Position (Race/Multiple Drivers)
Stage 1 Winner
Stage 2 Winner
Driver to win Stage 1 and 2 and race
Car Number of Race Winner (Even/Odd, Over/Under)
Manufacturer of Winning Car
Team of Race Winner
Top Car by Manufacturer
Best Finish in Group
Get $1,000 of free bets and a 50% profit boost this weekend at DraftKings Sportsbook Colorado right here.

DraftKings Promo
States: AZ, CO, PA, NJ, IN, IL, IA, MI, MI, VA, TN, and WV
GET THE APP