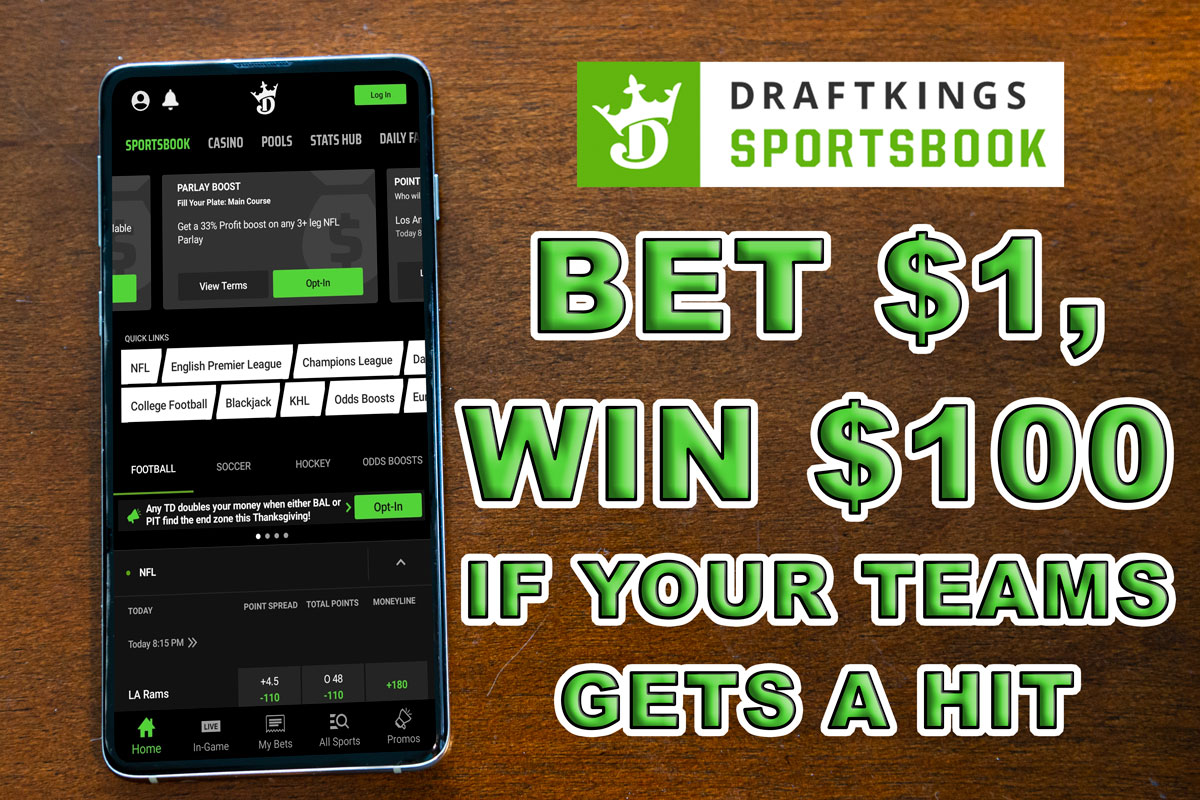 DraftKings Sportsbook is welcoming the return of baseball's 162-game schedule with a no-brainer 100-1 odds offer that, quite literally, will be a hit.
New players at DraftKings Sportsbook who bet on $1 on any MLB moneyline during the month of April can grab 100-1 odds on that team to record at least one hit. Win or lose, if your team's lineup produces at least a hit, you get paid. 
While they say you see something new every time you come to the ballpark and that may be true, there's only been a little over 300 no-hitters in the game's history dating back to the late-1800s.
In other words, while anything can happen on the diamond, grabbing a team to get at least a single hit seems like a pretty good bet to us.
Click here to grab 100-1 odds on any MLB team to record at least one hit during the month of April at DraftKings Sportsbook. 

DraftKings Sportsbook
States: CO, PA, NJ, IN, IL, IA, MI, MI, VA, TN, and WV
GET THE APP
DraftKings Sportsbook MLB Promo: 100-1 Odds
Any baseball observer knows that the likelihood of a team recording a no-hitter is highly unlikely, so why would DraftKings Sportsbook offer this proposition to new players?
The answer is pretty simple. With baseball back, the 2021 season marks the first time that several markets will be able to legally wager on baseball. It also marks the first time a few markets can offer legal wagering on a full baseball season.
Interest figures to be high, and DraftKings Sportsbook is constantly coming up with fun and creative ways to incentivize sign ups.
This time around, the popular online sportsbook is giving players in states like Colorado, New Jersey, Pennsylvania, Tennessee, Illinois, Michigan and Virginia (among others), the opportunity to launch the baseball betting experience with a likely $100 bonus win.
It's that simple.
How to Get 100-1 Odds on MLB Games in April at DraftKings Sportsbook
If you're looking to jump into this MLB new user offer with DraftKings Sportsbook, here's how to do it.
Get the process starting by clicking right here.
Make a first deposit of at least $5. Some popular deposit options include: PayPal, online banking, debit card, credit card and electronic check.
Following deposit, lock in a $1 moneyline wager (a bet on a team to win the game). Regardless if the team you pick wins or loses, DraftKings will issue a $100 bonus within 24 hours of the game's completion — if your team manages at least one hit.
Betting on Baseball
If you're new to the legal online betting experience, there's plenty of ways to win and wager on MLB action at DraftKings Sportsbook.
Of course, bettors can wager on a game's winner or loser, but they can also lock in bets on the following markets:
game totals
team totals
player props (to record a hit, homer, RBI, etc.)
game props (inning run props, batter props, pitch-by-pitch game props)
DraftKings provides awesome live betting options, giving those who think they have a feel of a certain game to score on smaller, continuous outcomes throughout.
Click here to grab 100-1 odds on any MLB team to record at least one hit during the month of April at DraftKings Sportsbook. 

DraftKings Sportsbook
States: CO, PA, NJ, IN, IL, IA, MI, MI, VA, TN, and WV
GET THE APP