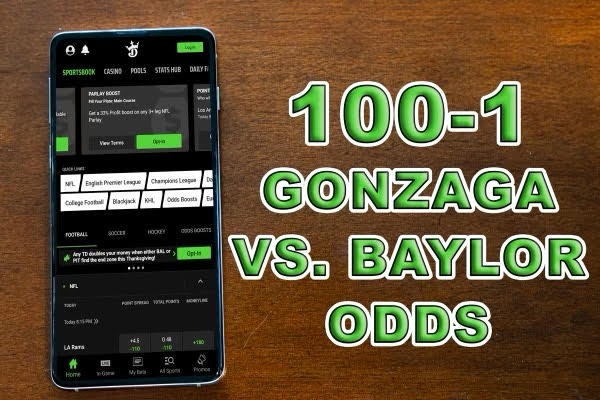 DraftKings Sportsbook has a fantastic offer that's sure to improve your betting experience for Monday night's National Championship Game
Those who sign up as new users will be able to grab 100-1 odds on either Gonzaga or Baylor to win the ever-important matchup on DraftKings Sportsbook.

DraftKings Promo
States: CO, PA, NJ, IN, IL, IA, MI, MI, VA, TN, and WV
GET THE APP
It's a phenomenal deal that you must take advantage of prior to Monday night's tip-off (7:20 p.m. MST). Whether you are looking to bet on the undefeated Gonzaga Bulldogs or the dominant Baylor Bears, this deal is a huge boost.
Cash in on 100-1 odds for the National Championship game on DraftKings Sportsbook by clicking here.
Bet $1, Win $100 on Gonzaga-Baylor Championship Game
This deal is too simple: Just bet $1 on either Gonzaga or Baylor to win Monday night's national championship, and if that team emerges victorious, you win $100 in free bets.
Some things to note:
You need to be a new user of DraftKings Sportsbook. Pre-existing users will not be eligible to participate.
The qualifying bet will be the first bet made after registering and can only be a single bet carrying a maximum wager of $1.
You cannot combine this deal with any other new-user deal that DraftKings Sportsbook may offer. The deal is currently live through tip-off (7:20 p.m. MST) on Monday night.
Users must be at least 21 years of age and located in any of the applicable states in which online sports betting is legally allowed.
How to Bet $1, Win $100 on Gonzaga-Baylor Championship Game
Here are the steps you must complete in order to jump on this deal. It only takes a few minutes to get started:
Register with DraftKings Sportsbook, which is simple to do. Get started by clicking here.
Make an initial deposit of at least $5 into your sportsbook account using any of the available methods.
Place a $1 bet on either Gonzaga or Baylor's moneyline.
If the team you choose ends up winning Monday night, you'll earn $100 in free bets within 24 hours of the game's conclusion.
Gonzaga-Baylor Odds at DraftKings Sportsbook
Let's take a look at the odds for the National Championship game between Baylor and Gonzaga at DraftKings Sportsbook.
Baylor:     +4.5 // O159 // +155
Gonzaga:  -4.5 // U159 // -186
A $1 bet on Baylor's moneyline would earn you $1.55 if the Bears were to win, while a $1 bet on Gonzaga's would earn you $.54 if the Bulldogs were to take home the title. But instead, by utilizing this great promo, you could win $100 in free bets instead.
Gonzaga is looking to win a title and complete the undefeated season. They would be the first time since Indiana accomplished that feat in 1976. They are riding high after their overtime buzzer-beater win over UCLA in the Final Four.
However, don't sleep on the Baylor Bears. They absolutely dominated Houston in their Final Four matchup, grabbing an early lead and running away with it. The good news is that it doesn't matter which team you bet on. YOu only need to risk $1 to win $100 on DraftKings Sportsbook.
Register with DraftKings Sportsbook and cash in on 100-1 odds for the NCAA Tournament national championship by clicking here

DraftKings Promo
States: CO, PA, NJ, IN, IL, IA, MI, MI, VA, TN, and WV
GET THE APP