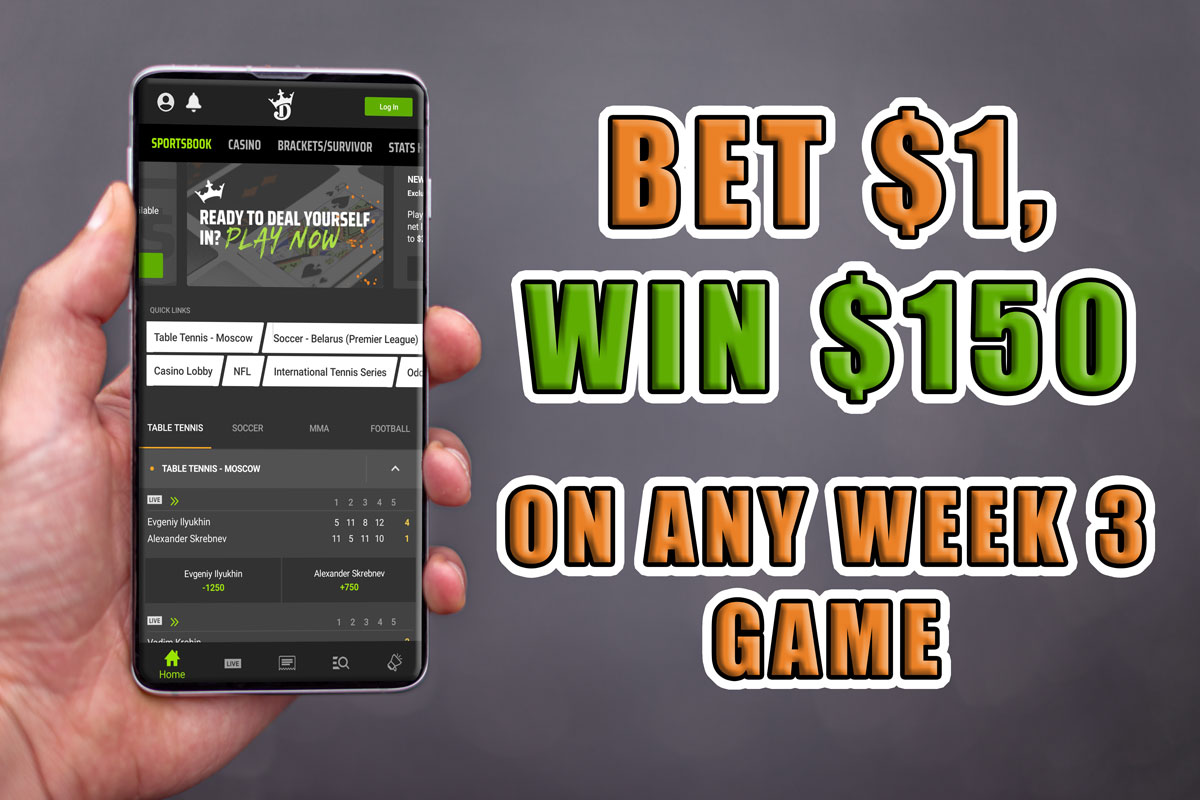 DraftKings Sportsbook is getting ready for Week 3 of NFL action with another big promo for this weekend's slate.
The newest DraftKings Sportsbook promo is an instant $150 bonus to any new user who wagers at least $1 on any Week 3 NFL game. Whether or not you win that $1 wager won't matter. The $150 bonus will hit your account as soon as the original bet settles.

DraftKings Promo
States: AZ, CO, PA, NJ, IN, IL, IA, MI, MI, VA, TN, and WV
GET THE APP
Because there are no bye weeks yet again this week, all 32 teams are in action, which means it's a full slate — one that kicks off with the upstart Panthers against the confusing Texans.
But no matter who you decide to bet on this weekend, the $150 bonus is a guarantee. Plenty of other sportsbooks offer promos where new users need to pick a game to win the bonus. This NFL promo is a flat-out guarantee.
Register with DraftKings Sportsbook and grab your $150 Week 3 NFL Bonus by clicking right here.
DraftKings Sportsbook $150 Instant Bonus
Let's break down the details of this $150 NFL Week 3 bonus. DraftKings Sportsbook is looking to attract new users and this $150 promo will serve as a test drive — a potentially lucrative test drive — for those who jump in.
The bonus is paid out in six $25 free bets. That gives new users the chance to make a few bets to see how they like it. It's a chance for DraftKings Sportsbook to prove itself to new bettors.
And it helps to have a few free bets available for this year's NFL games. The underdogs have performed well, which usually spells bad news for the average bettor.
These free bets can be used toward any market on DraftKings Sportsbook. The NFL is king when it comes to sports betting, but college football and MLB are two other popular markets right now.
The DraftKings Sportsbook Bet $1, Win $150 NFL Promo
So, what's next?
Signing up with DraftKings Sportsbook and claiming your $150 instant bonus is a process that can be completed in minutes. Here is a step-by-step guide to getting started:
Register and account by clicking here.

You will need to provide some basic information (name, address, email, etc.).

Make a deposit of at least $10 into your account.

PayPal, credit cards, debit cards, and bank transfers are all popular methods of deposit.

Place a wager of $1 or more on any NFL game in Week 3.

Earn $150 in bonus credit when the original bet settles.
This offer is available to DraftKings Sportsbook users in Arizona, Virginia, West Virginia, Colorado, Tennessee, Michigan, Indiana, Wyoming, Iowa, Illinois, New Jersey, and Pennsylvania.
Sports Betting Heats Up
The sports betting race is heating up just as fast as the NFL season. More and more states are legalizing sports betting as a way to generate tax revenue.
As a result, sportsbooks are racing to sign up new bettors in new states. That's the driving force behind promos like this one. DraftKings Sportsbook is looking to stand out from the crowd.
But this is nothing new to the average sports fan. Sports betting advertisements have become increasingly common during sports broadcasts.
Register with DraftKings Sportsbook and grab your $150 Week 3 NFL Bonus by clicking right here.

DraftKings Promo
States: AZ, CO, PA, NJ, IN, IL, IA, MI, MI, VA, TN, and WV
GET THE APP