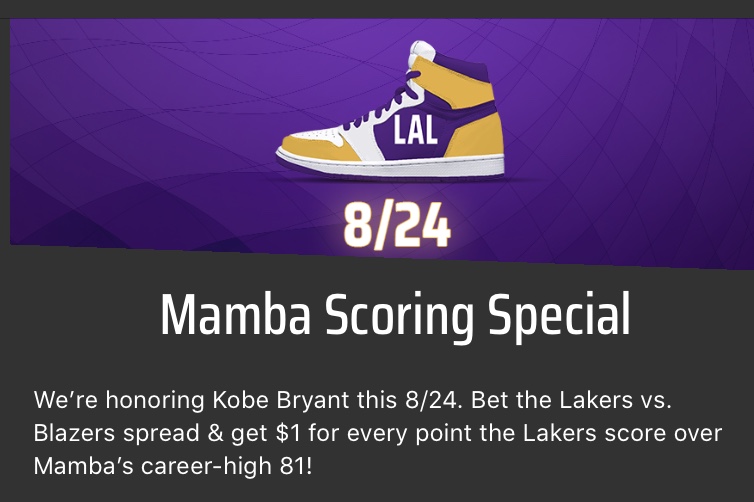 DraftKings Sportsbook is honoring the memory of Kobe Bryant today with a Mamba Scoring Special offer on Game 4 of the Lakers-Trail Blazers playoff series.
Given today is 8/24, a combination of the two numbers worn by the Lakers legend, DraftKings Sportsbook is giving players a free bet for every point scored over Bryant's career-high 81 points when they place a bet of at least $50 on the Lakers-Trail Blazers matchup. Bettors in states such as Colorado can take advantage of this offer.
Click here to get $1,000 in free bets and the Mamba Scoring Special at DraftKings Sportsbook. 

DraftKings Promo
States: AZ, CO, PA, NJ, IN, IL, IA, MI, MI, VA, TN, and WV
GET THE APP
In other words, if the Lakers score 120 points tonight, bettors would be in line to receive a $39 free bet. The special is based on the amount of points scored by Los Angeles, regardless of which team is wagered on.
Mamba Scoring Special at DraftKings Sportsbook
With the NBA Playoffs in full swing, DraftKings Sportsbook is consistently cooking up both creative and outstanding betting specials. It's no different tonight as DraftKings has put together a way to honor to the legendary Kobe Bryant with a Lakers-specific free bet scoring special.
When the Lakers and Trail Blazers get together for Game 4 of their first round matchup, bettors have an opportunity to score a free bet based upon the amount of points L.A. scores beyond Kobe Bryant's career-best 81 points.
Through three games in this series, the Lakers are averaging 107 points per game. This means based on the average Lakers scoring output that bettors would receive a $26 free bet.
Of course, the potential stands for the Lakers to score into the 120s, creating a more lucrative free bet payout. This is a fun way to sweeten a potential cover on tonight's game or take some of the sting out of a loss.
Players must opt-in via the app's main screen and place a pregame spread bet of at least $50. Get $1 toward a free bet for each point the Lakers score above 81 points.
This offer is limited to one wager per customer and available to players in CO, IN, IA, NJ, PA, and WV.
Other NBA Offers at DraftKings Sportsbook
Of course, there are some additional offers at DraftKings Sportsbook to be aware of tonight.
You can jump into the action by registering with DraftKings right here. Then, make your initial deposit and place your risk-free first bet. After that play is locked in, then check out all of the special offers on the board.
DraftKings continues to offer a first round free live bet.
Players can grab this free bet offer every single day in which they place at least $20 in NBA bets. After doing so, DraftKings issues a $10 free bet. This special offers some flexibility in that bettors can get to the $20 threshold via one or multiple bets. This includes live bets and parlays, too.
Meanwhile, there's a variety of offers on tonight's game. Among the highlights:
Damian Lillard to make 8+ three pointers at boosted +525 odds (boosted from +450 to +525)
An underdog special on the Stars, Blazers, and Royals all to win (boosted from 2035 to +2300)
Lakers, Thunder, and Heat all to win (boosted from +331 to +365)
Lebron James and Anthony Davis each to record a double-double (boosted from +105 to +120)
Click here to get $1,000 in free bets and the Mamba Scoring Special at DraftKings Sportsbook. 

DraftKings Promo
States: AZ, CO, PA, NJ, IN, IL, IA, MI, MI, VA, TN, and WV
GET THE APP